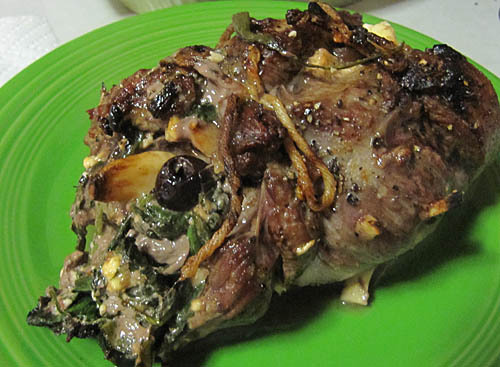 The other day, I did a quick check through my freezer, cleaning things out in preparation for any Thanksgiving leftovers it may soon be asked to store. While searching, I came across a two pound piece of boneless leg of lamb (I had used the other two pound half of to make a lamb tagine a few weeks ago). Hmmmmm…I thought, what could I do with this? I quickly consulted the Internet and found this tasty-looking recipe. Although the original recipe was for a full leg of lamb, I adapted it to work with what I had.
I also added a few things like kalamata olives and also some roasted garlic cloves I saw at the grocery store's olive bar. I also took away a few things I didn't have (fennel and mint). The timing of this meal was perfect as we needed a break in the 'what to do with turkey next?'-fest.
This is easily doubled if you have a full leg of lamb, you'll just want to increase the cooking time a bit.
Leg of Lamb Stuffed with Greens and Feta
Adapted from the cookbook, The Foods of the Greek Islands: Cooking and Culture at the Crossroads of the Mediterranean, via epicurious.com
1/4 cup olive oil, plus more for brushing
4 scallions, chopped (white and most of the green parts)
1 tbsp coarsely chopped garlic, plus 2 garlic cloves, quartered
2 1/2 cups coarsely chopped Spinach leaves
1/4 cup chopped kalamata olives
Freshly ground black pepper
2lb piece leg of lamb, boneless
1/2 cup crumbled Feta cheese
Salt
1/2 teaspoon dried oregano, crumbled
1/3 cup dry white wine, plus more if needed
In a large skillet, heat the oil and sauté the scallions and chopped garlic for 2 minutes. Add the spinach and sauté, stirring, until wilted. Remove from the heat and let cool, and then add the olives and feta. Taste and salt and pepper as needed.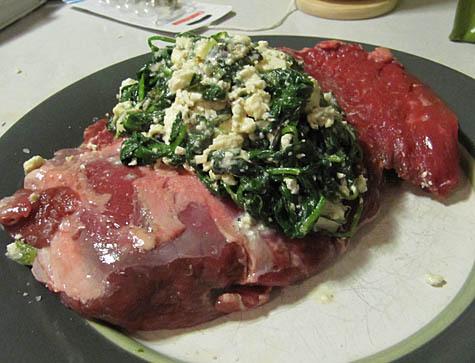 Lay the lamb out on a work area, non-fatty-side up. If there are some super thick parts, try to butterfly them a bit so that it lays pretty flat. Trim any huge pieces of fat off. Turn it over and make 8 small slits randomly in the lamb and insert the garlic quarters (so these will be on the outside. Flip it back over and salt and pepper the lamb surface and then stuff the lamb with the spinach & cheese mixture; the lamb should be well stuffed over-stuffed! Roll up as best as you can and tie with string. Cover and refrigerate 1-3 hours. I refrigerated for about 2 hours, then took it out about 30 minutes before cooking.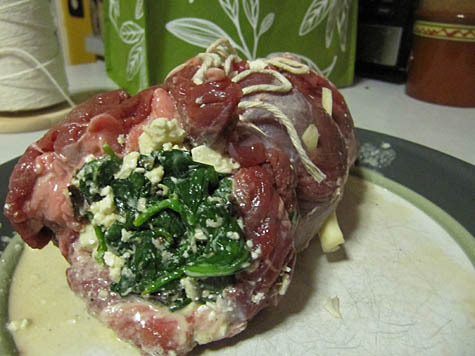 Preheat the over to 450°F. Brush the lamb with oil and sprinkle with the oregano and salt and pepper. Place the lamb in a pan that just holds it comfortably, preferably clay or Pyrex one. Roast for 12 minutes.
Meanwhile, in a medium saucepan, bring the wine to a boil and simmer for a minute. After the initial 12 minutes at 450, remove lamb from oven and add wine to the pan. Reduce heat to 375 and roast 20-40 more minutes more or until an instant-read meat thermometer inserted into the thickest part of the meat registers 135°F for medium. When done, cover with aluminum foil and let rest for 15 minutes.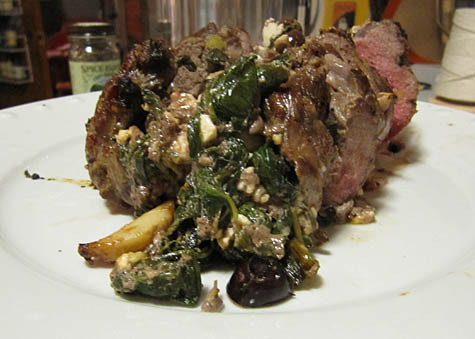 Carve the lamb into 4 or so slices and serve, passing the pan juices in a bowl at the table. We had this with some leftover root vegetables from…yeah…Thanksgiving!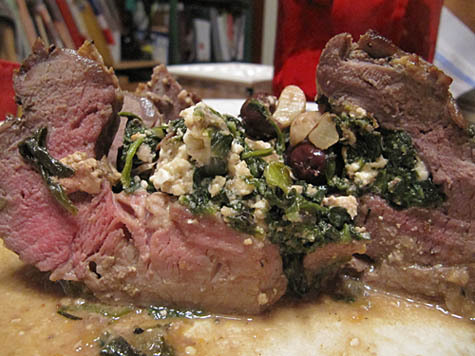 Wow, this was good! It was enough for both of us at dinner and will be lunch Tuesday. Okay and just so I am not totally ignoring Thanksgiving, here is what we ended up with: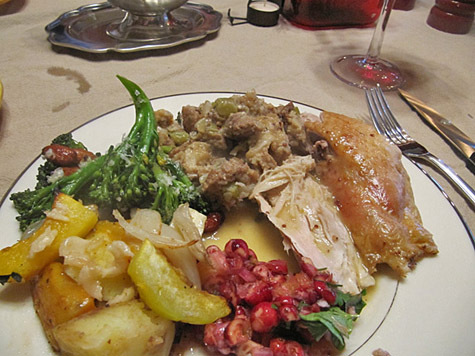 A very delightful and festive dinner! I am also happy to report that as of Sunday PM, some leftovers are designated for Monday's lunch, some have gone into a turkey-corn chowder for dinner tonight and the rest have all been labeled and stored in the freezer!