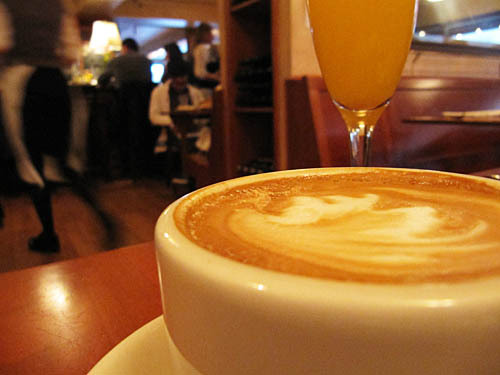 Latte at Cafe Campagne
We recently went to Seattle for a long weekend and to see the Picasso Exhibit at the Art Museum. We were also going to try and hit the Battlestar Galactica exhibit at the SciFi Museum but we didn't make it this trip. Perhaps that's an excuse to go back before it ends in March?
Anyway, we did go to:
Cafe Campagne
1600 Post Alley at Pine
Seattle, WA 98101
We ate breakfast here on a Sunday morning. Luckily, it was kind of early (10:00 am), so the wait was only about 30 minutes, which gave us some time to walk around the market a bit. The latte here was wonderful and so was my omelette and rosemary raisin brioche toast.
Hotel Max
620 Stewart Street
Seattle, WA 98101
Right downtown and we got a great rate and 1/2 priced parking ($15/day). The hallways are all gray and the doors have blown-up black and white photographs of musicians/album covers/stuff like that on them. The rooms were a little small, but honestly a little bigger than our bedroom at home (we have an old house) so it really didn't bother me at all!
Pike Place Market
1501 Pike Pl.
Seattle, WA 98101
Fun to walk around…crowded on the weekends but nice on weekdays. I picked up some fish here to bring home. Some ling cod that I pan seared and made a quick sauce for with vermouth, garlic, capers, lemon and butter. Really, really good! And yeah, we saw them throw some fish too.
Dahlia Lounge
2001 4th Avenue
Seattle, WA 98121
Awesome dinner! I could have eaten a giant bowl of the Ahi tuna yuzu kosho, fennel pollen, nashi pear sea bar snack and I loved my cocktail. My meal was the Alaskan king salmon saffron risotto, newaukum valley leeks, chanterelles, aleppo, cucumber mignonette and I really enjoyed that too!
Seattle Art Museum
1300 First Avenue
Seattle, WA 98101
We saw the Picasso exhibit here. Neat but really crowded. And you couldn't take pictures inside the exhibit but still wonderful.
Honorable mention: The Night Kitchen. We hung out here for about an hour Sunday night after a so-so Mexican dinner in Belltown. Super comfy atmosphere and tasty grapefruit vodka drinks!
Okay, on with the photos!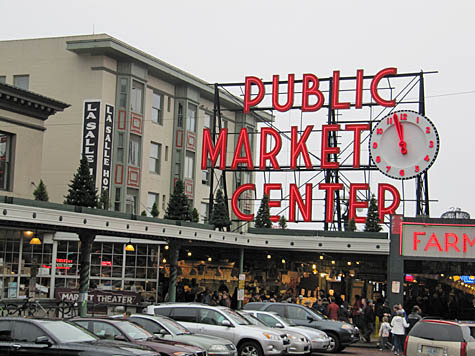 Outside the market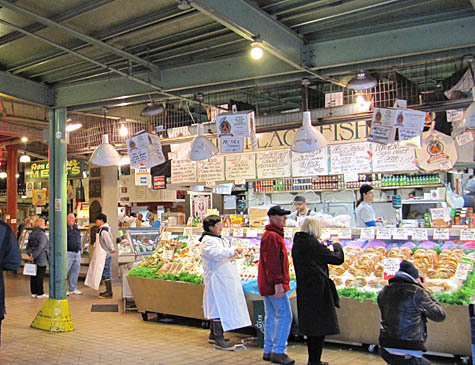 Flying fish counter.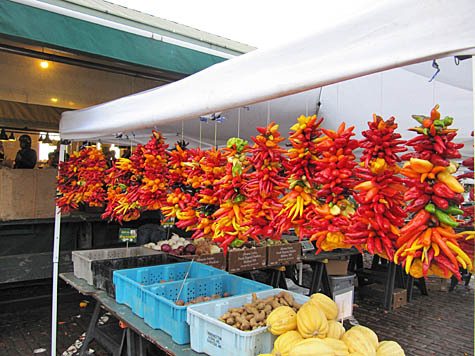 Hanging chiles with baskets of squash and potatoes.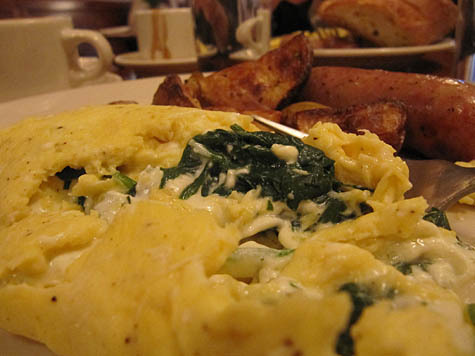 French rolled omelette filled with chevre and herbs served with chicken and pork sausage and roasted potatoes.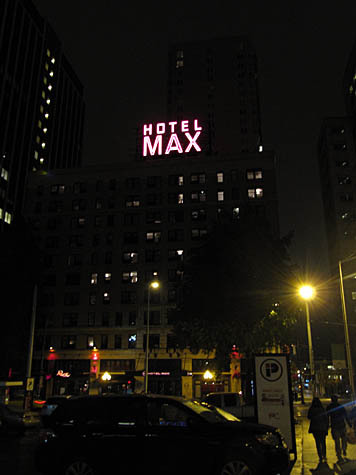 Hotel Max at night.

4th floor hallway at Hotel Max.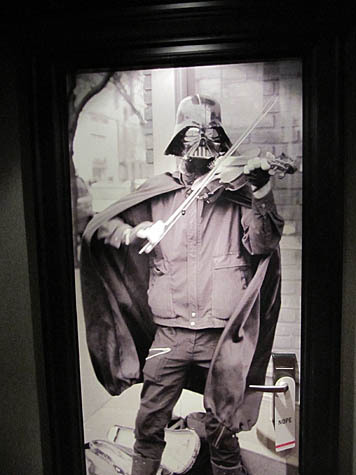 Apparently, Darth Vader playing violin is a common thing. We saw a Darth playing violin in Victoria, BC and Hotel Max had a photo on one of the 3rd floor doors.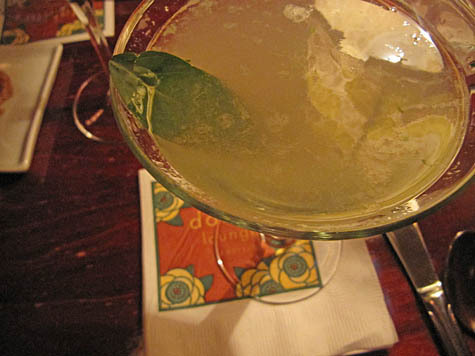 Awesome lemongrass and kaffir lime martini at Dahalia Lounge. Actually, huh, maybe it was Lemongrass & Thai Basil…? Anyway, it was delicious!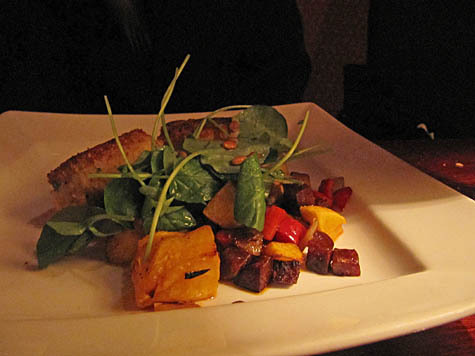 More Dahlia Lounge: Lemon-scallion dungeness crab cakes butternut chorizo hash, smoked pimenton aioli, new crop apple, watercress, toasted pepitas. jwa got this and he liked it a lot!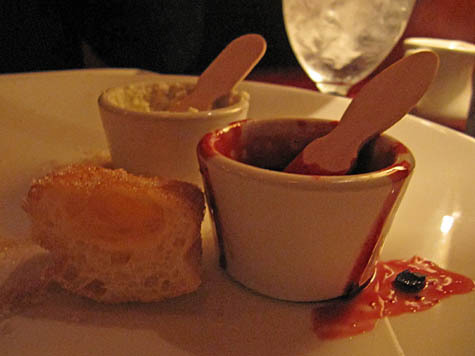 Dessert: Doughnuts, fried to order with vanilla mascarpone and huckleberry jam.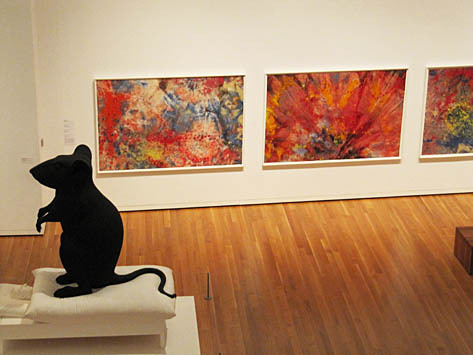 Seattle Art Museum: That's a big mouse!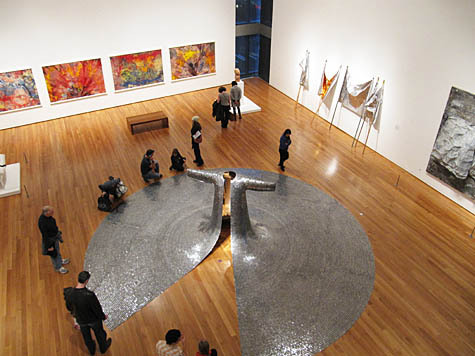 And a big jacket…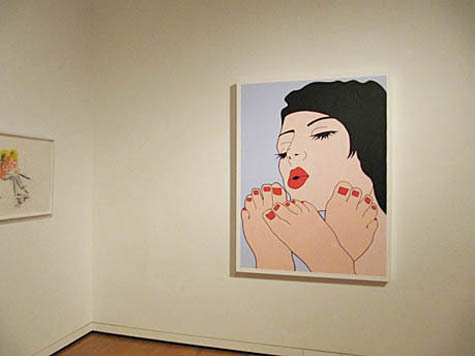 Huh, and a lot of toes.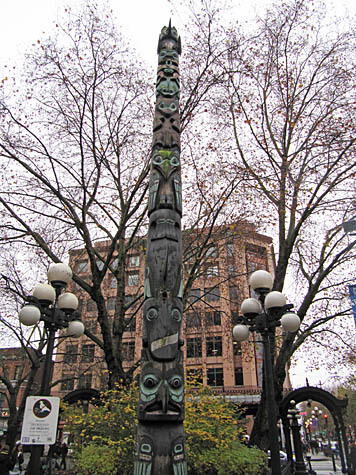 Totem pole downtown.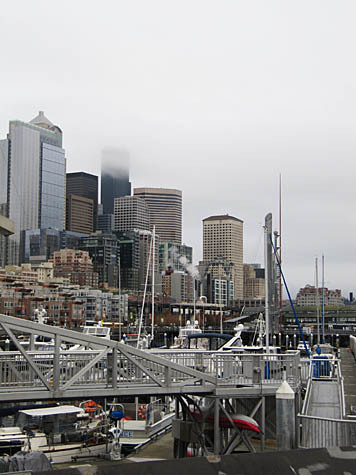 Looking at downtown from the harbor area.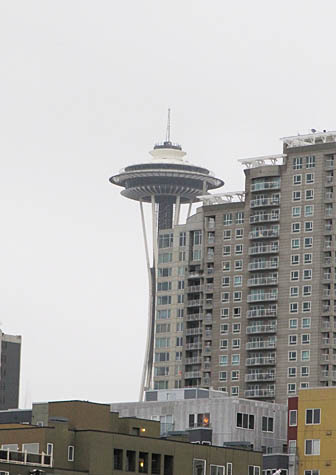 Space Needle!