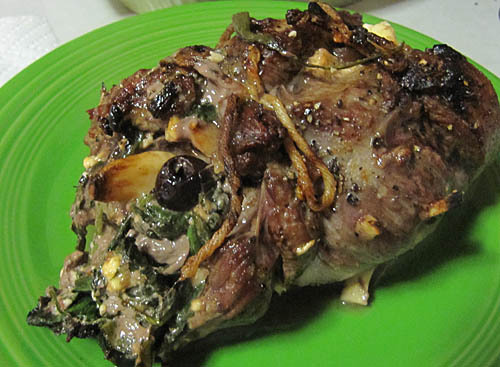 The other day, I did a quick check through my freezer, cleaning things out in preparation for any Thanksgiving leftovers it may soon be asked to store. While searching, I came across a two pound piece of boneless leg of lamb (I had used the other two pound half of to make a lamb tagine a few weeks ago). Hmmmmm…I thought, what could I do with this? I quickly consulted the Internet and found this tasty-looking recipe. Although the original recipe was for a full leg of lamb, I adapted it to work with what I had.
I also added a few things like kalamata olives and also some roasted garlic cloves I saw at the grocery store's olive bar. I also took away a few things I didn't have (fennel and mint). The timing of this meal was perfect as we needed a break in the 'what to do with turkey next?'-fest.
This is easily doubled if you have a full leg of lamb, you'll just want to increase the cooking time a bit.
Leg of Lamb Stuffed with Greens and Feta
Adapted from the cookbook, The Foods of the Greek Islands: Cooking and Culture at the Crossroads . . . → Read More: Wonderful Things Happen When You Clean Your Freezer