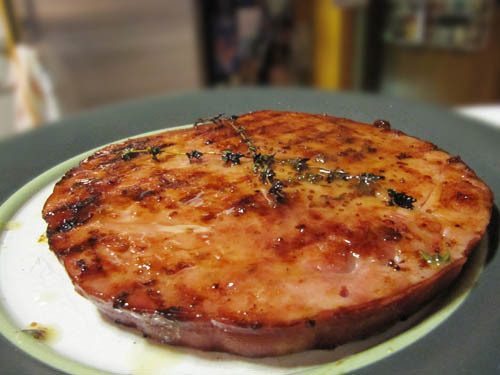 I have dreamed of making a ham ever since I saw Alton Brown, on an episode of Good Eats, slather a country ham with mustard and crushed ginger snaps, and then squirt the whole thing down with bourbon. Wow, I thought. I want to do THAT! But, seriously, what do two people do with a WHOLE HAM? We would be eating ham every day for months.
But then, I saw this wonderful thing at Trader Joe's. The ham steak. But it's so little! It's perfectly two-person sized! It's awesome! I promptly bought one and then had to find something to do with it. The mustard-cookies-bourbon thing didn't seem quite feasible, so I searched and searched. And then I found a delightful sounding glaze on epicurious.com. Although the recipe was for a whole ham, it seemed easily adaptable for a smaller version.
Oh, my ham was from Niman Ranch and it was smoked (fully-cooked). I believe it is possible to find uncooked ham steaks. If you have one of those, you will want to adjust the cooking time to make sure you are….well, actually cooking it. I just had to get mine hot, really.
Honey-Thyme Ham Steak
Adapted from Gourmet Magazine
1 tbsp unsalted butter
1 tbsp chopped thyme
2 tbsp cider vinegar
1/4 cup mild honey
1/2 tsp Worcestershire sauce
1/2 tsp Dijon mustard
1 ham steak
olive oil for pan
A couple sprigs of thyme for garnish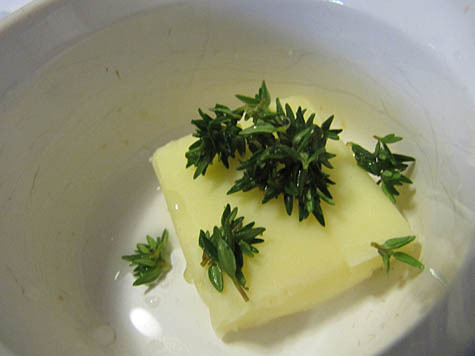 Melt butter with thyme and let stand until ready to use.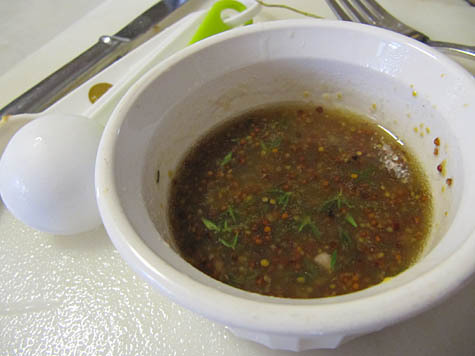 When ready, add vinegar, honey, Worcestershire sauce and mustard. If the honey is hard to get mixed in, you can pop the dish in the microwave for about 30 seconds.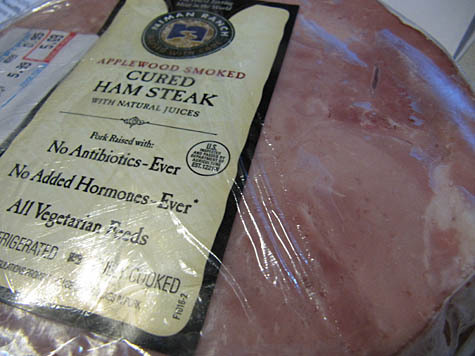 Let ham steak come to room temperature. I took mine out of the fridge about an 45 minutes before cooking it. Oil a grill pan or regular pan over medium-high heat.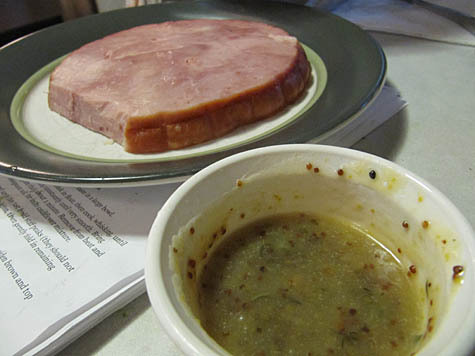 We had to try the ham to make sure it was okay. It was…
Add the ham and brush the glaze over the side facing up. After about 3-4 minutes, flip the steak over and glaze the cooked side. After a couple more minutes, flip the steak over again to warm up the new glaze.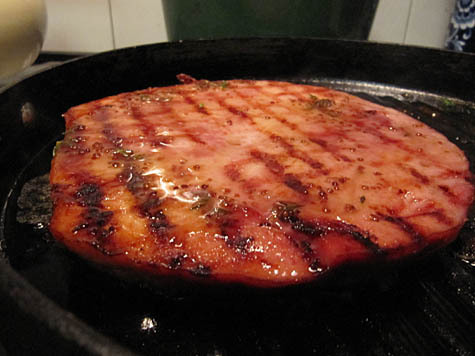 You can also add the thyme sprigs to the pan to get them crispy. When done, the ham should be nicely golden but not burnt (be careful about burning because of the honey).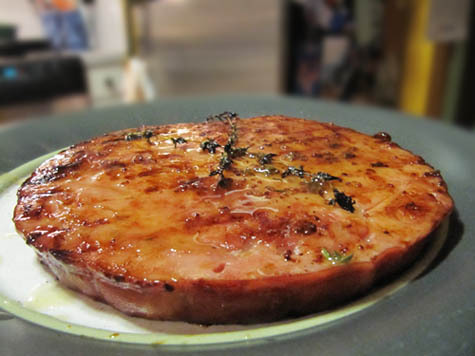 Remove the steak from the pan and pour any remaining glaze over the ham. Garnish with the crispy thyme sprigs. Dig in!