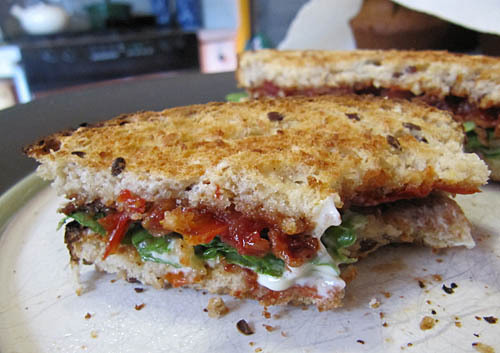 I've wanted to make this Tomato Jam and sandwich for awhile now. Ever since I first read about it on Salon.com: The greatest off-season BLT on earth. Which was, uh, I guess just earlier in the month. It seems like it was longer. Okay, well, anyway, I made the jam and the sandwich! It's really good. I even specifically bought bacon just to make this sandwich.
For the jam, I went to the store and bought some 'not quite tomato season anymore' looking romas. Worked perfectly here.
Cutty's Tomato Jam
Recipe from Francis Lam, in Salon.com
1 1/2 pounds Roma tomatoes, cored and chopped coarsely
2 tbsp fresh lemon juice
2 tbsp brandy (optional)
1 tsp grated fresh ginger
1 scant cup granulated sugar
1/2 tsp ground cumin
1/4 tsp ground black pepper
1/4 tsp red chile flakes
1 tsp salt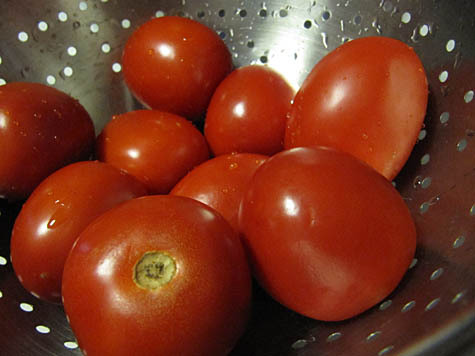 Combine all ingredients in a medium-sized heavy-bottom pot. The original recipes says to use a nonstick pan, but I only have one nonstick skillet. So, I used a regular, heavy-bottom stainless pot. Worked just fine. No sticking or mess or anything.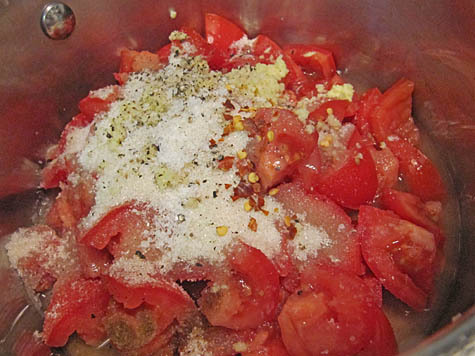 Cook over medium-high heat until bubbling. Reduce heat to low and gently simmer, stirring occasionally, until mixture is thick and syrupy, about 1 hour.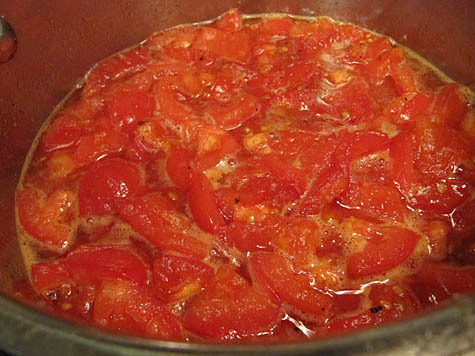 Cool the jam; season with salt and pepper if necessary. Store in the fridge.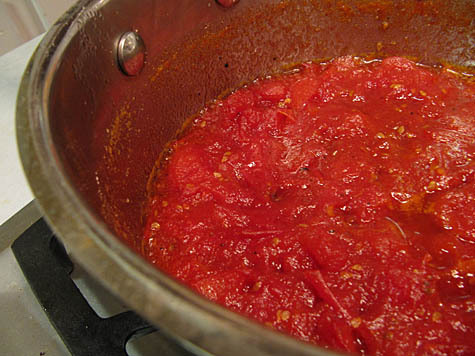 I really like the jam. It kind of reminds me of that awesome Tomato Chutney that Trader Joe's discontinued on me. I will definitely make more of this and maybe play around with the sugar amounts a bit. I found it utterly delicious, but maybe a tad on the sweet side. I am already thinking of using this as an accompaniment to samosas the next time I make some.
Okay, so now you have your pot full of cooled jam. What do you do with it? Oh……this!
Cutty's Bacon, Lettuce & Tomato Sandwich
Adapted from see above
2 slices of good quality white or wheat bread, toasted
Lemony mayo (mix 1/2 teaspoon of fresh lemon juice into 2 tbsp mayonnaise and add 1 chopped green onion)
4 strips of crisp bacon
Small handful of field greens or arugula
Cutty's tomato jam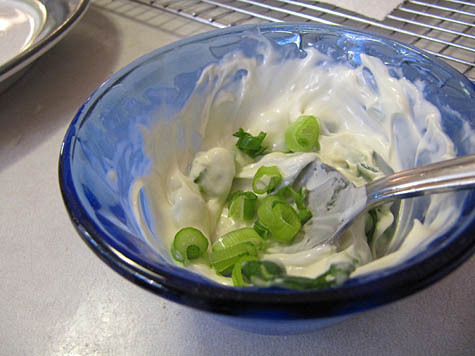 Spread lemony mayo on the bottom slice of toast. (The extra lemon in the mayo balances the rich sweetness of the tomato jam).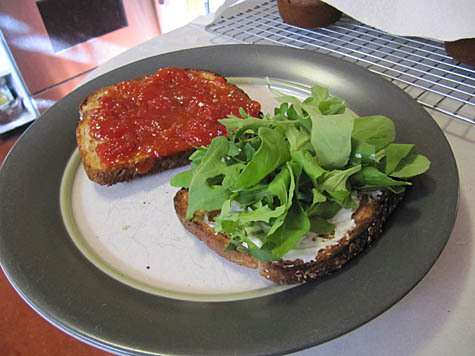 Add the greens and then the bacon strips. On the other slice of toast, spread a modest layer of tomato jam.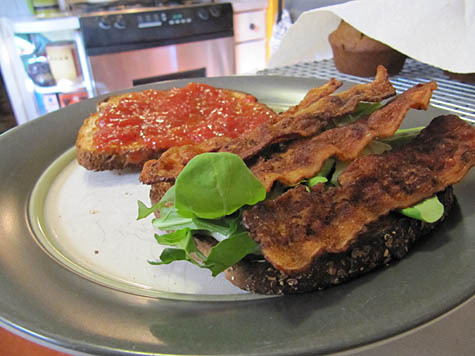 Put the sandwich together and (optional, I think) "yell, Tijuana!"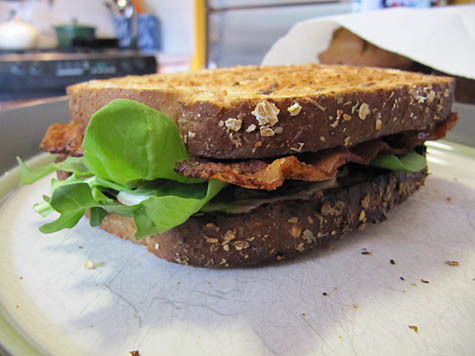 Great, now I want to go home and make another one of these for dinner tonight…