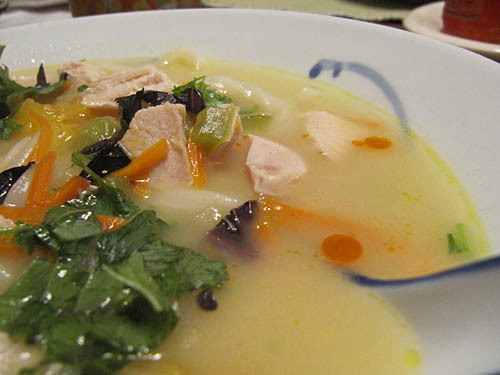 Here's post number three for French Fridays with Dorie! I liked this soup a lot and think I'll definitely make it again! Psssssst…Buy the book!
Stuff I learned:
1. I think my broth was thinner than it looked in the cookbook photo because I used light coconut milk. I thought the taste was still wonderful, but sometime I may try it with full-on coconut milk.
2. Triple, even quadruple the cheesecloth, or there will be peppercorns floating in your soup! Luckily, I learned this early on and re-wrapped my spices/cilantro stems.
3. Thai basil is best, but normal basil will work if that's all you have (me! me!)
4. I diced my chicken instead of shredding it — sometimes I am just lazy like that.
5. And oh yeah, you can't really see my noodles here, but I boiled up two servings worth of frozen udon noodles for dinner and got more noodles ready when we had the leftover soup, that way, the noodles did not soak up tons of extra soup broth!
6. I added grated carrot to my soup and I sauteed my veggies before adding the broth.
On with the pictures!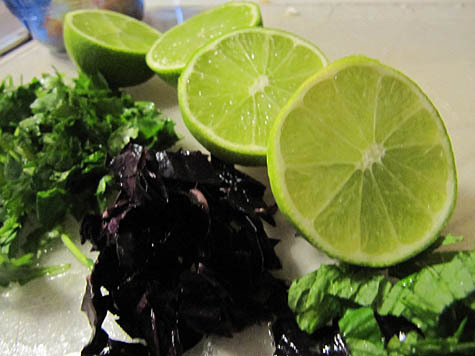 Garnishes awaiting the garnishing….also on hand is Asian peppercorn-chili oil.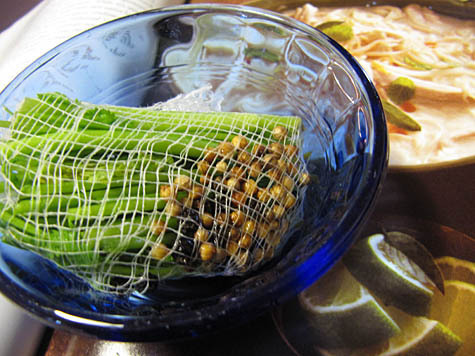 Single-layer wrapped spices and stems….soon to be triple-wrapped.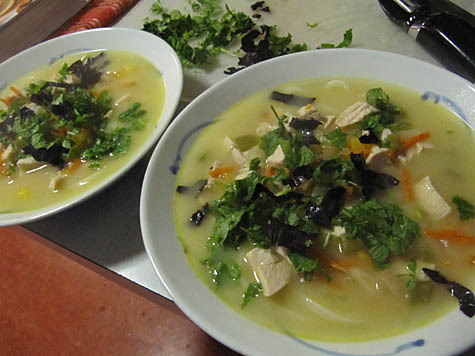 Finished soup topped with chopped cilantro, basil and mint!