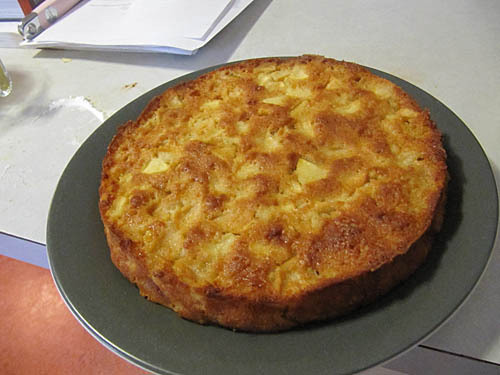 Okay, so I am just barely getting this in under the wire for French Fridays with Dorie and only because I live on the West Coast. If I were on Eastern time, I would be kind of screwed. But, hey it is still early Friday evening in Portland, so here we go. Yay!
Things I learned about Marie-Helene's Apple Cake:
1. It's really good! I've made a similar version before with a brown sugar-egg-pecan kind of glaze and I loved that one, but I really liked the rum flavor here. I think I will combine the two into one AMAZING-STUPENDOUS-AWESOME Apple Cake sometime in the future.
2. I brought half the cake into work with me and it was gone in about 30 minutes. I think that is a record new record for work snacks.
3. I used 4 types of apples in mine — golden delicious, granny smith, red delicious and a gala.
4. I got to meet Dorie when she was in Portland last week! I even have a picture below!
5. I did not use a springform pan. Mainly because I don't have one. After it was out of the oven and it had cooled . . . → Read More: FFwD5: Marie-Helene's Apple Cake