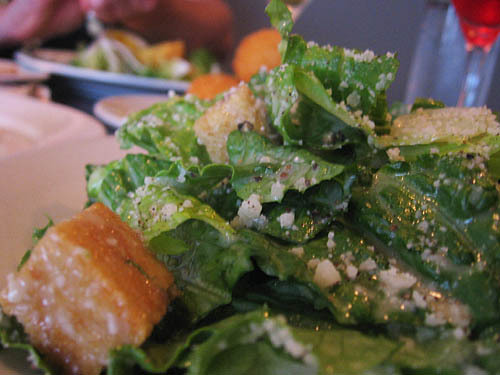 Caesar Salad at Cafe Castagna.
We have started a tradition of going out to dinner on Tuesday nights. Originally, we were thinking maybe every other Tuesday, but this month went to three places — of course, I am certainly not complaining. We tried two new places: Bar Avignon and Nostrana and revisited an old-standby: Cafe Castagna. This post is mostly pictures, enjoy!
Bar Avignon
2138 SE Division Street
Portland, OR 97202
I liked the food a lot. Also, it was a very cozy space. But, jwa and I were both a little surprised with the vibe. Not really uninviting but not that inviting either. It was weird, the whole time we were there I don't think I saw any of the staff smile at all. I'm perfectly willing to assume it was just a strange night or something and go back again, though. I really want to love this place. And it's totally walkable from our house which is a huge score. C'mon, Bar Avignon, cheer up! I think you may be secretly awesome.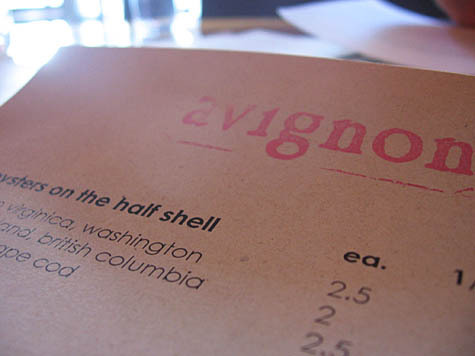 Arty menu shot.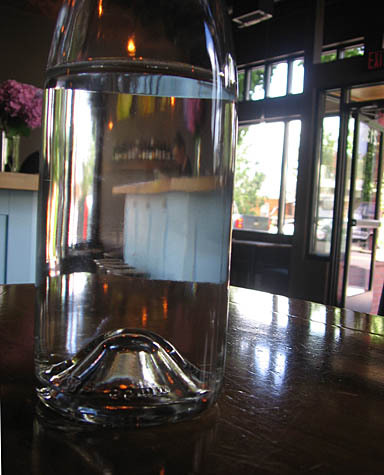 Ambiance through a water carafe.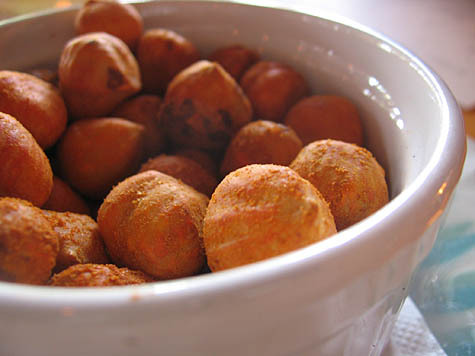 Paprika spiced hazelnuts.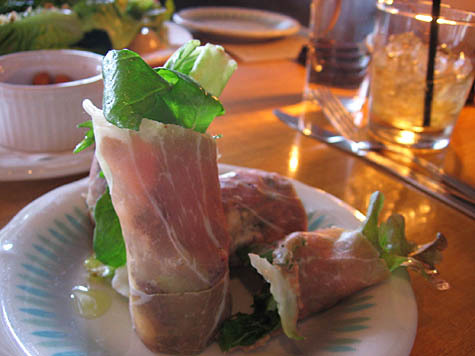 One of my most favorite newly-discovered prosciutto applications: prosciutto wrapped lettuces with fromage blanc.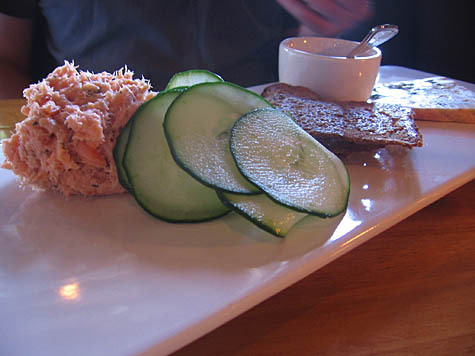 jwa's meal: a artisan cheese & charcuterie selection with salmon rillettes and a blue cheese.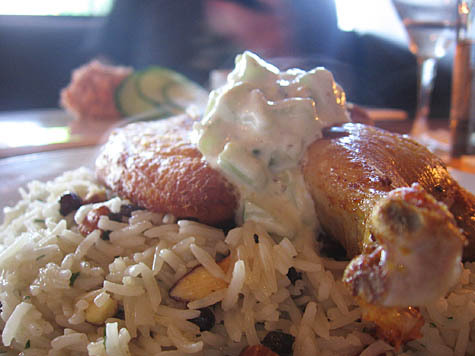 Roasted chicken with a nutty, currant-y rice and a cucumber, garlicky yogurt accompaniment. Oh, it was so good!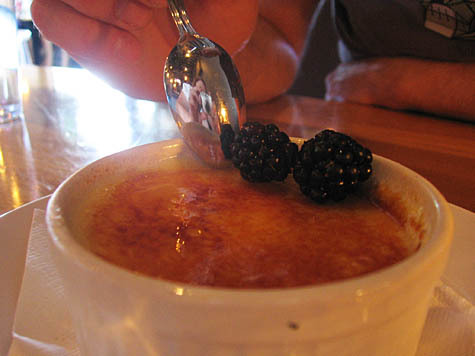 Vanilla bean crème brûlée.
Nostrana
1401 SE Morrison St # 100
Portland, OR 97214
Nostrana, Nostrana, Nostrana. I want to like you a whole lot. Really. I've heard so many good things and the space was really nice and all and I loved my cocktail. I just wanted more, I think, for the money we spent. I also thought our server was a little condescending, especially when we were just ordering pizzas and salads (put your fancy-pants away, okay?) Also especially when he asked how I liked the radicchio, which I was tentative about, since I normally am not a fan of the bitter lettuces, and then seemed bored by my response that I did actually like it in the salad. Dude! You asked.
I'd totally go again and try the 3-course farmhouse dinner. Just probably not until we go to a few more new places (Laurelhurst Market!) and hit a few more old favorites like Country Cat and Cafe Castagna. So, don't hate me, but I didn't love it. Bummer.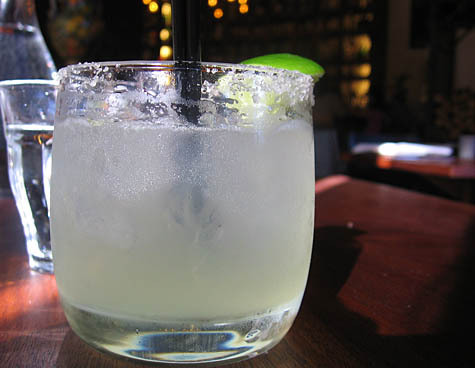 Green Smoke cocktail…it had gin, chartreuse and a few other things along with a smoked salt rim.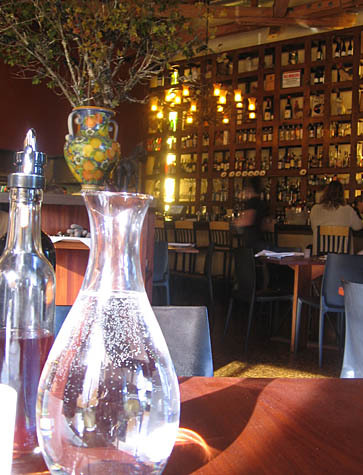 Nice ambiance with tall ceilings and a well-stocked, colorful bar.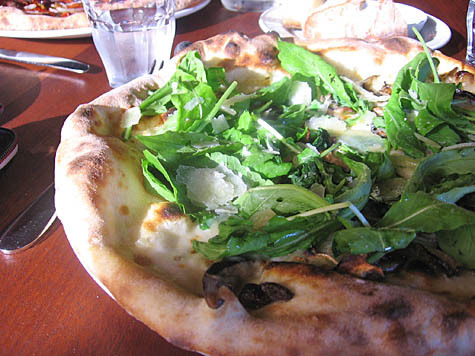 Funghi verdi pizza: shiitake, house mozzarella, pecorino, garlic, lemon oil, arugula.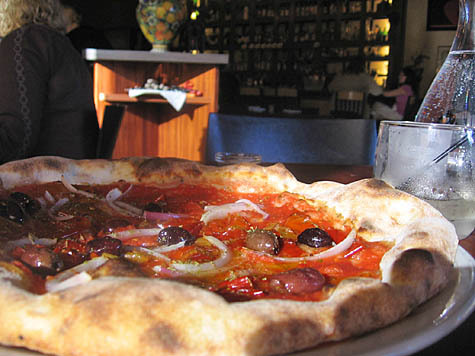 Alla fiamma pizza: tomato, red onion, Mama Lil's peppers, wild oregano, spicy oil, black olives.
Cafe Castagna
1758 SE Hawthorne Blvd
Portland, OR 97214
Speaking of which, when we left Nostrana I really kind of wish we had gotten cocktails, pizzas and salads here instead. So, the next Tuesday we went and had dinner at Cafe Castagna and paid the same amount of money. We also really enjoyed the food, got a server that joked around with us and was very pleasant.
Regarding pizza, I guess it can depends on whether you are more of a crust person or a toppings person. Myself, I am more of a toppings person. Plus, their crust is not bad at all, very light and almost crackery with a nice poof to the edges. Nom-nom-nom.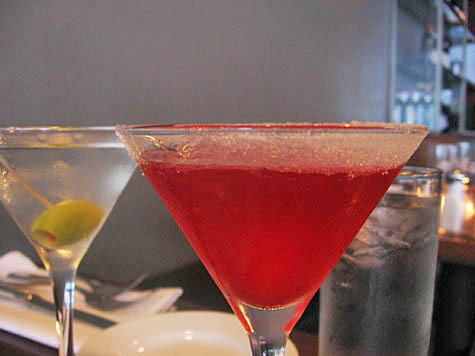 Cocktails: Aviation gin martini with one olive and a raspberry lemon drop.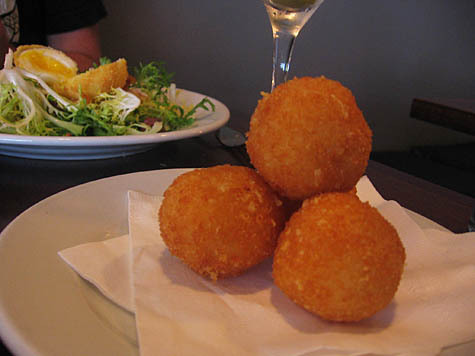 Arancini: fried risotto balls filled with fontina.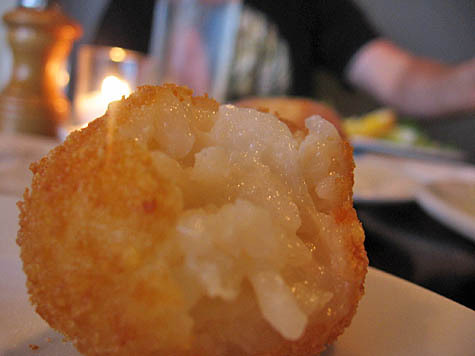 Gooey, tasty fontina.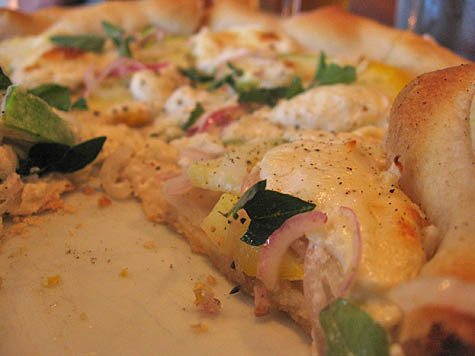 Pizza: summer squash, fresh sheep's milk cheese, sweet onion and oregano. Very fresh and delicious tasting. I loved it!