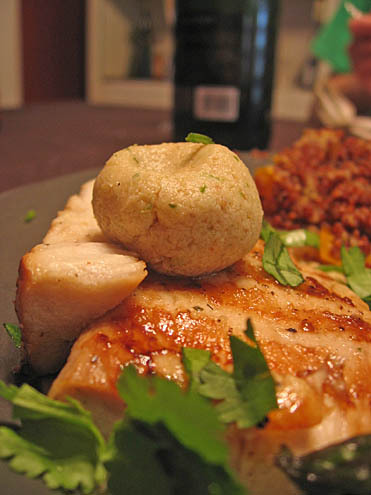 So, finally, here is post number two from the cookbook, Nuts in the Kitchen by Susan Herrmann Loomis. Also, reminder: she is coming to Portland next month at In Good Taste, August 12-15, 2010.
In Good Taste is located at 231 NW 11th Ave, Portland, Oregon, 97209. It's a 3-day class (with a welcome dinner the night before) and you can enroll by e-mailing cookingclassesATonruetatinDOTcom. You can also call In Good Taste at 503-248-2015 with questions. More info here.
I was a little lazy and didn't create the ginger flowers. I simply placed a ball of macadamia nut butter atop each fillet for serving. Next time, I think I will do the flowers because they sound like they would look very pretty.
I also didn't take pictures of the fish cooking…I'm sure you can imagine it. I just used my grill pan and gave it a few minutes per side.
The macadamia nut butter is so good! You will want to slather it on all sorts of grilled things this Summer, I'm already thinking more fish, grilled veggies and maybe even chicken. Crackers and bread would also work. Oh, and a spoon. A spoon would be good too.
Gingered Fish on Spiced Macadamia Nut Butter
Recipe from Nuts in the Kitchen, by Susan Herrmann Loomis
Six 5-7 oz white fish fillets (ling cod, flounder, etc…) I used Ling Cod
3/4 cup Macadamia nuts, toasted
1/4 inch coin fresh ginger, peeled & coarsely chopped
1-inch piece chile, seeds removed if desired
Zest of 1 lime
2 tbsp freshly squeezed lime juice
1/4 tsp sea salt
2 tsp extra virgin olive oil
1 1/2-inch piece of fresh ginger, unpeeled, cut into 18 paper thin slices
sea salt & freshly ground pepper
18 fresh cilantro leaves
Rinse fillets and pat them dry. Check them for bones and remove any that you find. Refrigerate until just before cooking.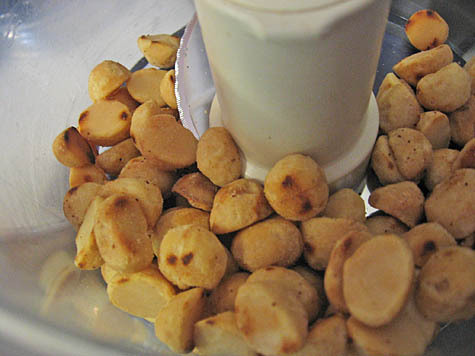 Macadamia Nut Butter
Place the nuts in a food processor and pulse until they are finely chopped.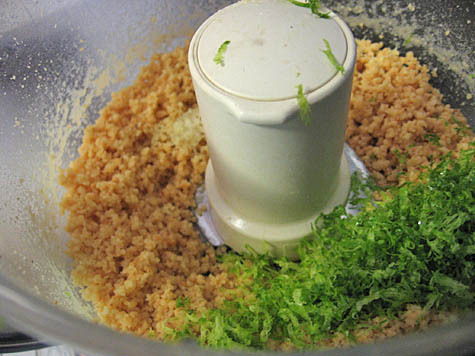 Add ginger, chile and lime zest and continue to process until a paste begins to form. Add the lime juice and salt process until you have a buttery paste. Transfer to a bowl and set aside.
To Cook the Fish
Heat olive oil in a large non-stick skillet over medium high heat. Add the fillets (skin-side down, if your fish has skin). Place three rounds of ginger on each fillet. Lightly season each piece of fish with salt and pepper. Cover and cook about 6-8 minutes until opaque. Remove pan from heat and uncover.
While the fish is cooking, form the butter into a pyramid or ball. Repeat 5 more times. Spread about 2 tablespoons of butter on each plate.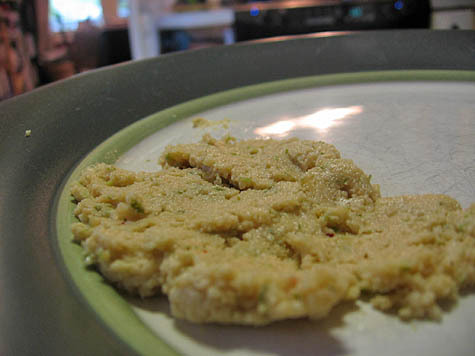 To serve, remove ginger slices from fish. Lay a fillet atop the macadamia nut butter spread on the plate.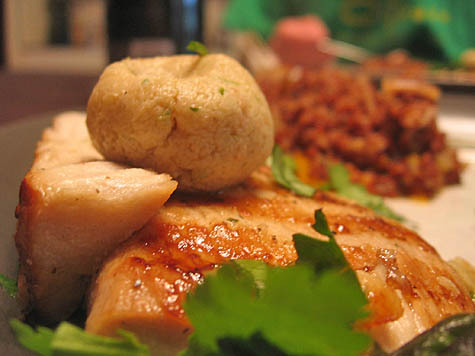 Place a pyramid/ball of nut butter next to the fillet and spread three cooked ginger slices around, so that it looks like a flower. Arrange cilantro leaves on top of each plate.