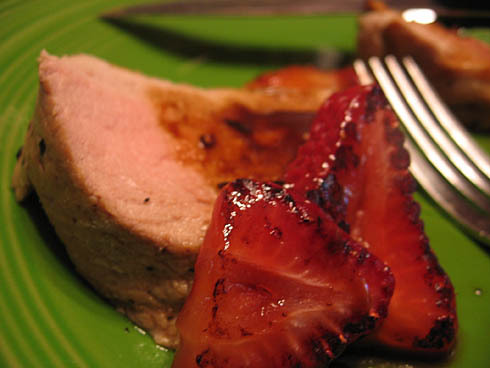 Summer makes me think of Spanish food. I think it's the sun and the heat and the fact that I want to make gazpacho all the time and drink sangria (also, all the time). So, it's usually in Summer that I will grab one of my most favorite cookbooks ever and page through it looking for something tasty to make. The cookbook? The New Spanish Table. If you don't have it, go get it. You will not be sorry.
So, yes, Summer. Spain….strawberries! This was really good. The berries got a little caramelized and pork tenderloin with rosemary is always a winner. I thought the sauce would be a little too acid-y but it was just perfect with this. Also, since you're cooking them a bit, the strawberries don't have to be overly super-over-ripe. A great use for the first ones of the season!
Pork Tenderloin with Lightly Seared Strawberries or Solomillo de Cerdo con Fresas
Adapted from The New Spanish Table by Anya von Bremzen
1 pork tenderloin (about 1 pound, silver skin removed)
coarse salt & freshly ground black pepper
1 tbsp crumbled dried rosemary
1 tbsp olive oil, plus more for brushing the griddle
5-6 large strawberries, hulled and sliced
3 tbsp chicken stock
1/4 cup sherry wine vinegar
1-2 tsp sugar
Optional: minced fresh chives, for garnish
Rub the pork generously with salt, pepper, and rosemary. Heat the olive oil in a large heavy skillet over medium-high heat. Add the pork and cook until browned nicely on all sides, about 6 minutes total. Reduce the heat to medium-low and cook the pork, turning several times, until it is tender and an instant-read thermometer registers 155 degrees F, about 15 minutes.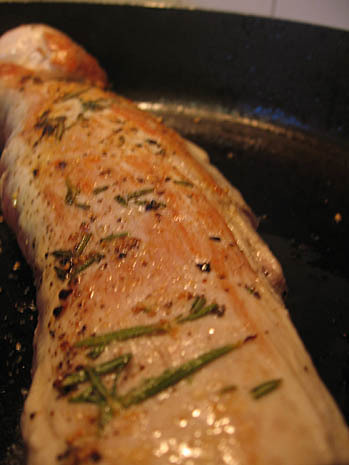 Transfer the pork to a cutting board and let it rest, covered with foil, while you prepare the strawberries and sauce. The internal temperature will rise as the meat stands. Set the skillet aside, you'll use it to make the sauce.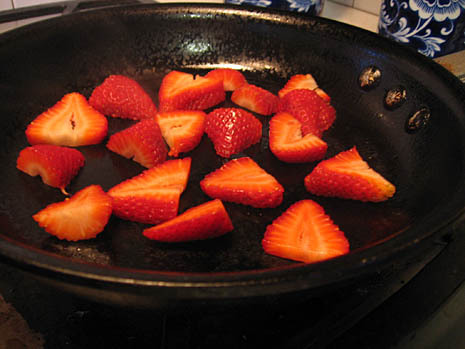 Rub an unridged rimmed griddle pan or a large, heavy skillet with an oiled paper towel and heat until almost smoking. Add the strawberries and sear for about 45 seconds, turning once. They should be cooked until slightly softened but should not release too much juice.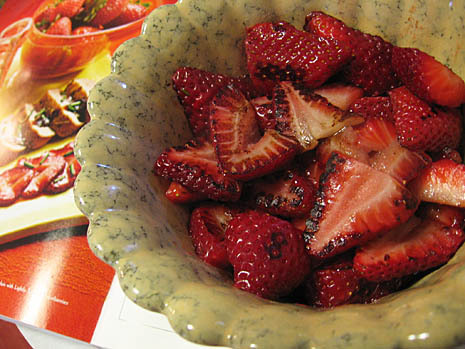 Add the chicken stock to the skillet in which the pork cooked and place it over medium-high heat, scraping the bottom to dislodge the brown bits. Cook until the stock is almost syrupy, about 3 minutes.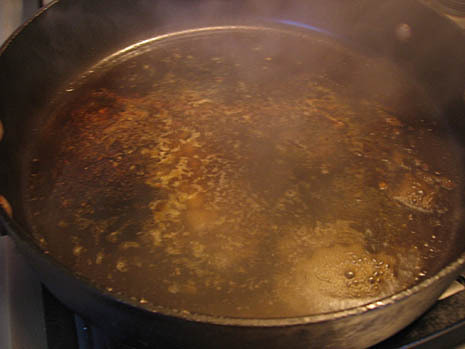 Add the vinegar and 1 teaspoon of the sugar and continue cooking until the sauce thickens a bit more, 3-5 minutes longer. After 1 1/2 minutes, taste the sauce and add more sugar to taste if it seems too tart.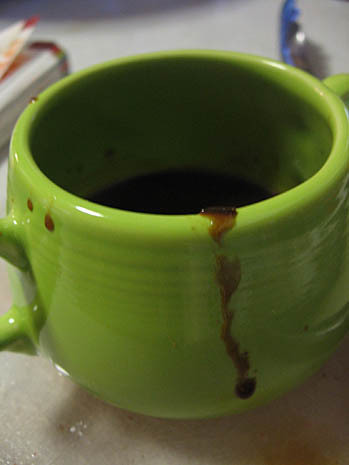 Cut the pork into slices and arrange them decoratively on dinner plates. Spoon some seared strawberries on top of the meat and drizzle the sauce on and around the meat and strawberries.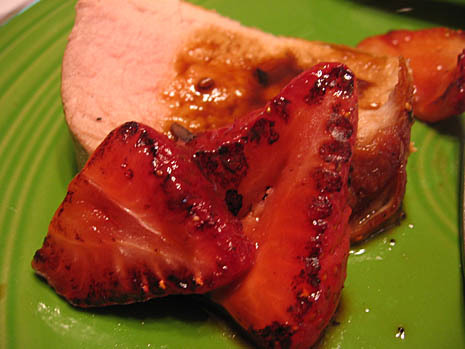 Garnish pork with chives if desired. We actually have chives growing out in the garden but I was too lazy to grab any.
—
Self-indulgent alert: I made a facebook page for Je Mange la Ville. I'd been thinking about it for a while (as I manage our facebook page at work, so I'm used to updating fb content regularly), I just hadn't gotten around to it. Anyway, finally I made one. Wanna like it? That'd be cool! I'll try to have extra stuff there like more photos and links to interesting food things and such.