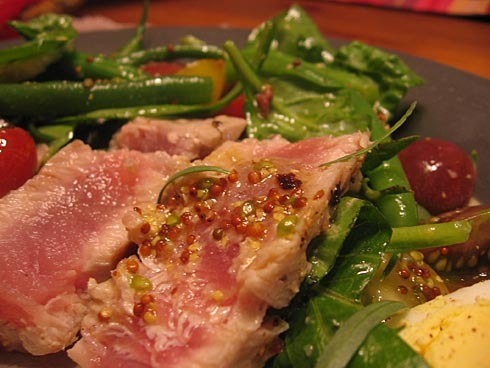 I think I went on a little unplanned hiatus there. Blame it on the Summer, I guess. Anyway, I'm back! And here's a wonderful tuna salad from the Ad Hoc at Home cookbook.
Now I changed a few things from the original recipe, not because I know better than Thomas Keller, or anything, but rather based on what I had at home, what I like, what I could find, and my level of laziness while preparing the meal. Actually, these are usually the components that affect any recipe that I make at home.
So here we go:
1. Tuna: I used an 8 oz steak
2. Lettuce: I used romaine
3. Oil: Olive oil all the way (for the tuna and dressing)
4. no chervil leaves
Also for the dressing, I used some blood orange vinegar that I had recently gotten and was dying to try, as well as stone ground, country Dijon mustard. The recipe is in original form below, but keep in mind my substitutions, if you'd like.
Hard Boiled Eggs How To… at Simply Recipes.
Fresh Tuna Salad
1 lb trimmed, center-cut ahi tuna loin
3 heads Bibb lettuce
Kosher Salt & Freshly Ground Pepper
Canola Oil
6 oz thin green beans, stem ends trimmed, and . . . → Read More: Ad Hoc at Home: Fresh Tuna Salad