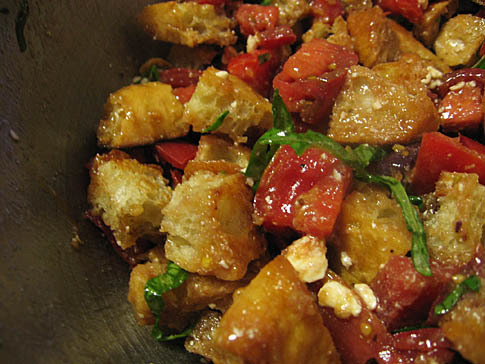 Finally, Portland? Summer? Hmmm, it would be nice if it is true, although I do prefer my sunny days in the 70's. But seriously, even I was getting sick of the 50's/60's and rain. So, I'll take the sun and the 80 degree temperatures of the last few days!
To celebrate the return of Summer (and the end of June-uary?), jwa and I had a huge tomato bread salad the other night. I even had some homemade Ciabatta bread leftover (about 1/3 of a loaf) to dice up for the bread cubes. Since we have no tomatoes of our own yet, I had to get some at the store, but I found some beautiful heirloom varieties (from California, so, not too far away) at the Whole Foods by work.
My amounts were approximate. I did not measure everything (except the vinegar and olive oil). I used about 4 medium tomatoes to 1/3 of a loaf of bread. About 12 kalamata olives, 10 basil leaves, and a sprig of marjoram — both the basil and marjoram were from the garden. If you like this exact measuring thing, the actual amounts are listed below. Knock yourself out!
Bread & Tomato Salad with Herbs aka: Panzanella!
Adapted from a recipe in Gourmet Magazine
2 tbsp balsamic vinegar
2 garlic cloves, minced
kosher salt & freshly ground pepper
1/4 cup extra-virgin olive oil
2 cups 3/4-inch cubes crusty bread
1/2 pound vine-ripened red tomatoes, cut into 3/4-inch wedges
1/2 pound vine-ripened yellow tomatoes, cut into 3/4-inch wedges
1/4 cup Kalamata olives
1/4 cup fresh basil leaves, washed well, spun dry, and chopped fine
1 tbsp fresh marjoram leaves, chopped fine
Optional: 1/4 cup crumbled Feta cheese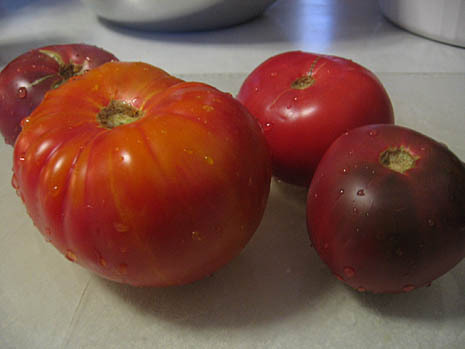 If you want an extra, flavorful step, take about a tablespoon of the olive oil and heat it up in a big pan. Add your bread cubes and toast for a few minutes. Then make your dressing as described below and add the toasted bread cubes. Just plain, old dried out crusty bread cubes will of course work just fine!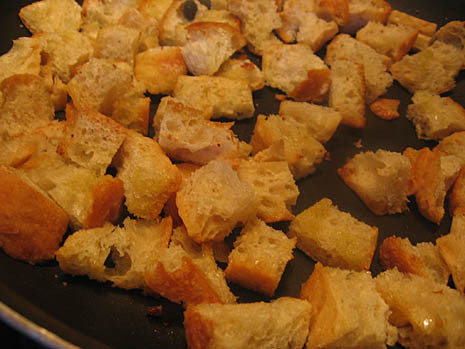 In a bowl whisk together vinegar, garlic, a little salt and pepper to taste and whisk in oil until emulsified (3 tbsp if you used a little to toast your bread).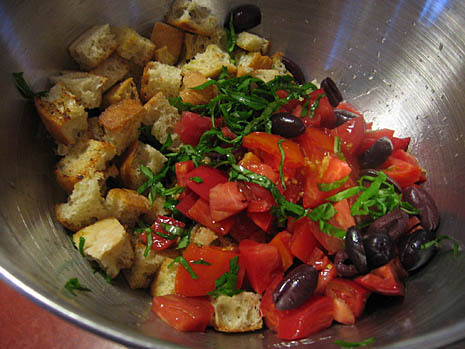 Add remaining ingredients and salt/pepper to taste and toss to combine well. Let salad stand at room temperature 15 minutes to allow bread to soak up some dressing.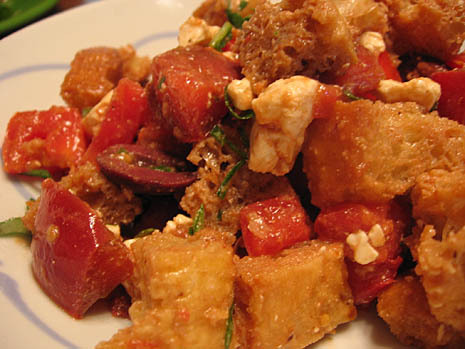 Yeah, you know you want to add some cheese. Just do it. It's good.