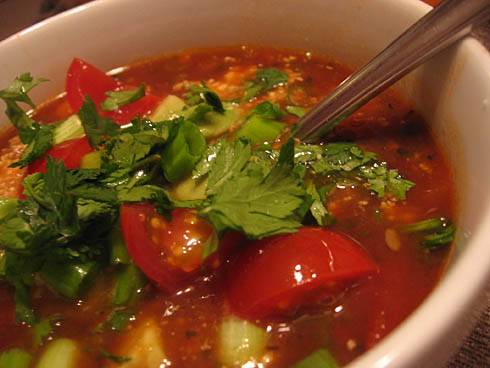 Okay, so this is not the most season-appropriate dish ever but if you lived in Portland, you'd understand. We have been rainy and a little cold, although today and tomorrow are promising to be nice, sunny and *gasp* Summer-ish!
If you do have a day that is not so hot, this is a great thing to do with your oven and stovetop. I have even made the chicken version of the posole in the crockpot before, when it was too hot to simmer it stovetop.
The vegetable broth you do need the oven for, so either wait for a cool day, roast your veggies in the morning, or throw caution to the wind and crank up your oven in a 90 degree day!
Roasted Vegetable Stock
Adapted from a recipe in Gourmet Magazine
3/4 lb cremini mushrooms, halved
1 red onion, chopped
3 carrots, cut into 1-inch pieces
1 red bell pepper, cut into 1-inch pieces
2 garlic cloves, coarsely chopped
1 zucchini, chopped
a handful of cilantro leaves
1 poblano pepper, stemmed and halved
1 tablespoon olive oil
1/2 cup dry white wine
1 bay leaf
1/2 cup canned stewed tomatoes (tomatoes and juice)
5 cups water
3/4 teaspoon salt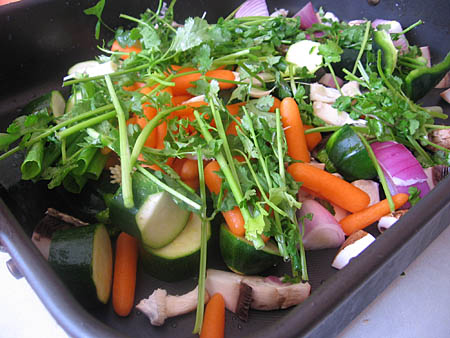 Put oven rack in middle position and preheat oven to 425 degrees F. Toss together mushrooms, shallots, carrots, bell pepper, garlic, cilantro, poblano and oil in a flameproof roasting pan. Roast, stirring occasionally, until vegetables are golden, 35 to 40 minutes.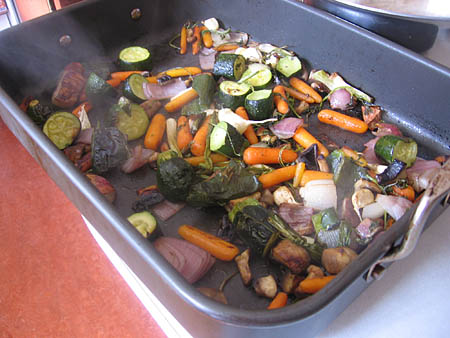 Transfer vegetables with a slotted spoon to a 4-quart stockpot.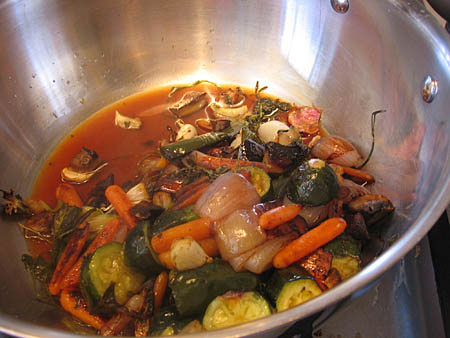 Straddle roasting pan across 2 burners, then add wine and deglaze pan by boiling over moderate heat, stirring and scraping up brown bits, 1 to 2 minutes.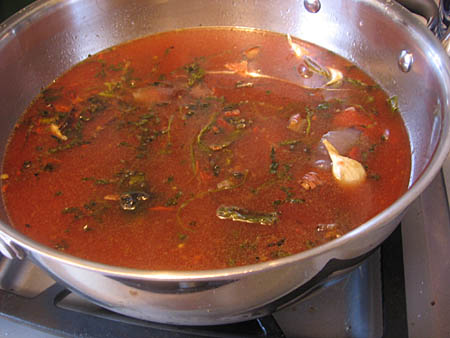 Transfer to saucepan and add bay leaf, tomatoes, water, and salt. Bring to a boil, then reduce heat and simmer, covered, stirring occasionally, 45 minutes. Pour stock through a large fine-mesh sieve into a bowl, pressing hard on and then discarding solids.
Vegetarian Hominy Stew
Adapted from a recipe at Epicurious.com and the posole recipe here, which is a great posole recipe
4 cups vegetable stock (should be all of your stock, it doesn't have to be exact)
2 15- to 16-ounce cans white hominy, drained (or if you can get the large, double-sized can, just use on of those – 30 to 32 oz)
1 14 1/2-ounce cans stewed tomatoes (if you do make the stock too, here you can use the remainder of your can of stewed tomatoes from earlier)
2 cloves garlic, minced
1 can black or kidney beans, drained and rinsed
4 tsp dried oregano
1 jalapeño chili, seeded, minced
Dash of hot pepper sauce
Possible Garnishes
Diced avocado, grated/crumbled cheese, cilantro, radish slices, red onion, shredded cabbage, halved cherry tomatoes, chopped green onions
Add your vegetable stock back to your stock pot. Bring to a simmer.
In a food processor, break up the stewed tomatoes and jalapeno pepper. Add this mixture to the broth, along with the drained hominy, oregano, garlic, hot sauce and beans. Bring to a boil and then reduce heat. Simmer about an hour, stirring occasionally. Season with salt, pepper and additional hot pepper sauce, if desired.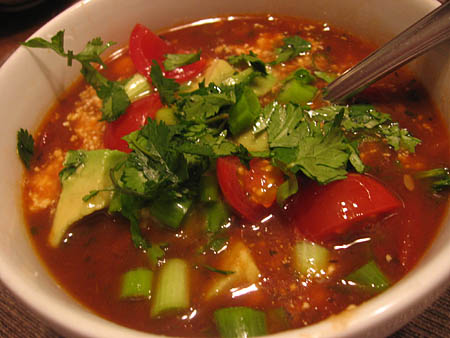 Ladle out and serve with garnishes.