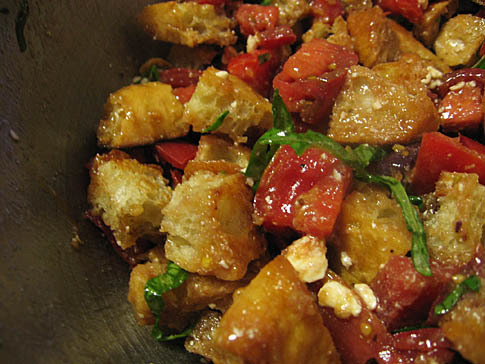 Finally, Portland? Summer? Hmmm, it would be nice if it is true, although I do prefer my sunny days in the 70′s. But seriously, even I was getting sick of the 50′s/60′s and rain. So, I'll take the sun and the 80 degree temperatures of the last few days!
To celebrate the return of Summer (and the end of June-uary?), jwa and I had a huge tomato bread salad the other night. I even had some homemade Ciabatta bread leftover (about 1/3 of a loaf) to dice up for the bread cubes. Since we have no tomatoes of our own yet, I had to get some at the store, but I found some beautiful heirloom varieties (from California, so, not too far away) at the Whole Foods by work.
My amounts were approximate. I did not measure everything (except the vinegar and olive oil). I used about 4 medium tomatoes to 1/3 of a loaf of bread. About 12 kalamata olives, 10 basil leaves, and a sprig of marjoram — both the basil and marjoram were from the garden. If you like this exact measuring thing, the actual amounts are listed below. Knock yourself out!
Bread & Tomato . . . → Read More: Bread & Tomato Salad with Herbs