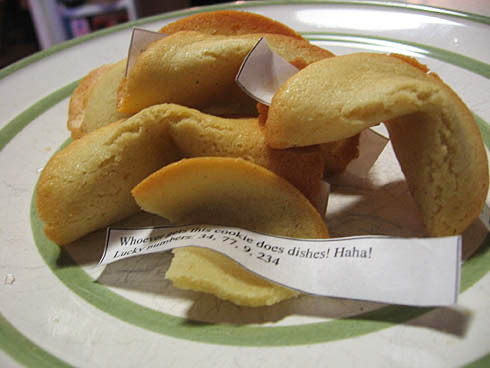 Well, we celebrated Memorial Day with an old-school Chinese-American feast. Yes, weird. I know. I was just in the mood to make fortune cookies. And once you are making fortune cookies, you start to look for recipes online like Moo Goo Gai Pan and Vegetarian Egg Rolls. The Moo Goo Gai Pan was really good — added grated carrot, garlic tops, snow peas, and doubled the mushrooms (shiitake & cremini). It reminded me of going out for Chinese food when I was little. I think I always got the MGGP.
The egg rolls were good too, but I probably don't have to make those again. I can think of other things I'd rather pan-fry — this is, after all a world where my pan-fry experiments are very limited. So, that being the case, I would rather pan-fry potato latkes or deep-fry some somasas. Or arancini.
The fortune cookies however, I will definitely make again — so much fun! And you get to print out little fortunes, also a bonus. Especially when you can try to stick your dining companion with doing the dishes with a fortune like, "Whoever gets this cookie does dishes! Haha!"
The recipe below is a mix of this About.com video recipe and their actual written recipe. For some odd reason, they weren't the same. So, I kind of combined them into one recipe.
I think it would be fun to add a teaspoon or so of matcha next time and make green tea fortune cookies.
Fortune Cookies
Adapted from About.com Food
2 large egg whites
1/2 tsp pure vanilla extract
1/2 tsp pure almond extract
3 tbsp peanut oil
1/2 cup AP flour
1 1/2 tsp cornstarch
1/4 tsp kosher salt
1/2 cup granulated sugar
3 tsp water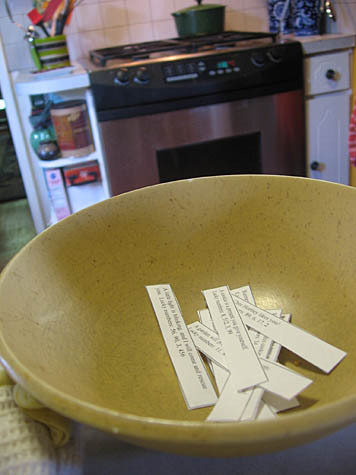 Preheat oven to 400 degrees F. Line a baking sheet with a silpat sheet or a piece of parchment paper.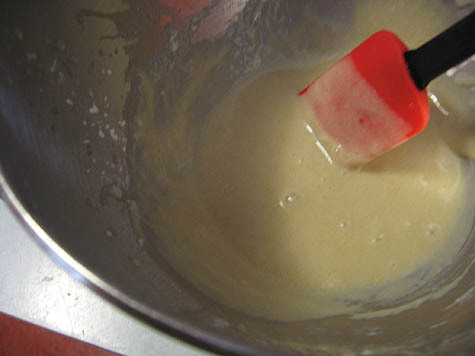 With a stand mixer, hand-held mixer, or a whisk, beat the egg whites, vanilla extract, almond extract and oil until light and frothy, but not stiff peaks. Sift in the flour, then add the cornstarch, salt and sugar into a separate bowl. Add the flour into the egg white mixture and stir until you have a smooth batter. Add in the water. The batter should not be runny, but should drop easily off tablespoon.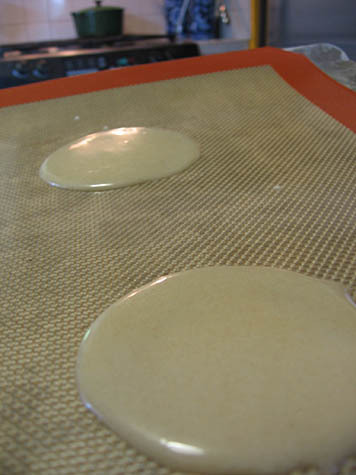 Place level tablespoons of batter onto the cookie sheet, spacing them at least 3 inches apart. Use the back of the measuring spoon to spread the batter out a bit. I got three cookies per sheet. I probably could have gotten four, but I stopped at three. I guess I just wasn't in a super daring mood.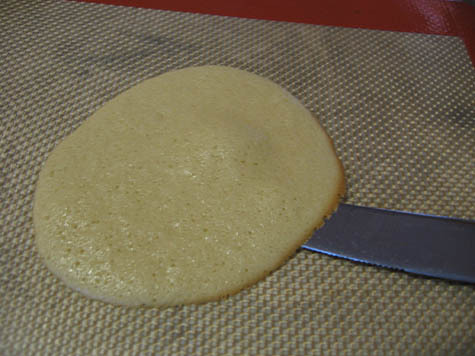 Bake until the outer edge each cookie turns golden brown, about 4-5 minutes. Working quickly, remove the cookie with a butter knife and flip it over onto a plate. Place a fortune in the middle of each cookie.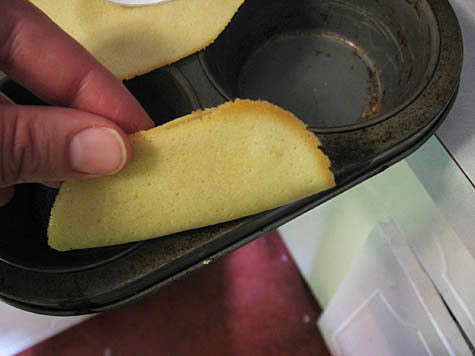 To form the fortune cookie shape, fold the cookie in half (like a little taco), then gently pull the edges downward over the rim of a mug.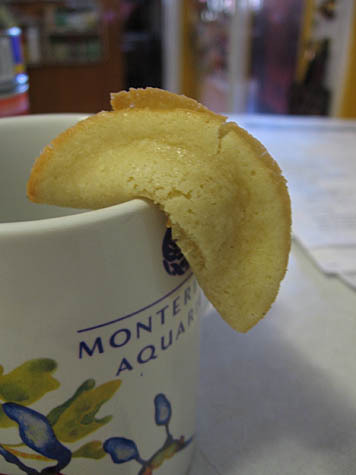 Place the finished cookie in the cup of the muffin tin so that it keeps its shape. Continue baking the rest of the cookies, adding a fortune and forming each batch of three, when they come out of the oven.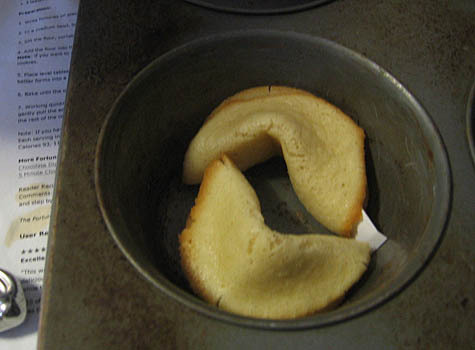 They will crisp up a bit as they cool. If you want them more crisp, spread out on a baking sheet and reheat in a 350 degree F oven for about 6 minutes. Let cool before serving.