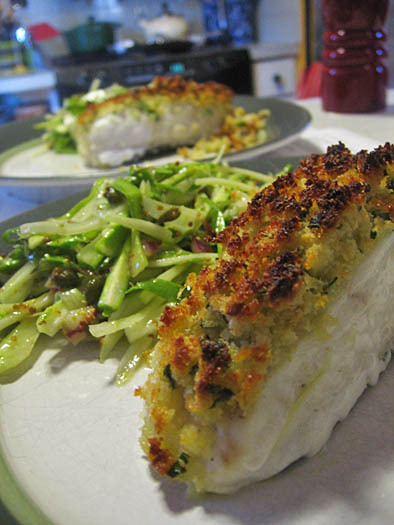 Hey! I was just recently made aware that the original recipe in Bon Appétit is by Ivy Manning, a Portlander and awesome food writer!
This was a very, very Spring-like, light and good meal. But here is a lesson for you — use big, fat asparagus spears. Mine were on the smaller side and vegetable peeling them into strips was…challenging. I used the peeler and then I had to just use a knife to slice what was too small too peel into tiny, thin strips. It worked but it was pretty time consuming. Just use big asparagus and you will thank me for that tip, which should be somewhat obvious, but to me anyway, was not at all. Duh!
Also, raw asparagus is very good! At least in little strips and tossed with lemon-dijon dressing. The halibut was just opaque and very moist. Loved the crunchy topping. The original recipe served six. Below, I kept the salad amounts the same as in the original, but kinda halved the fish amounts. So, adjust that as needed if you are making this for more than two people or don't want as much salad.
Slow-Roasted Halibut with Shaved Asparagus and Fennel Salad
Adapted from a recipe in Bon Appétit magazine, April 2010
4 1/2 tsp fresh lemon juice
1 tbsp Dijon mustard
3 tbsp extra-virgin olive oil
2 tbsp drained capers, chopped
1 tbsp finely diced shallot or red onion
1 clove garlic, minced
3/4 pound asparagus spears (about 1 bunch), trimmed
1/2 cup thinly sliced fennel bulb (I used 1 small bulb)
Nonstick vegetable oil spray
1 cup fresh breadcrumbs made from crustless French bread
2 tbsp finely grated Parmesan cheese
1 tbsp finely chopped fresh Italian parsley
1/2 tbsp finely chopped fresh thyme
1 tsp finely grated lemon peel (I used the zest from 1/2 a lemon)
1.5 tbsp butter, melted
2 6-ounce halibut fillets
For the salad:
Whisk lemon juice and mustard in small bowl. Gradually whisk in oil, then add capers, red onion or shallot and garlic. Season dressing to taste with salt and pepper.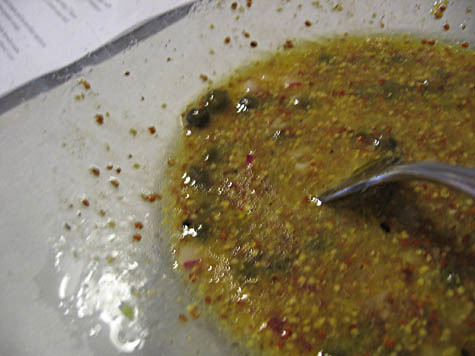 Place 1 asparagus spear flat on work surface. Using vegetable peeler, shave asparagus into long thin strips. Place asparagus strips in medium bowl with shaved fennel.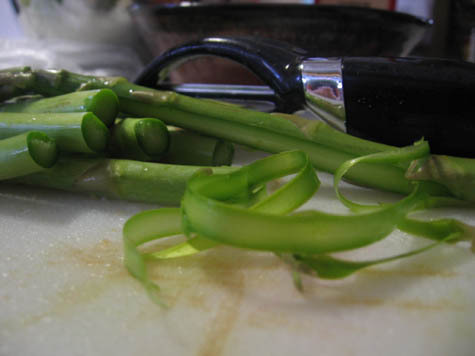 For the fish:
Coat rimmed baking sheet with nonstick spray. Mix breadcrumbs, cheese, herbs, and lemon peel in another medium bowl. Sprinkle with salt and pepper. Drizzle melted butter over. Using fork, toss to incorporate evenly.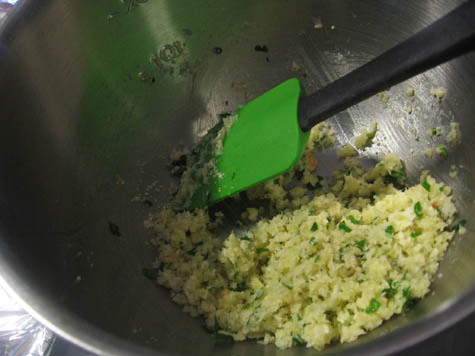 Place halibut fillets on prepared baking sheet, spacing apart. Sprinkle with salt and pepper. Divide breadcrumbs among fillets to cover top, pressing to adhere.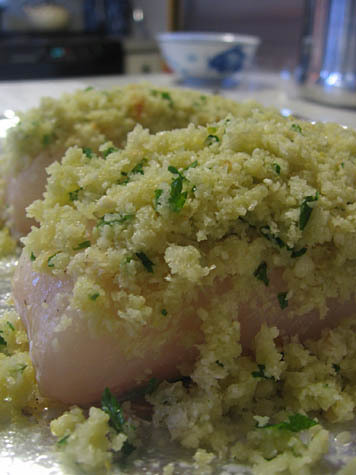 Preheat oven to 300 degrees F. Bake halibut until opaque in center, about 20 minutes. Turn on broiler.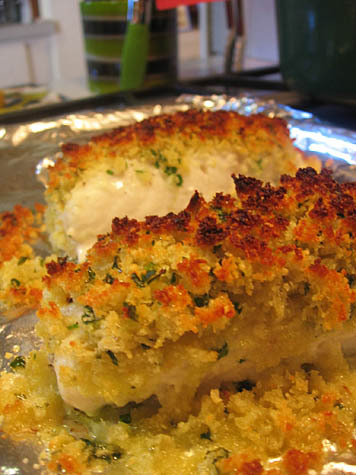 Broil halibut just until breadcrumbs start to brown, about 1 minute.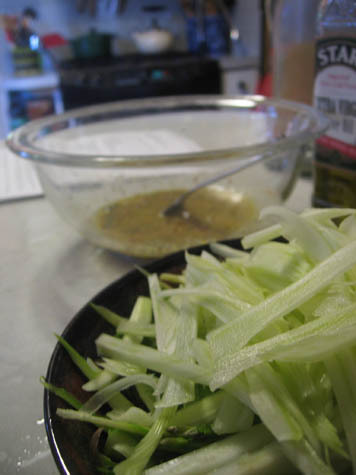 Pour dressing over asparagus and fennel mixture; toss to coat. Season salad to taste with salt and pepper.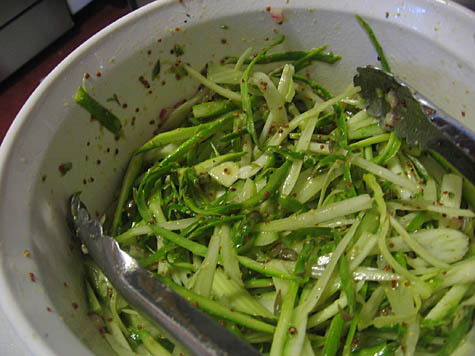 Divide salad (or most of it) and halibut among two plates and serve.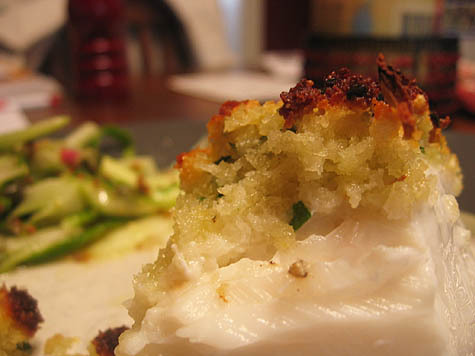 We did have a little leftover salad. The next night I toasted up some sourdough bread and made a bruschetta snack — bread, fennel-asparagus salad and a shaving of Robusto cheese!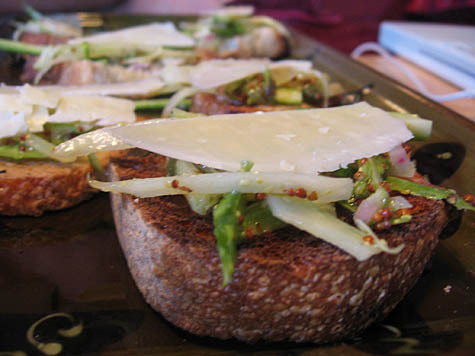 The whole meal was great. I'm definitely going to make the salad again before the end of asparagus season, because the bruschetta snack was wonderful!