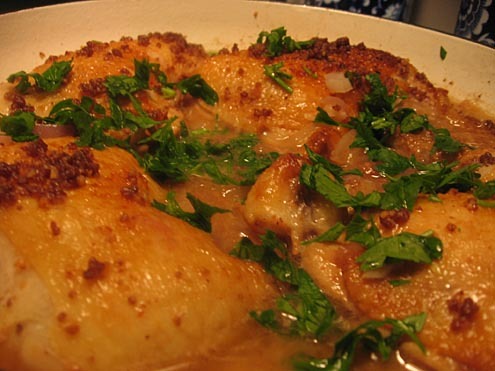 One of my favorite cookbook authors, Susan Herrmann Loomis, is coming to Portland! Very exciting! She'll be at In Good Taste, August 12-15, 2010.
In Good Taste is located at 231 NW 11th Ave, Portland, Oregon, 97209. It's a 3-day class (with a welcome dinner the night before) and you can enroll by e-mailing cookingclassesATonruetatinDOTcom. You can also call In Good Taste at 503-248-2015 with questions. More info here.
As if that's not enough, Susan also has a new cookbook out, Nuts in the Kitchen, and I was lucky enough to receive a review copy. So far, I have made two recipes from the book, but like all of her books, some of the most interesting parts are just reading the little features within the cookbook about the people who grow/produce the food used in the recipes and the places where some of these dishes are served.
Being a Portlander (and living within walking-distance of Pok Pok), I must admit that my favorite of these is the three page "Ode to the Thai Countryside", which features the village of Baan Mai, Andy Ricker of Pok Pok fame and Sunny Bovorat, Andy's partner in tasty eating and exploring in Thailand.
Okay, so the first recipe I made from the book was Sicilian Sweet and Sour Rabbit, but I used bone-in chicken thigh quarters as my substitute. I probably could have found a rabbit around Portland, but I decided to make the substitute and use the more familiar (at least to me) meat.
The result: very moist chicken in a flavorful, tart broth with lots of sweet onions. Oh, and I confess, I added a couple of cloves of garlic to the onions just because, well, I can't cook anything savory without adding garlic. It's just the way I operate.
Sicilian Sweet and Sour Rabbit (but with Chicken)
From the cookbook, Nuts in the Kitchen, by Susan Herrmann Loomis
3 tbsp almonds, coarsely chopped
3 tbsp currants
2 tbsp extra virgin olive oil
One 3lb rabbit cut into 6 serving pieces, or 3 lb of bone-in chicken thighs/legs
Sea salt
4 medium red onions, thinly sliced (here, I used 2 red onions and 2 sweet onions because that's what I had)
Optional: 2 cloves garlic, minced
6 fresh bay leaves or 3-4 dried bay leaves
Freshly ground black pepper
1/2 cup fresh lemon juice
1 tbsp plus 1 tsp sugar
Fresh herbs such as flat-leaf parsley, basil, sage or even fennel fronds for garnish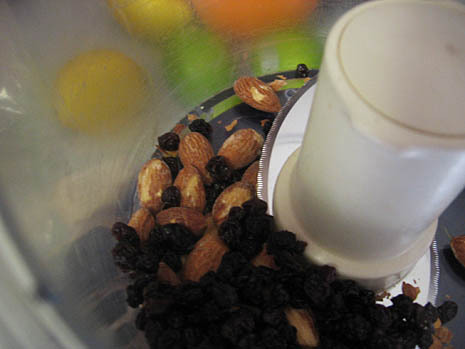 Place the almonds and currants in a mortar or in a food processor and crush or process them to form a chunky paste. Reserve.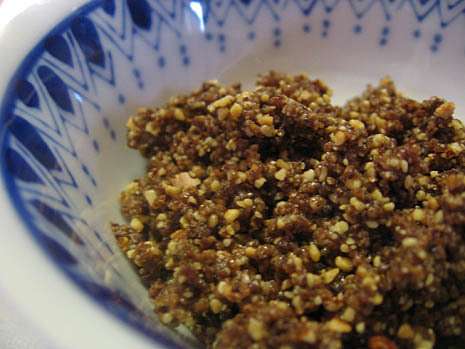 Place the olive in a large, heavy saucepan or Dutch oven over medium heat. When it is hot but not smoking, season with salt and add the rabbit or chicken. Brown on each side, about 8 minutes total. Salt the other side when you turn the meat over.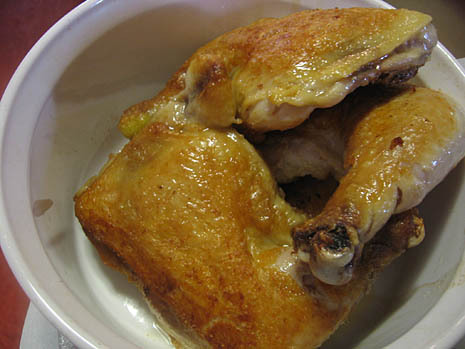 Remove rabbit or chicken from the pan and add the onions, stir until they are coated with oil, cover, and cook, stirring occasionally, until the onions soften, about 8 minutes. Add the garlic after this step, if you are using (if you too suffer from must-add-garlic-to-everything-itis).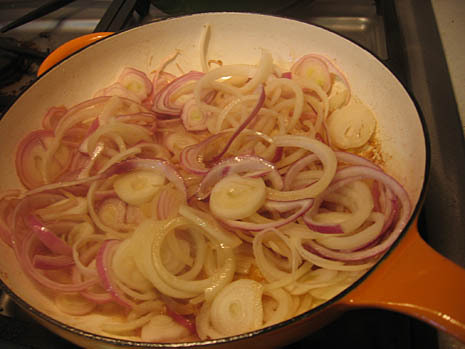 Return the rabbit or chicken to the pan and nestle it among the onions. Add the crushed currants and almonds, bay leaves and 1 cup of hot water. Stir, season lightly with salt and pepper, and cook, uncovered turning meat regularly and adding up to another cup of water so that there is always a scant inch in the pan, until it's 2/3 cooked, about 20 minutes.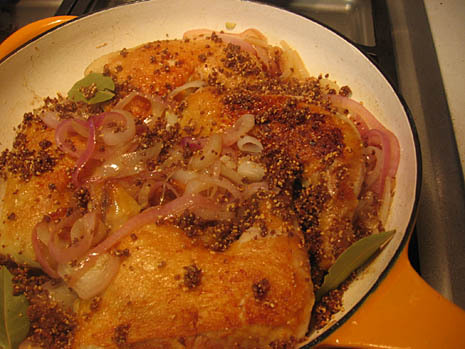 In a small bowl whisk together the lemon juice and sugar. Add to the pan, stir well, and continue to cook for about 10 minutes. Uncover the pan and continue to cook about 5 more minutes and the juices have reduced somewhat. You can check your temperature for chicken, it should be around 170-175 degrees F. You can also check the temperature for rabbit of course, I'm just not sure what number you are looking for…I'm sure google does, though.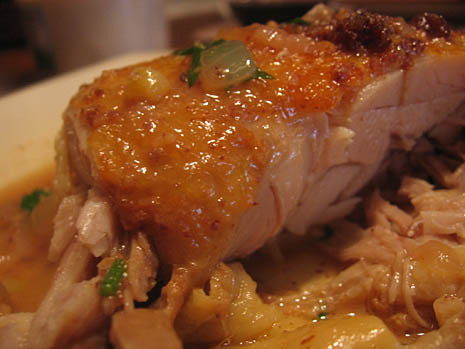 To serve, remove the bay leaves from the sauce. Put a piece of rabbit or chicken in the center of a plate and spoon some cooking juices, onions, currants and almonds over each piece. Garnish with herbs. This was a great Saturday night meal. We had some crusty bread on the side and a Caesar Salad.
Another recipe from the cookbook in a couple of weeks! Here's a hint: Spiced Macadamia Nut Butter should be slathered on EVERYTHING!