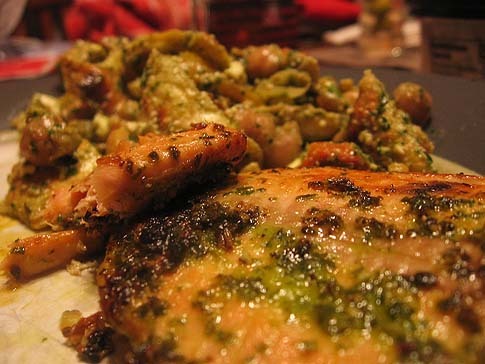 Here's a recipe that I remember making multiple times last Summer. Why didn't I blog about it sooner? Who knows, but here it is now. I made this last week and instantly remembered why I made it so much last year. It's really good. I love the salad. But, keep in mind, imho, the salad is best the day you make it because of the torn up, toasted pita. So try to eat it all the day you make it or at least eat all the pita pieces before you save it.
The original recipe called for sturgeon but I substituted salmon. Use what you have. I imagine the spices and flavors here would be good with most fish and probably even chicken.
I have no idea why I didn't take any photos of the salmon cooking. I used my grill pan.
Marinated Salmon with Moroccan Chickpea Salad
From Bon Appétit magazine
1/2 tbsp fennel seeds
1 tsp coarsely chopped fresh rosemary
1/2 tsp cumin seeds
1/4 tsp dried crushed red pepper
1/2 tsp whole peppercorns
1/2 cup coarsely chopped fresh parsley leaves
1/2 cup coarsely chopped fresh cilantro leaves
1 tbsp chopped fresh mint
3 tbsp fresh lemon juice
2 garlic cloves, chopped
1/2 cup olive oil
1 tbsp olive oil
2 (6- to 7-ounce) salmon fillets
2 large red bell peppers
2 flatbreads (such as pita bread)
1 15 1/2-ounce can chickpeas, drained
1/2 cup diced seeded peeled cucumber
1/2 cup walnuts, toasted, coarsely chopped
1/4 cup raisins
2 tbsp drained capers
1/2 cup crumbled feta cheese
For the spice mix (charmoula):
Combine first 5 ingredients in spice grinder and process until finely ground.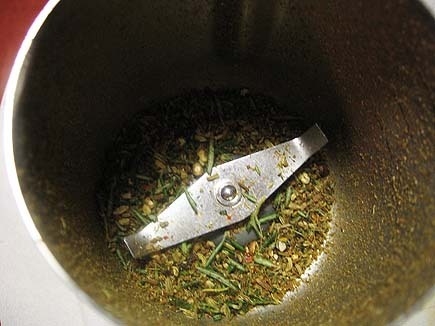 Transfer to blender. Add parsley and next 4 ingredients to blender. With blender running, gradually add oil and blend until coarse puree forms. Season to taste with salt.
Place fish on large plate. Pour half spice-olive oil mixture over fish, turning to coat. Cover and refrigerate fish at least 1 hour and up to 1 day. Cover and refrigerate remaining spice-olive oil mixture to use as dressing for salad.
For Moroccan Salad:
Char bell peppers directly over gas flame or in broiler until blackened on all sides.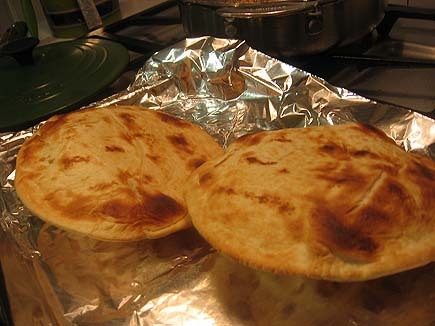 Transfer to paper or small plastic bag and seal tightly; let stand 15 minutes. Peel, seed, and chop peppers. Toast flatbreads directly over gas flame or in broiler until crisp and charred in spots on both sides. When cool enough to handle, tear into bite-size pieces.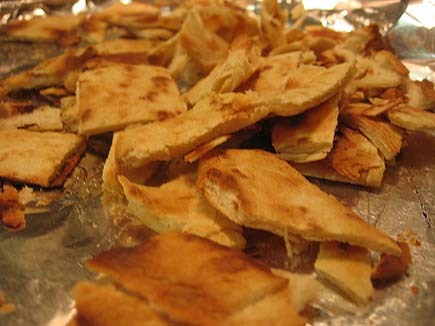 Preheat oven to 400 degrees F. Place peppers, torn bread pieces, chickpeas, and next 5 ingredients in large bowl. Add reserved spice/oil mixture; toss to coat. Season with salt and pepper.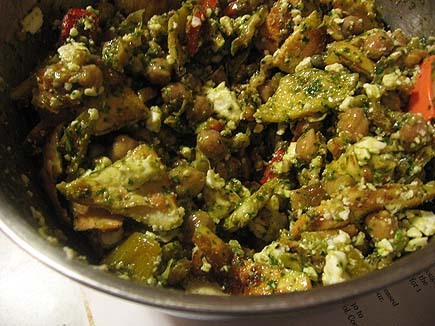 Heat olive oil in large skillet over medium-high heat. Add fish with marinade still clinging to surface and cook until done about 4-5 minutes per side. Serve fish with salad on the side.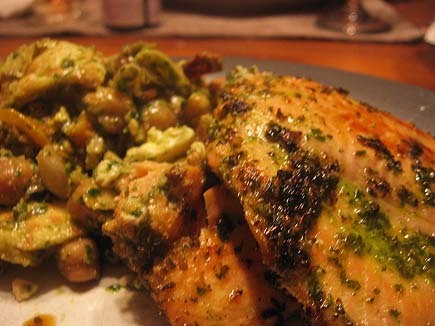 ***
So, hey, I got invited to a pre-opening restaurant event tonight. My first! I am so excited! I'll take pictures and post later in the week.