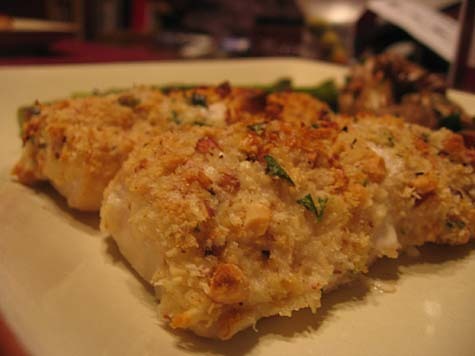 This was a surprise. I was not expecting it to be anything other than a way to use up some frozen mahi mahi from Trader Joe's (the kind that's frozen, in the marinade). But, hey, this was delicious! The yogurt gave it a nice tanginess and the almonds and parmesan are a wonderful combination. Plus, anytime you can spend about $6 on fish and make a great dinner, it's a win!
Since I did use the marinated mahi mahi, I just rinsed each piece of fish under cold water and removed any marinade. So, then I felt free to salt and pepper myself. Not a lot of salt just a sprinkle on the fish, then a pinch in the almond-parmesan coating.
I also just coated the top of the fish, as I wasn't convinced the bottom would be un-soggy (even with the rack-on-top-of-the-baking-sheet method). Next time I may try to coat all of the fish and see what happens, but just coating the top worked well and was quite flavorful.
Mahi Mahi with Parmesan Almond Crust
Adapted from a recipe by Ellie Krieger
1/3 cup 2% plain yogurt (I used Greek style)
1 large egg white
1 tbsp Dijon mustard
1/4 cup panko breadcrumbs
2 tbsp parmesan cheese, grated
1/4 cup chopped toasted almonds
2 cloves garlic, minced finely
1 tbsp chopped fresh parsley
salt and freshly ground pepper
3-4 pieces of mahi-mahi fillet
lemon wedges
olive oil spray
Preheat oven to 400 degrees F. Lightly oil a wire rack large enough to hold fillets in a single layer. Place the rack on a baking sheet and set aside.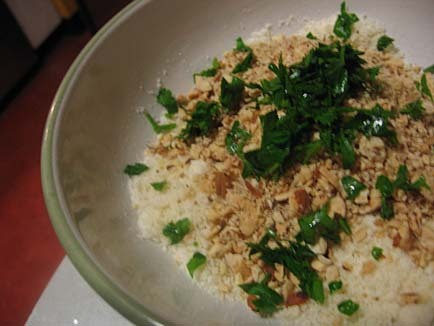 Combine the breadcrumbs, almonds, parmesan, parsley, garlic, a little salt and pepper in a shallow dish. Whisk together yogurt, egg white and mustard in a medium bowl until creamy.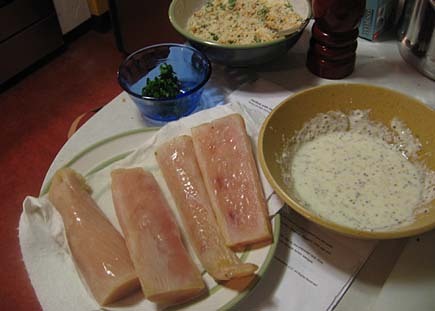 Sprinkle each piece of fish with a little salt and pepper. Dip one side of fish into the yogurt mixture and then in the crumb mixture. Pat crumbs on the top of fish to cover any placed that didn't get coated.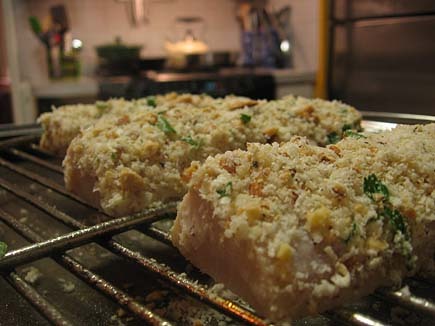 Set on the prepared rack; spray tops with olive oil. Fish should not touch. Bake until lightly browned 10-14 minutes (depending on the size of your fish and if you are going to give it any broiler time). For a more golden crust, let sit under the broiler for a few seconds. I believe I gave my pieces about 12 minutes at 400 and then maybe one minute under the broiler.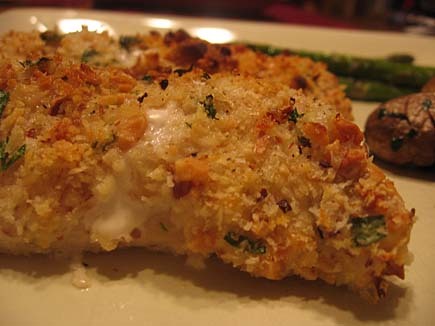 Serve fish with the lemon wedges.