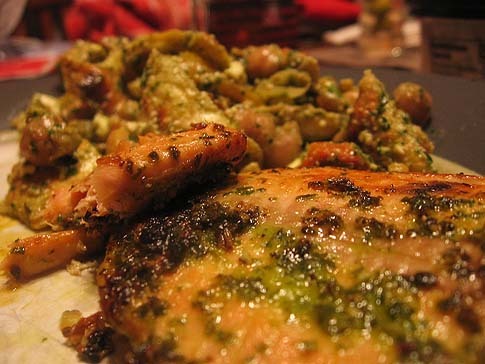 Here's a recipe that I remember making multiple times last Summer. Why didn't I blog about it sooner? Who knows, but here it is now. I made this last week and instantly remembered why I made it so much last year. It's really good. I love the salad. But, keep in mind, imho, the salad is best the day you make it because of the torn up, toasted pita. So try to eat it all the day you make it or at least eat all the pita pieces before you save it.
The original recipe called for sturgeon but I substituted salmon. Use what you have. I imagine the spices and flavors here would be good with most fish and probably even chicken.
I have no idea why I didn't take any photos of the salmon cooking. I used my grill pan.
Marinated Salmon with Moroccan Chickpea Salad
From Bon Appétit magazine
1/2 tbsp fennel seeds
1 tsp coarsely chopped fresh rosemary
1/2 tsp cumin seeds
1/4 tsp dried crushed red pepper
1/2 tsp whole peppercorns
1/2 cup coarsely chopped fresh parsley leaves
1/2 cup coarsely chopped fresh cilantro leaves
1 tbsp chopped fresh mint
3 tbsp fresh lemon juice
2 garlic cloves, chopped
1/2 cup olive oil
1 tbsp olive oil
2 (6- to . . . → Read More: Marinated Salmon with Moroccan Chickpea Salad