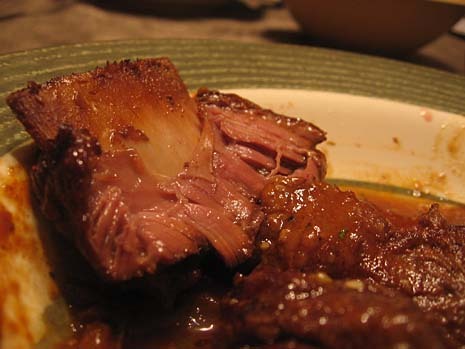 Both jwa and I had short ribs recently at Tabla (New Year's Eve, I believe) and ever since, I've wanted to make some. I finally gave it a try last weekend and was pretty happy with the results. The cooking liquid here is deeeeee-licious! And the meat was pretty good too! The meat just fell off the bones, nom-nom-nom-nom.
The original recipe said to make the ribs the day before you eat them, just re-warming before serving. An advantage to that is that you can pull some of the solid fat off the top. I didn't do that, but I did cook it in the morning, let it cool, refrigerated for a couple of hours and was able to spoon some of the fat off the top that way.
But really, you're eating a big pot of red meat, are you really concerned about the extra fat? So, you could probably time this to just be done when you want to eat it and not worry about it at all, or just try to skim some fat off while it's still hot.
Braised Short Ribs
Recipe adapted from Michael Symon
5-6 Servings
2 tbsp olive oil
3 lbs meaty beef . . . → Read More: Braised Beef Short Ribs