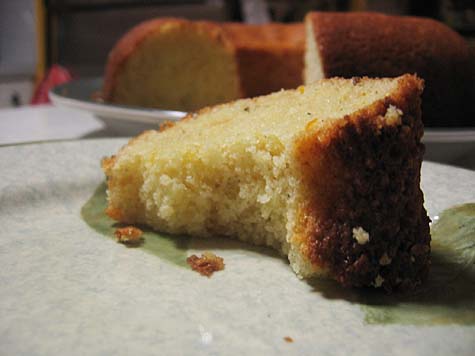 Oh my god, this was so good. I think this is the best cake i've ever made. I think this will be my signature cake, you know, if I ever need a signature cake.
I wasn't even sure this was going to turn out as I basically combined two recipes, substituted some ingredients and just hoped for the best. It's a little spicy, very vanilla-y, with a little hit of citrus.
This cake uses cheese! Intriguing! But, instead of all ricotta cheese, I used one cup of mascarpone and 1/2 cup of ricotta — but you could use all ricotta (what the original recipe with the cheese called for if you wanted to). I just had the marscapone on hand and I wanted to use it.
The cake has a light texture and a wonderful flavor. It doesn't even need a glaze or powdered sugar!
Cardamom, Vanilla & Orange Pound Cake
A combination of two recipes — an orange ricotta pound cake by Giada De Laurentiis and a vanilla cardamom pound cake in Gourmet magazine
1 1/2 cups cake flour
2 1/2 teaspoons baking powder
1 tsp kosher salt
1/2 tsp cardamom seeds, freshly ground (or just use ground cardamom)
3/4 cup (1 1/2 sticks) butter, . . . → Read More: Cardamom, Vanilla & Orange Pound Cake