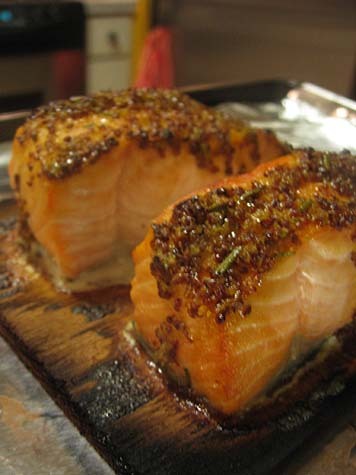 Here is a recipe that certainly will work outdoors on a grill but also worked quite well in the oven. I found these little 6 X 6 inch or so cedar grilling planks at Sur la Table for $10 and impulse-bought them. Then I on-purpose bought some salmon.
I soaked my plank for about an hour and a half. If it was going on a charcoal grill the fish *, I would have soaked it for at least two hours. I let the plank heat up in the oven for about 5 minutes, before placing the salmon on it. I don't actually know how much flavor the cedar imparted on the salmon, but wow, did it smell good while in the oven. These planks were officially, single serving size but I found I could easily fit the two pieces of salmon on it.
Also, since my plank was not too charred, I rinsed it off with hot water (no soap) and plan on using it again.
Oh and I can not stress enough how good the maple-mustard-rosemary crust on the salmon was…really, I can't. I just can't at all. Nope, not even going to try. And, if you didn't have a cedar plank, I would still recommended making this recipe just on a baking sheet.
Cedar-Plank Salmon
Adapted from Gourmet Magazine, via Deerholme Farm, Vancouver Island, British Columbia
1 tbsp grainy mustard
1 tbsp pure maple syrup
1 tsp minced rosemary
1/2 tbsp grated lemon zest
3/4 lb salmon fillet, cut into two pieces
Special Equipment: a cedar grilling plank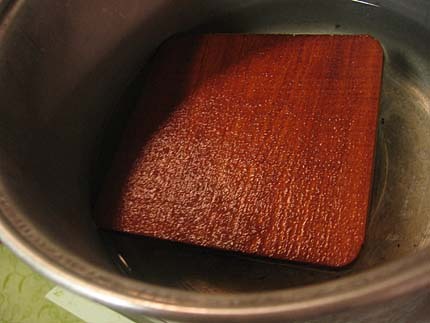 Soak cedar grilling plank in water to cover 1-2 hours, keeping it immersed.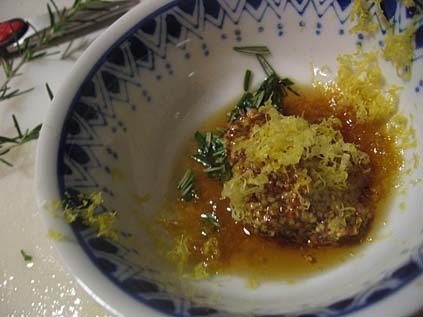 Preheat oven to 450 degrees. Stir together mustard, honey, rosemary, zest.
Salt and pepper fish first and then spread mixture on flesh side of salmon and let stand at room temperature 15 minutes.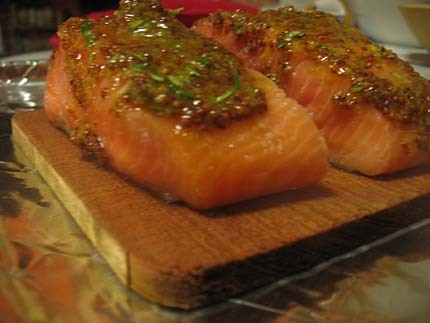 Set plank in the oven for about 5 minutes. Remove and put salmon on plank, skin side down (if salmon is too wide for plank, fold in thinner side to fit). I put my plank on a baking sheet to avoid any oven messes.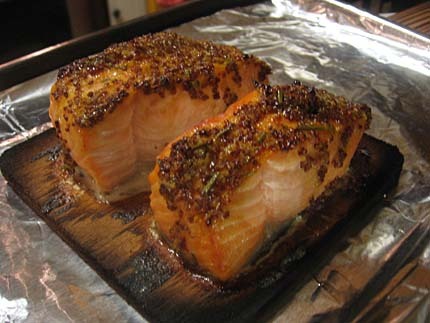 Cook until salmon is just almost cooked through, 12 – 14 minutes. Turn on the broiler and let the top get a little golden and form a crust, about 1-2 minutes. Let salmon stand on plank 5 minutes before serving.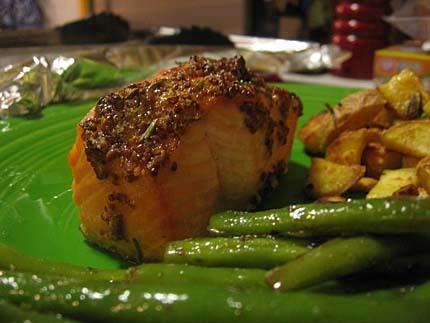 We had the salmon with some oven roasted sweet potatoes and green beans.
Awesome quick green beans – trim, rinse and saute for a couple of minutes in some olive oil. Salt and pepper lightly and add about a couple of tablespoons chicken broth. Lower heat, cover and cook about 15 minutes. Remove lid, turn up heat and let broth evaporate. So good!
* To cook the salmon on a grill: Prepare grill for direct-heat cooking over medium-hot charcoal (medium-high heat for gas). Open vents on bottom and lid of charcoal grill.
Grill, covered with lid, 13-15 minutes.