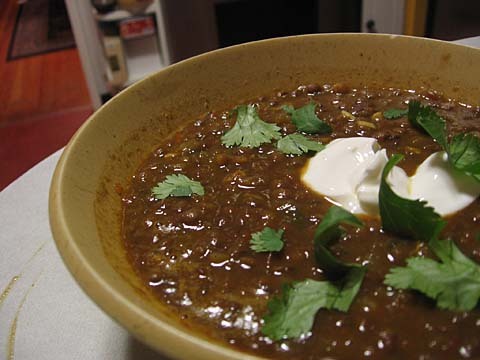 Recently, I found myself with a bag of lentils and a dream. Or something like that. Maybe it was just a bag of lentils, a craving for soup and memories of the awesome chicken tagine of last month. So I kind of combined the two for something I like to call Lentil Soup #22 (or Moroccan-Style Lentil Soup). I've posted lentil soups before, but this is way different.
I used Spanish lentils for this (they hold their shape really well) but any brown lentil will work fine. So would red or green, probably.
Lentil Soup #22 (or Moroccan-Style Lentil Soup)
Adapted from a recipe by ME!
2 tbsp olive oil
1 onion, diced
4 cloves garlic, chopped
1 tsp smoked paprika
1 tsp cumin
2 tbsp sun dried tomato paste
1 cinnamon stick
8 cups chicken or vegetable broth
1 15-ounce can diced tomatoes, drained
1 1/4 cups brown lentils
1 handful cilantro, chopped
Optional: 1/2 tsp Rogan Josh seasoning
Garnishes: more cilantro and yogurt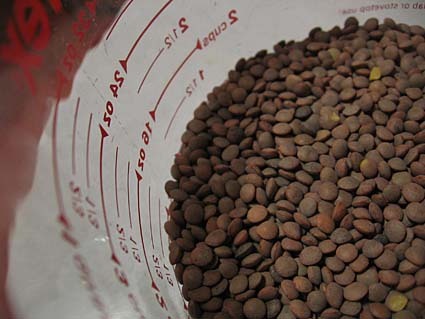 Heat the olive oil in a big soup pot. Add the onion and garlic and saute over medium, until a little golden and soft, 8-10 minutes.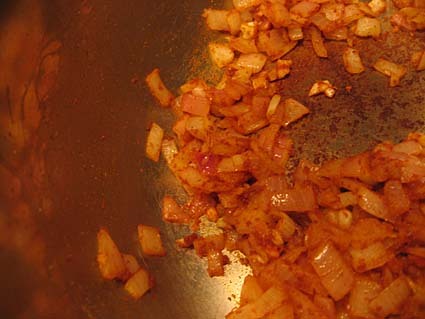 Next comes the paprika, cumin, tomato paste and Rogan Josh seasoning, if using. Stir and cook about another two minutes.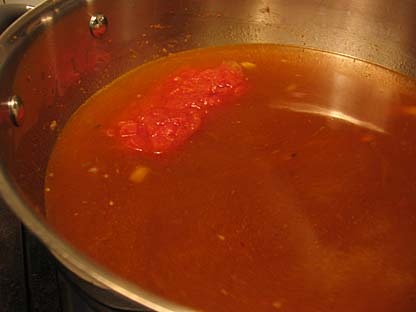 Add the cinnamon stick, broth, diced tomatoes and bring to a boil.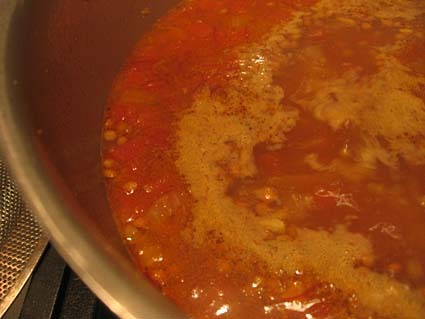 Combine the lentils into the pot and cook, stirring occasionally, about an hour. Taste and adjust seasonings and salt and pepper to taste. Add the chopped cilantro and serve.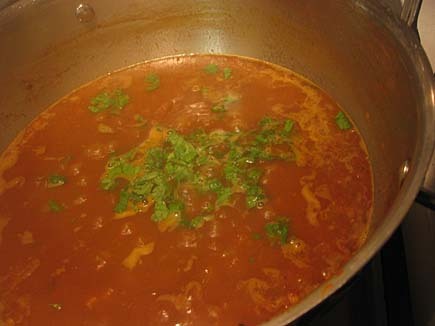 Garnish with more cilantro and yogurt.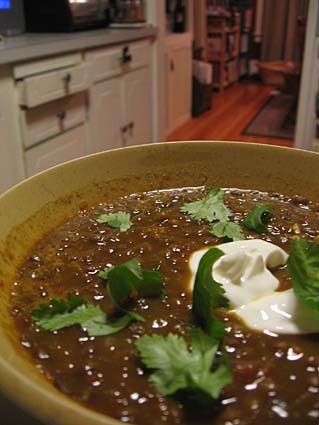 ***
In bread news, I made the Pecan, Raisin & Anise Baguettes which turned out well and then last weekend I made another French Round. I let the starter go for 16 hours, I used Morton Kosher Salt (saltier!) and spritzed with water. It made all the difference! So good! nom nom nom nom