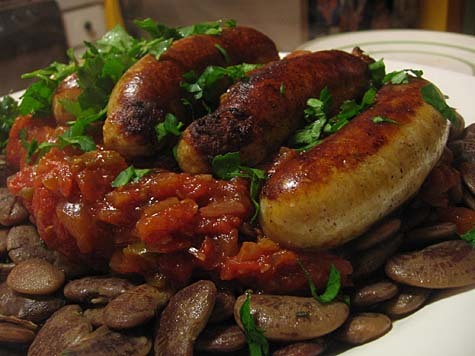 We had this meal over New Year's Weekend because I believe lentils are lucky to have around that time. Of course, I opted to not use lentils because I had some Christmas Lima Beans that I needed to use. I hope Christmas Lima Beans are still lucky. I soaked my beans for about 8 hours before I used them in the recipe, so make sure you do that if you are using larger dried beans. You could also just use lentils, like the original recipe calls for and skip the soaking all together. I think that's what I'll do next time.
That said, this meal was fantastic! The tomato salsa is really fragrant and good and I have discovered Sweet Italian Chicken Sausage at Trader Joe's. Wow — it was so tasty in this. Feel free to use the sausage of your choice — chicken, turkey or traditional pork sausage. Note: If your sausage is not raw, I would just cook briefly in the pan, not bake in the oven too.
This will feed a lot, so invite people over or have lunches and dinners for the week to look forward too.
Sausages and Legumes with Tomato Salsa
Adapted from a recipe in Jamie's Italy
8 medium-sized good-quality Italian sausages (my package of chicken Italian sausage only had 5, so that's how many I used)
Olive oil
1 pound broccoli florets
Juice of 1/2 a lemon
Extra virgin olive oil
Sea salt and freshly ground black pepper
A small handful of chopped thyme
For the tomato salsa
1 tbsp Olive oil
1 small red onion, peeled and finely chopped
3 cloves of garlic, peeled and finely sliced
1 small stick of cinnamon
1-2 small dried red chilies, crumbled
2 tbsp red wine vinegar, plus extra for dressing
2 (14 ounce) cans of good-quality plum tomatoes (I used Italian stewed tomatoes)
For the lentils (or beans)
14 ounces lenticchie di Castelluccio or Puy lentils (or the equivalent in pre-soaked beans)
2 cloves of garlic, peeled
1 bay leaf
A handful of fresh flat–leaf parsley, leaves chopped, stems reserved
Red wine vinegar or sherry vinegar
Start the salsa: Heat the olive oil in a pan, then add the onion and sliced garlic, cinnamon stick and a the chili, saute on a gentle heat for 10 minutes, until the onions are soft. Turn the heat up and add your red wine vinegar — stand back.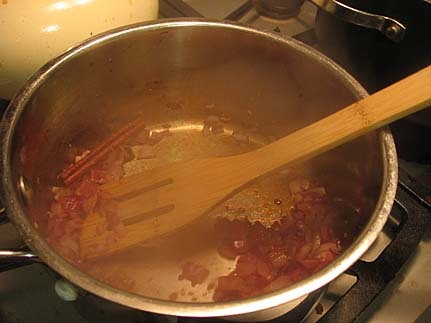 Then turn the heat down to low and add the canned tomatoes. Break them up with a wooden spoon and simmer while you work on the rest of the meal.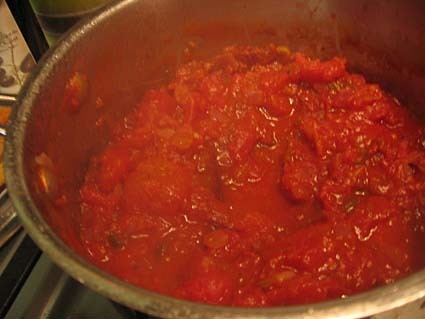 Preheat the oven to 400 degrees F. Put the beans into a pot, cover them with water, and add the 2 whole cloves of garlic, the bay leaf, and some tied-up stems from the parsley. Simmer for around 20 minutes for lentils, up to an hour for larger beans. Make sure that you've got enough liquid covering the lentils or beans.
Toss the sausages in a little olive oil and sear them in a pan, then put them in the preheated oven for 25 minutes or until golden and crisp. It helps if the pan you seared them in is oven safe.
Toss your broccoli in a little olive oil, salt and pepper and add it to the oven too, roasting for about 15-20 minutes. When done, toss in a bowl with a squeeze of lemon juice and some extra virgin olive oil.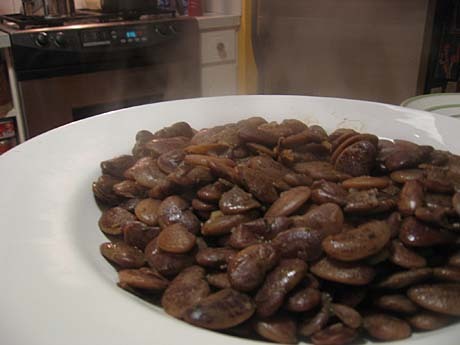 Once the lentils or beans are cooked, remove the parsley stems and bay leaf and pour away most of the water from the pot. Mash the garlic cloves up with a spoon, mix in with the lentils or lentils, and dress them using 4 tablespoons of good extra virgin olive oil and 1 or 2 tablespoons of good vinegar. Throw in all your finely chopped parsley leaves, mix, and season.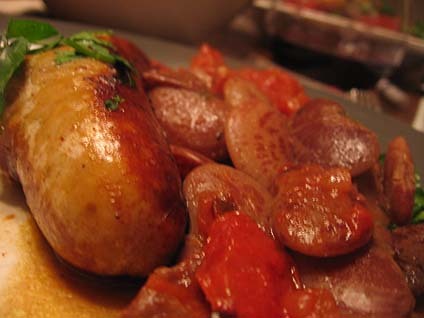 Remove the sausages from the pan and pour away any fat. Transfer lentils or beans into your serving bowl. Remove the cinnamon stick from the salsa and discard it, then season well to taste and spoon it over your lentils or beans. Place the sausages, either sliced or whole, on top. Sprinkle with the thyme or parsley and serve with a big bowl of the roasted broccoli.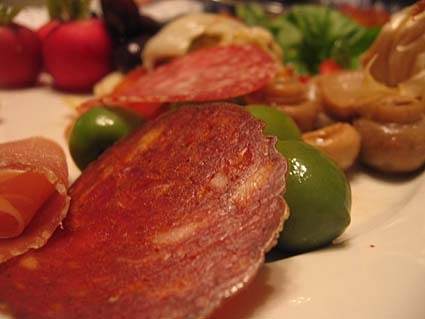 Starting this meal off? A killer antipasto platter I put together with — roasted red pepper, marinated artichoke hearts, roasted garlic, olives, prosciutto, mole salami, marinated mushrooms and aged provolone.