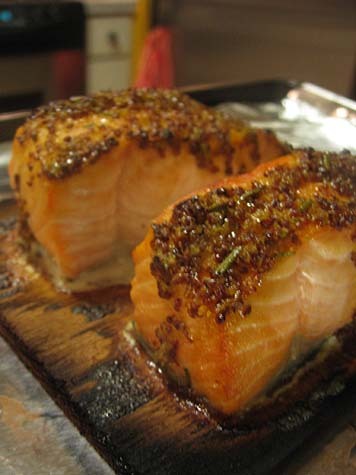 Here is a recipe that certainly will work outdoors on a grill but also worked quite well in the oven. I found these little 6 X 6 inch or so cedar grilling planks at Sur la Table for $10 and impulse-bought them. Then I on-purpose bought some salmon.
I soaked my plank for about an hour and a half. If it was going on a charcoal grill the fish *, I would have soaked it for at least two hours. I let the plank heat up in the oven for about 5 minutes, before placing the salmon on it. I don't actually know how much flavor the cedar imparted on the salmon, but wow, did it smell good while in the oven. These planks were officially, single serving size but I found I could easily fit the two pieces of salmon on it.
Also, since my plank was not too charred, I rinsed it off with hot water (no soap) and plan on using it again.
Oh and I can not stress enough how good the maple-mustard-rosemary crust on the salmon was…really, I can't. I just can't at all. Nope, not even going to try. And, if . . . → Read More: Cedar-Plank Salmon