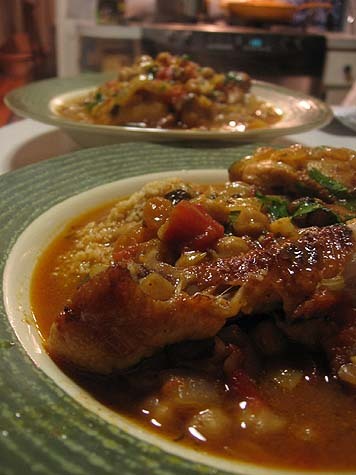 This is a kind of recipe mash-up. A lamb tagine recipe (with the wonderful & amazing spice-paste-rub stuff) and a chicken tagine recipe with the tomatoes and broth and oven cooking. And wow, good call to mix the two recipes togetther! This was WONDERFUL — all caps wonderful. I wrote it down right after dinner so I would remember exactly what I did.
Let's see, what else? I did not make this in an actual tagine (*hint* *hint*) but a big, heavy, ovenproof, wide skillet. That worked well. I also used some of a spice mix I got at Penzeys — Rogan Josh. It has ginger, paprika, cumin, garlic, etc…so if you don't have that specific blend, you can just add a little of those spices or omit it, it was only a 1/2 teaspoon. I was really just looking for an opportunity to use it. It smells so good. I wind up with so many little jars of spice blends from Penzey's because they all smell so good!
Obscure ingredient alert: I actually had sundried tomato paste! If you don't, I'm sure you could just use regular tomato paste. I've also included the recipe for the couscous I made to accompany the tagine and a harissa yogurt sauce below.
Chicken Tagine with Chickpeas & Golden Raisins
Adapted from two recipes by Bobby Flay — one for Chicken Tagine and one for Lamb Tagine
2 lb chicken thighs and drumsticks (I used about 1 lb bone-in, skin on drumsticks and about 1 lb boneless, skinless chicken thighs — this was a good combination!)
6 cloves garlic, coarsely chopped
1 tbsp honey
1/4 cup olive oil
1 handful chopped cilantro
Pinch of saffron threads
2 tsp smoked paprika
2 tsp ground cumin
2 tbsp sun-dried tomato paste
2 tbsp olive oil
Salt and pepper
1 white onion, diced
1 leek, cleaned, trimmed and sliced
Optional: 1/2 tsp Rogan Josh seasoning
2 cups chicken stock
1 cinnamon stick
1 15-ounce can diced tomatoes, drained
1 15-ounce can chickpeas, rinsed and drained
1/2 cup golden raisins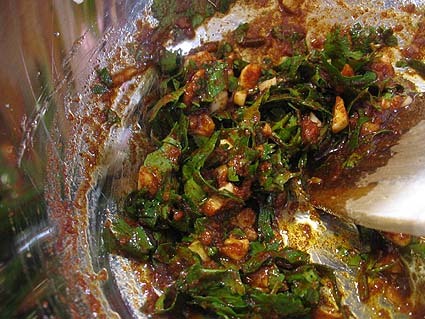 Mix together the garlic, honey, olive oil, cilantro, saffron, paprika, cumin and tomato paste in a large bowl. Rub the mixture all over the chicken and cover and marinate in the refrigerator for 5 – 8 hours. Remove from the refrigerator 30 minutes before cooking. Preheat oven to 400 degrees F.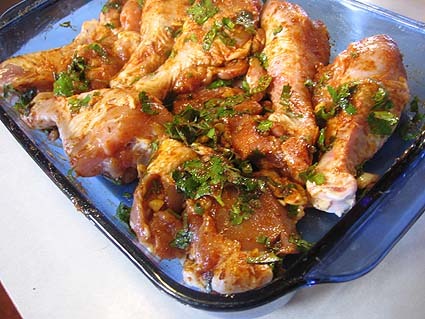 Heat olive oil in a large Dutch oven or a tagine over high heat. Season chicken with salt and pepper on both sides and place in the hot pan, in batches if needed; cook until golden brown.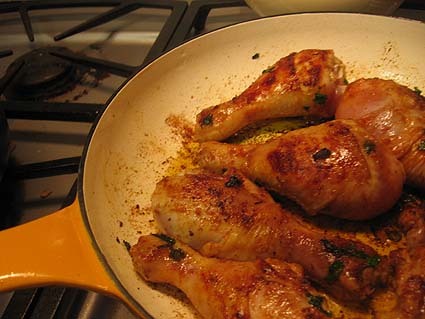 Remove chicken to a plate or bowl. Make sure you get up all the garlic pieces and crispy cilantro bits.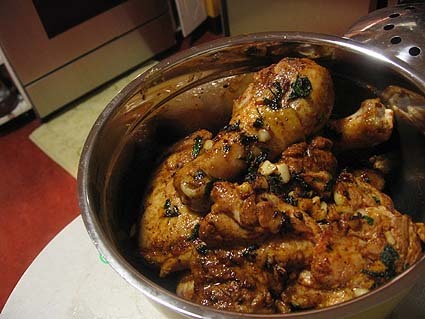 Return the Dutch oven/tagine to the stove and add the onions, leek and Rojan Josh seasoning and cook until soft. Add the stock, tomatoes, cinnamon stick, tomatoes, chickpeas, and raisins and bring to a simmer.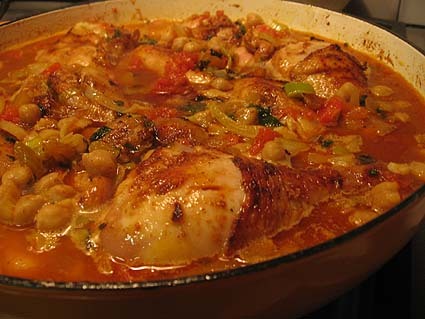 Nestle the chicken (and any accumulate juices) down into a tagine or Dutch oven. Cover and cook in the oven for 45 minutes or until the chicken is tender. Do not remove the lid to check on the chicken until after the 45 minutes.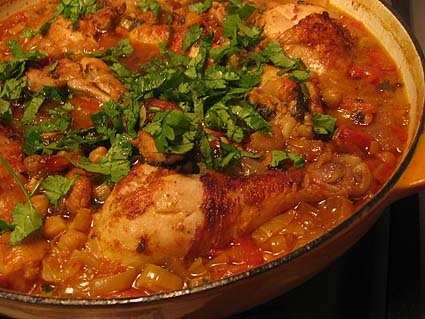 Garnish with chopped clinatro and serve harissa sauce on the side.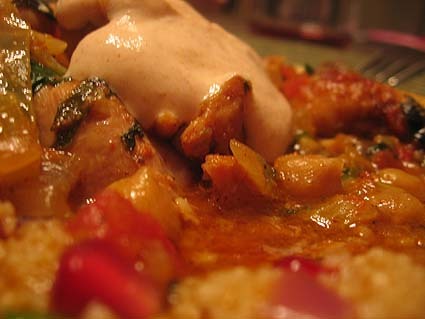 Harissa Sauce
1/2 cup 2% fat Greek yogurt
1 tbsp harissa paste
Whisk all ingredients together in a small bowl and let stand at least 30 minutes in the refrigerator before serving. This is awesome stuff. Do not skip it!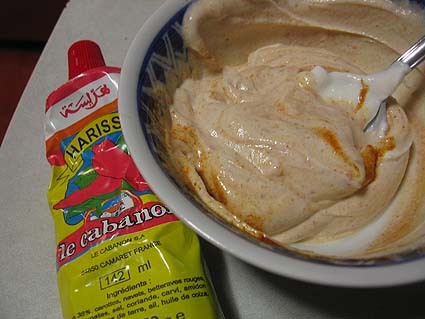 Almond, Orange & Pomegranate Couscous
1 cup couscous
1 1/2 cups chicken stock
1 tsp olive oil
1 tsp orange zest
1/4 cup toasted almonds, chopped
1/4 cup pomegranate seeds
2 green onions, sliced
salt
Bring the chicken stock, pinch of salt and olive oil to a boil. Add the zest, green onions and couscous. Stir. Add the almonds and pomegranate seeds to the top. Turn off the heat and cover for 5 minutes.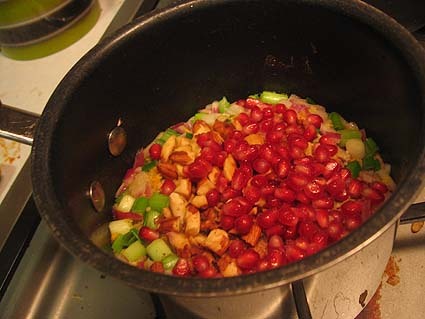 Fluff with a fork and serve with the tagine.