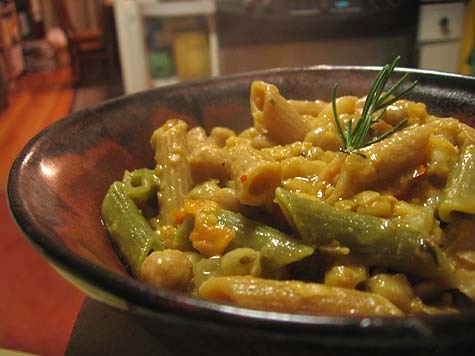 This is a great recipe in which to use some of that turkey stock you just made. Or, of course, chicken stock works well too. Vegetable stock/broth probably too. This is not completely authentic, I'm sure. I've added tomatoes and tweaked the ingredients to my liking. Such as: I prefer this very garlicky and thick but you can adapt that to your needs. It can be stew-like or soup like. You can prepare it dressed like a reindeer. The choices are endless.
I also used a mix of spinach and wheat rigatoni, making it more like a healthy pasta dish with a chickpea sauce. That is just my way.
Instead of using a potato masher, you can also take about half the chickpeas out, use a blender on the remaining chickpeas/stock/veggies and then add the reserved whole chickpeas back into the pan when you add the pasta.
I halved the original recipe which fed four, so below, should feed two.
Okay, let's do this!
Pasta e Ceci (Pasta with Chickpeas)
Adpated from the Splendid Table, who in turn, adapted it from Jamie Oliver — the original recipe is in Jamie's Italy. It is, I checked!
1 small onion, peeled and finely chopped
2 cloves of garlic, peeled and finely chopped
Extra virgin olive oil
A sprig of fresh rosemary, leaves picked and finely chopped
1 14-oz. cans of chickpeas
2 cups of chicken stock
Optional: a piece of Parmesan rind
3/4 cup dried ditalini or other small Italian "soup" pasta
handful of cherry tomatoes halved or quartered, depending on size
Sea salt and freshly ground black pepper
Optional 2: a small handful of fresh basil or parsley, leaves picked and torn, or more rosemary for garnish…and grated Parmesan cheese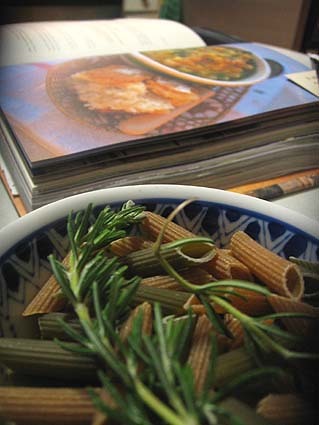 Put the finely chopped onion, cherry tomatoes, and garlic into a saucepan with a little extra virgin olive oil and the rosemary and cook on low, with the lid on, for about 15-20 minutes, until all the vegetables are soft, without any color. Stir a couple of times to make sure nothing is getting to dark. The first time I did this, I put it on low, walked away and came back 20 minutes to burnt garlic and rosemary.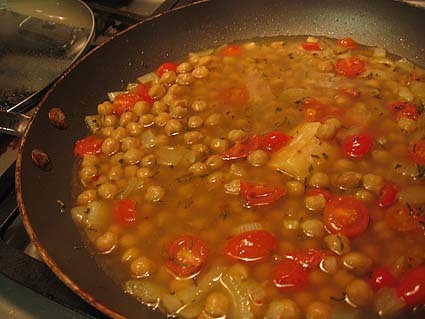 Drain your chickpeas well and rinse them in cold water, then add them to the pan and cover with the stock. If you have one (and I do, just for these types of occasions), put a small piece of Parmesan — or any hard italian cheese — rind in there and let it simmer. Cook gently for half an hour and then, use a potato masher to mash the chickpeas up a bit.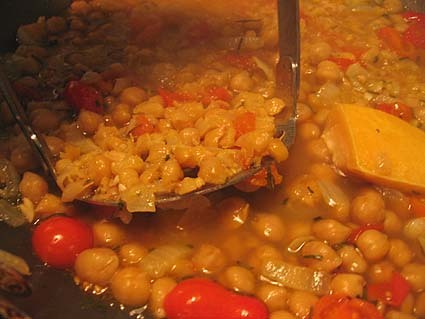 Season the soup with salt and pepper, and add the pasta. Simmer gently until the pasta is cooked. And discard your rind if you have it in there. It's job is done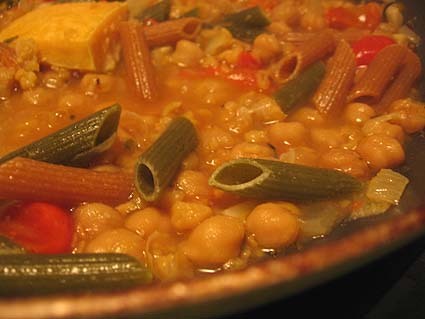 At this point, if the soup is a little thick, pour in some more chicken stock to thin it down, and add more salt and pepper if needed. Oh, why not, throw in a little grated Parmesan right now.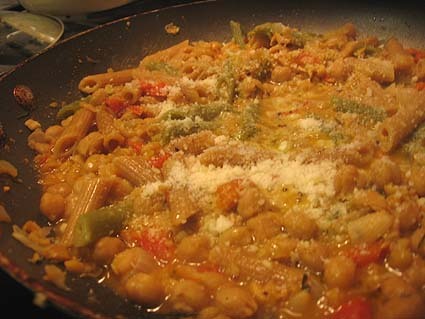 Serve drizzled with good-quality extra virgin olive oil and some torn basil if you have any. I did not.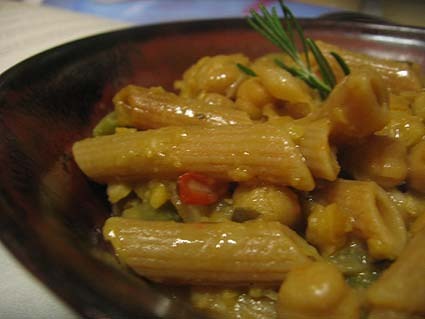 I threw a rosemary piece on top for garnish.