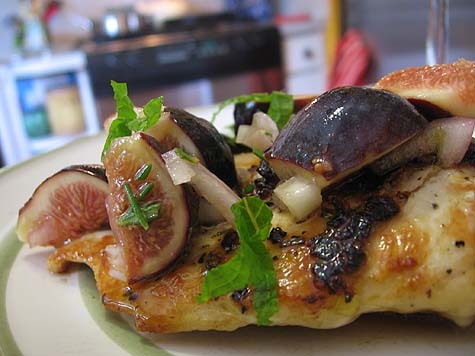 This is one of those meals that is so simple yet so good, that you can't believe you didn't make it before or that you don't have it for dinner a few nights per week. It's from The New Spanish Table and I promise, the next few posts WILL NOT be from that cookbook. Really. But, it's such a wonderful cookbook! But no. I will restrain myself.
Here, I had just scored some figs from Limbo and was needing something to do with them. This was the perfect solution!
Grilled Chicken with Fresh Fig Salsita
Pollo a la Brasa con Salsita de Higos
8 to 9 smallish ripe but firm fresh figs, trimmed and cut into thin wedges
1/2 small red onion, thinly sliced (I used a sweet onion instead)
3 tsbp medium-dry sherry
2 tbsp sherry vinegar
3 tbsp extra-virgin olive oil
3 large garlic cloves, minced
1 tbsp chopped fresh rosemary
kosher or sea salt
freshly ground black pepper
4 boneless, skinless chicken breast halves, rinsed and patted dry
1/4 cup lightly toasted slivered almonds
1/4 cup finely sliced fresh mint
Salt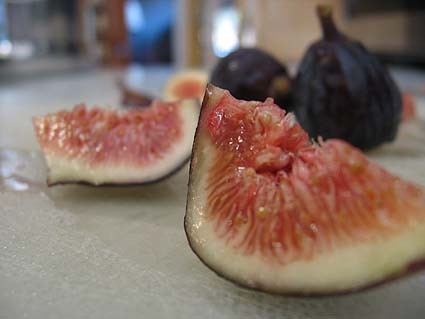 Place figs, onion, sherry, vinegar and olive oil in a bowl; toss to mix. Let stand for 30 minutes.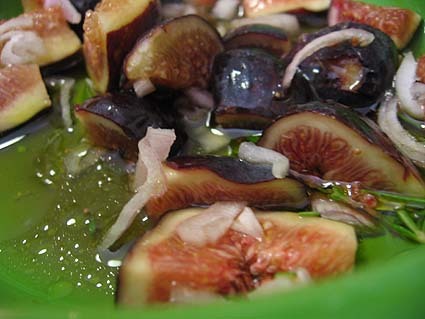 Get your grill ready or heat up a grill pan.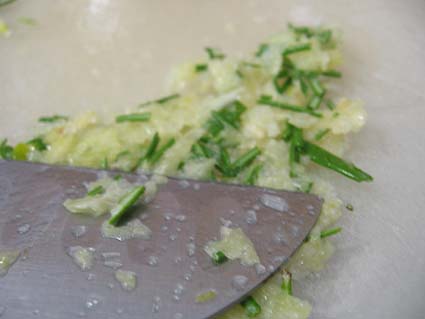 Mix the minced garlic, rosemary, 1 teaspoon of salt and pepper and then add 2 tablespoons of olive oil to make a paste. You can also crush all of this up in a mortar and pestle. Or use a knife and crush it into a cutting board to form the paste.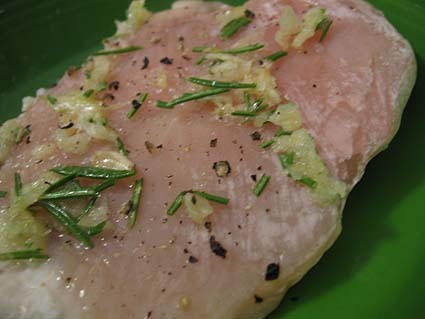 Brush the chicken with the paste. Grill the chicken until lightly charred and cooked thoroughly, 6-8 minutes per side. Brush a few times with remaining paste while cooking.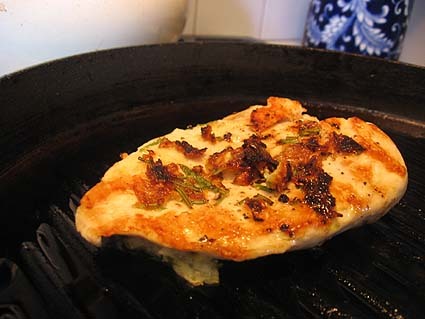 Transfer chicken to a cutting board and let rest for 5 minutes. You can either slice the chicken breasts on the diagonal for serving or leave whole. When ready to serve, add almonds and mint to the salsita, toss to mix, and add salt to taste.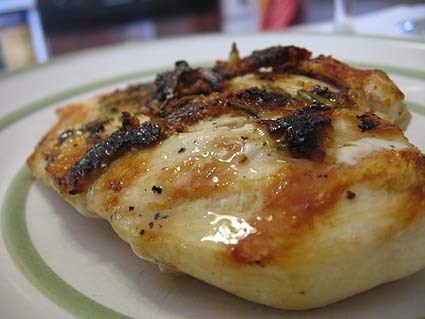 Plate a chicken breast and top with some of the salsita. I would feel remiss here, if I didn't say that you could add some cheese, just as a garnish if you will. I think a little goat cheese would be amazing with this!
Okay, next, my new favorite granola recipe! Also, in house news — the siding is completely done and the paint prepping has begun. Hopefully, we're looking at the whole project being done no later than next week. We've also changed weather patterns just in time for the painting and now we are getting rain. So, we'll see…