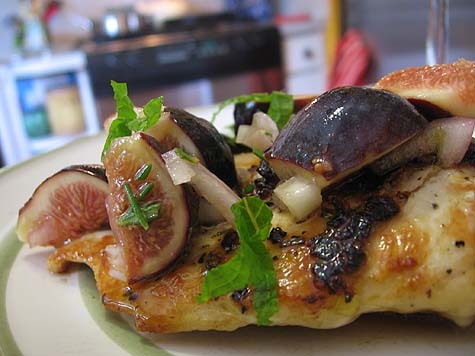 This is one of those meals that is so simple yet so good, that you can't believe you didn't make it before or that you don't have it for dinner a few nights per week. It's from The New Spanish Table and I promise, the next few posts WILL NOT be from that cookbook. Really. But, it's such a wonderful cookbook! But no. I will restrain myself.
Here, I had just scored some figs from Limbo and was needing something to do with them. This was the perfect solution!
Grilled Chicken with Fresh Fig Salsita
Pollo a la Brasa con Salsita de Higos
8 to 9 smallish ripe but firm fresh figs, trimmed and cut into thin wedges
1/2 small red onion, thinly sliced (I used a sweet onion instead)
3 tsbp medium-dry sherry
2 tbsp sherry vinegar
3 tbsp extra-virgin olive oil
3 large garlic cloves, minced
1 tbsp chopped fresh rosemary
kosher or sea salt
freshly ground black pepper
4 boneless, skinless chicken breast halves, rinsed and patted dry
1/4 cup lightly toasted slivered almonds
1/4 cup finely sliced fresh mint
Salt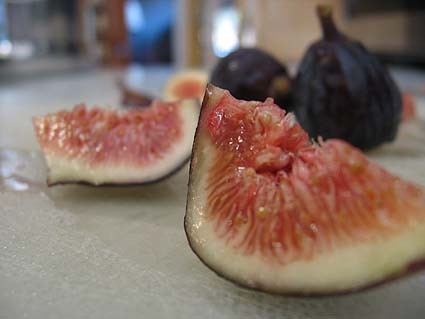 Place figs, onion, sherry, vinegar and olive oil in a bowl; toss to mix. Let stand for 30 minutes.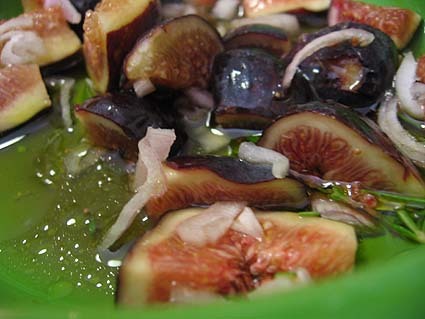 Get your grill . . . → Read More: Grilled Chicken with Fresh Fig Salsita