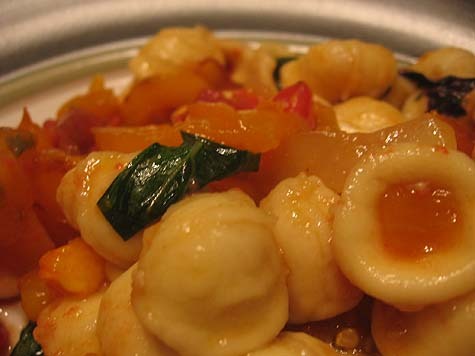 This is a very quick, seasonal meal and I get to proclaim that orecchiette is my favorite pasta type ever. Some say 'little ears' but I think they look like little UFOs! We used a combination of two tomatoes from the garden and one heirloom local tomato procured elsewhere. I like using orecchiette here, as it is about the same size and shape as all the chopped vegetables.
The sauce is super quick, just tomatoes, veggies, olive oil and a little balsamic vinegar. You can marinate your own mozzarella balls or just buy the already-marinated ones. They will melt into the sauce and you will like it.
Summer Pasta with Veggies and Marinated Mozzarella
12 oz Orecchiette Pasta
2 tbsp + more olive oil
1/2 white onion, chopped
3 cloves garlic, minced
2 yellow, orange or red bell peppers
1 tbsp balsamic vinegar
3-4 tomatoes (heirloom or garden fresh are great!)
1 tbsp capers
2 tbsp basil, chopped
10 small marinated, fresh mozzarella balls (Boccini), halved
salt & pepper to taste
Start your pasta water (get it boiling). Cut the bell peppers in half and remove the cores and seeds. Push down flat on a foil covered baking sheet and stick under the broiler to roast. Let the skins get all blackened.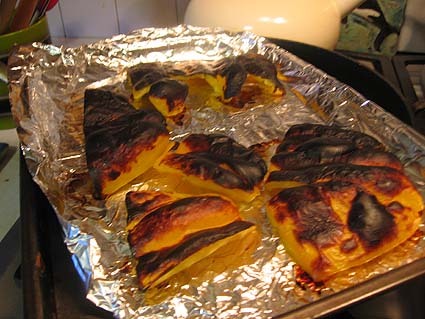 Put them in a plastic or paper bag and let steam for a few minutes. Peel and chop. Set aside.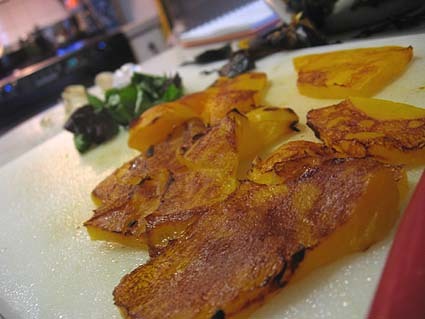 Add about 1 tablespoon of olive oil to a large pan and saute the onion for 7-8 minutes. You want them soft and with a little color. Then add the garlic and saute for a minute or so more. You can cook the pasta about now.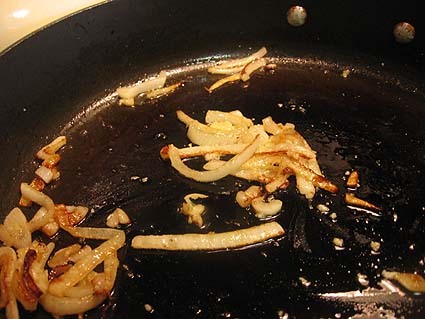 Chop up the tomatoes and toss in a bowl with a little more olive oil, the capers and the balsamic. Give it a little salt and pepper. You could seriously just eat this with a spoon now, but if you add it to the pasta, it will be even better.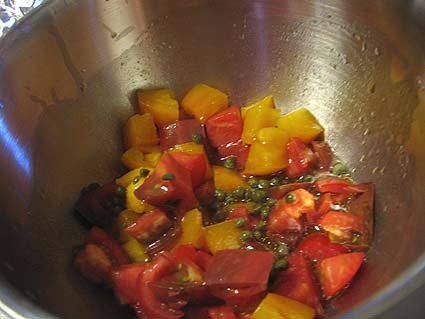 Add the chopped, roasted bell peppers to the pan with the onions, along with the tomato mixture. Toss a bit to mix.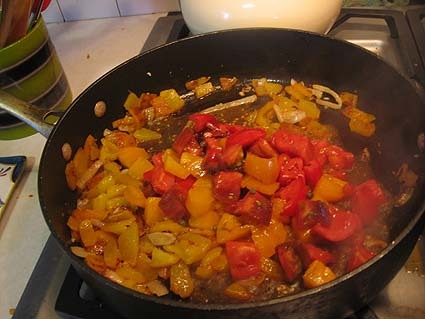 When the pasta is done, add it to the pan and toss. You only want the tomoatoes in the hot pan for a few minutes, so plan when your pasta is done accordingly. Taste and adjust salt and pepper.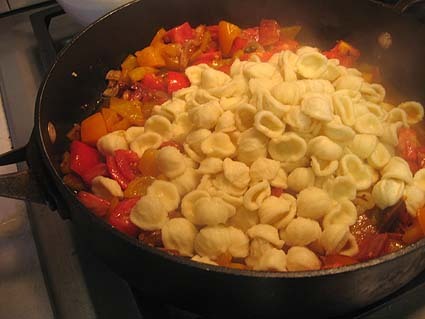 Add the basil, mix and pour the pasta out into a serving bowl.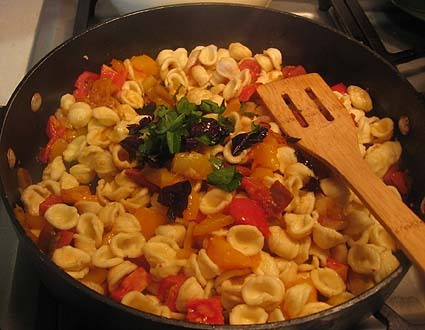 Add the halved mozzarella balls, toss again and serve.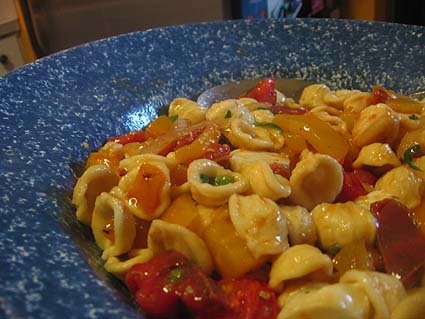 So simple and tasty for Summer — or, the end of Summer.