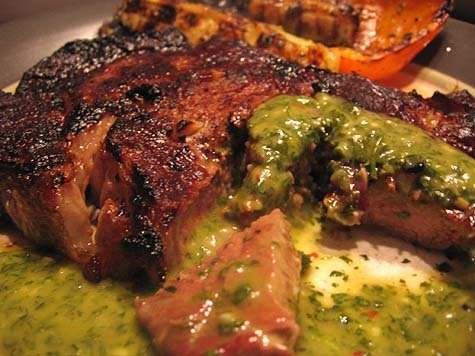 This is a meal inspired by a dinner that jwa had at his parents house a little while ago. He had gone down there to help them with some things and returned with tales of steak with garlic in it. Mmmmm…garlic in steak. I was intrigued. Such a great idea!
So, we grilled some up, with the addition of chimichurri sauce and some grilled veggies.
This was also a great opportunity to use out new outdoor grill — I still love it!
For the Argentinian Chimichurri Sauce:
Adapted from a recipe from Bob Blumer, The Surreal Gourmet
1/2 cup lightly packed chopped flat leaf parsley
1/2 cup lightly packed cilantro leaves
3 to 5 cloves garlic, minced
1 tsp salt
1/2 tsp freshly ground pepper
1/2 tsp chili pepper flakes
2 tbsp shallot or onion, minced
3/4 cup olive oil
3 tbsp sherry wine vinegar, or red wine vinegar
1-2 tbsp lemon juice
Steak:
1 tbsp cayenne pepper
3 tbsp kosher salt
2 1/2 pounds rib-eye, New York strip, or sirloin steak, 1 1/2 inches thick
3 cloves of garlic, cut into slivers
Preheat your grill. You could also do this inside on a grill pan. If you cook on a grill pan, omit the salted water/cayenne mixture. Just salt the steak before cooking.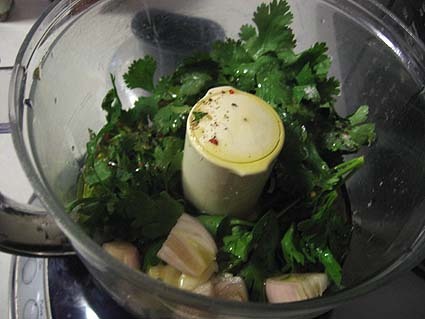 Place all chimichurri sauce ingredients in a blender or food processor and pulse until well chopped, but not pureed. Reserve.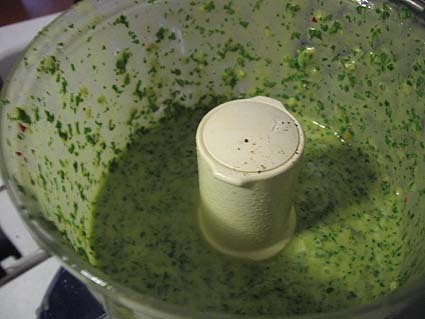 Dissolve cayenne pepper and salt in 1 cup hot water. Transfer to a squeeze container (or transfer to a bowl and use a basting brush.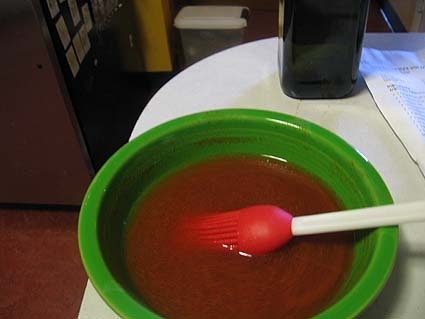 Using a small knife, make slits in each steak and push the garlic slivers into the slits. Brush a little olive oil on the steaks.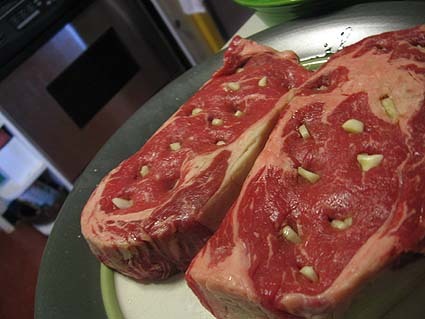 Place the steak directly over a hot grill (oil the rack first), and cook for 6-7 minutes per side for medium rare. Baste 1-2 times with the salt/cayenne mixture. This will also help keep flare-ups under control. (But you'll still get a nice crust).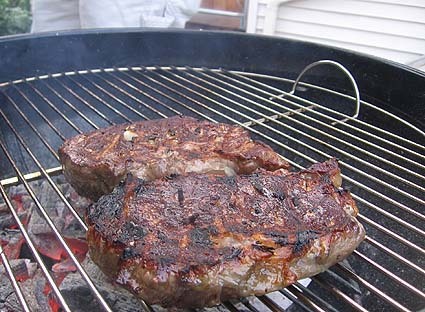 When you turn the steak, that's a good time to add your veggies. We did bell pepper, zucchini and portobello mushrooms.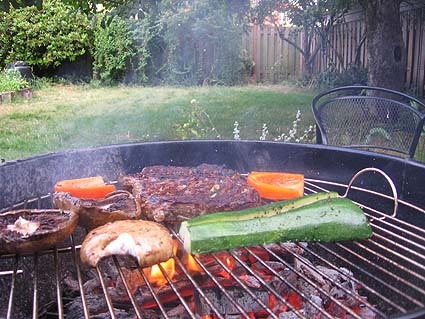 Spoon chimichurri sauce over steak. Serve with the grilled veggies and baguette.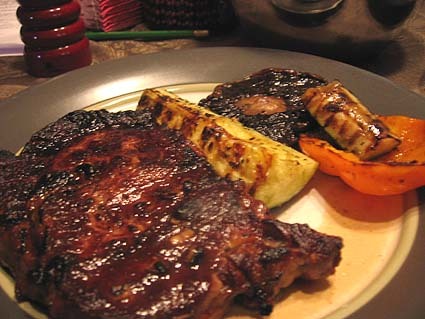 It's really good!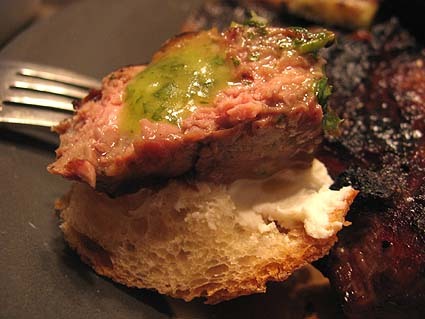 And if you are really lucky, there will be some leftovers to put on a baguette from Little T's and make a steak sandwich!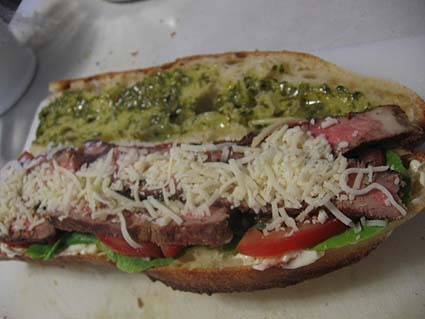 Be sure to slather a little chimichurri on there and perhaps even some horseradish mayo!