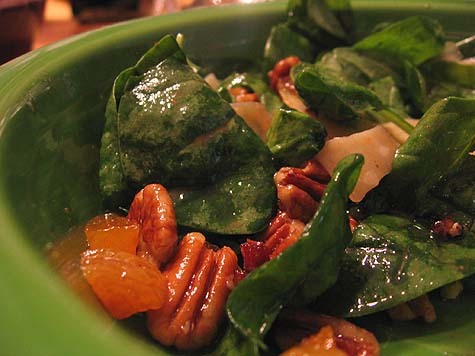 Is it hot out? Make this then. There's a little stove-top time with the pancetta, but only for a few minutes. Besides, it's totally worth it!
The pancetta in this salad is from a recipe for Frisee with Pears and Honeyed Lardons in The New Spanish Table (my new favorite cookbook, it seems), but I kind of just used what I had rather than following the recipe completely. So, I ended up with spinach, dried apricots and pecans. Not a bad combination at all!
Spinach Salad with Candied Pancetta, Pecans & Dried Apricots
3 ounces pancetta, diced
2 tsp honey
1 tbsp red wine vinegar (+ 2 tbsp more for dressing)
2 tbsp extra virgin olive oil
1 bag baby spinach, washed and spun dry
1/2 cup dried apricots, quartered
1/4 cup toasted pecans
course sea salt & freshly ground pepper
Garnish: Cheese — shaved parmesan, asiago or something like that works well, I used Robusto (hmmm, I think feta would also be quite tasty)
Place pancetta in a small skillet and cook, over medium-high heat for a couple of minutes, until it starts to render its fat. Reduce heat to medium and continue cooking until it's light brown. Pour a little fat out if there is too much. Add the honey and 1 tablespoon of the vinegar, stirring until the honey dissolves. This will happen quickly and it can burn very easily. Be careful! I actually had to make two batches because I burnt my first batch. So sad.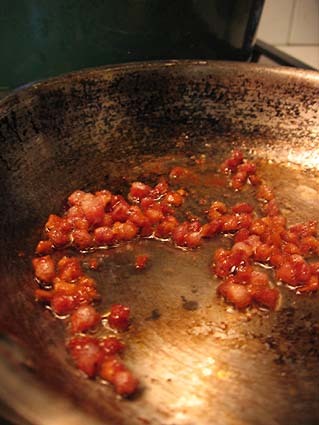 Remove the pancetta from the pan and let cool on a plate. If it hardens up like panchetta brittle, just break it up.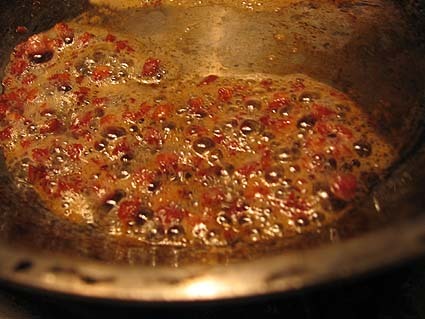 Make the dressing — whisk the remaining vinegar with the olive oil. Season with salt and pepper. Next, toss the salad with the apricots, pecans, dressing and cooled pancetta. Add the dressing and toss some more until the leaves are coated. Top with some cheese.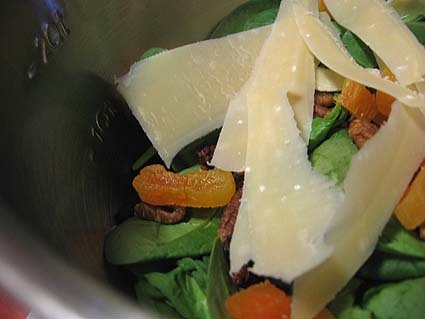 It is so good! Better than a spinach sald has any right to be. I am giving credit to the crunchy, sweet pancetta.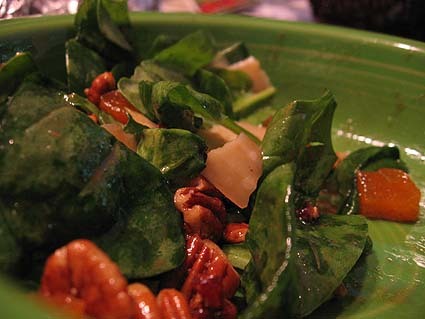 Okay, there should be another post this week and I promise that it will not have any pork in it! Need a break from pork. Hard to believe but true…