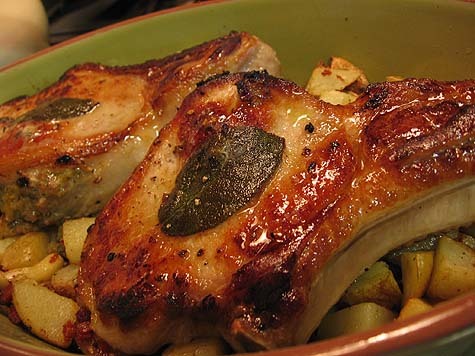 I think a good alternative title for this recipe would be, "here, piggy, piggy!" Pork three ways — pork chops, prosciutto and pancetta. Delicious! I pretty much followed the recipe as is, except I brined my chops and I crisped the potatoes up in a pan before placing the chops on top for the oven.
I thought this was wonderful, but then I've really come to expect that from any Jaime Oliver recipe. Even the picture in the cookbook makes you want to just reach through the page and grab a chop. Sadly, that doesn't really work, so just make the recipe instead!
Basic Pork Chop Brine
4 cups cold water
1/4 cup kosher salt
1/4 cup brown sugar
4 peppercorns
3 cloves garlic, chopped
4-6 sage leaves, torn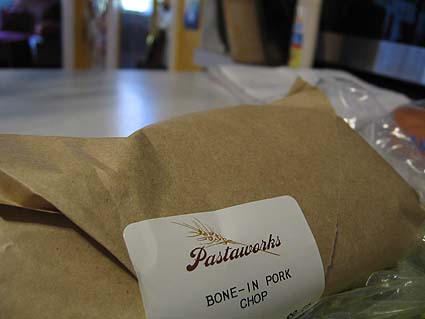 Mix all the above together, stirring until the salt and sugar dissolves. If it's not already, transfer it to a container (that has a lid) that's big enough to also hold the pork chops. Submerge the chops, weighing them down with a small dish if needed. Cover and refrigerate for about 2 hours.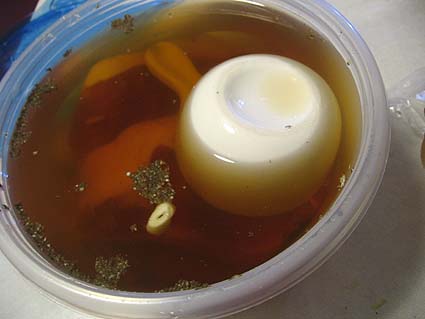 Pork Chops with Sage or Costolette di Maiale con Salvia
From the cookbook, Jamie's Italy…I halved this recipe as there were only 2 of us.
2-1/2 lb. all-purpose potatoes, peeled and diced
sea salt and freshly ground black pepper
4 thick pork chops, on the bone
24 fresh sage leaves
1 bulb of garlic
4 slices of prosciutto
4 tablespoons butter, finely diced
4 dried apricots
extra virgin olive oil
flour
6 thick strips of pancetta or bacon (1/2 inch thick, if possible), or an 8-oz. package of pancetta lardons
Preheat the oven to 425 degrees F. Put your potatoes into a pot of salted water and bring to a boil. Give them 3 or 4 minutes – you only want to parboil them – then drain them and allow them to dry.
If you brined your chops, dry them off. Then, lay your pork chops on a board and insert a small paring knife horizontally into the side of each chop to make a hidden pocket. Make sure the tip of your knife stays in the middle of the chop, as you don't want to cut through the meat to either side. Be careful – watch your fingers!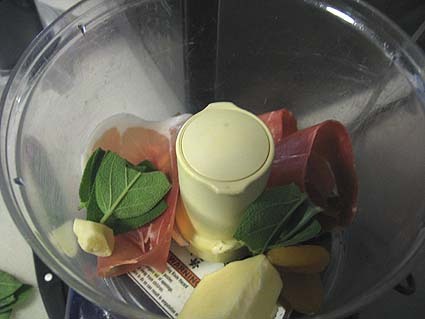 Set aside 8 of the largest sage leaves. Add 8 more leaves to your food processor with a peeled clove of garlic, the prosciutto, butter, apricots, and a pinch of salt and pepper and process. This is now a beautifully flavored butter that can be divided between the pork chops and pushed into the pockets.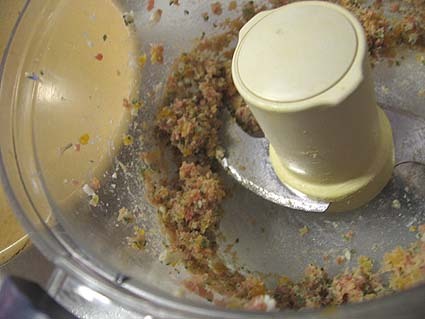 Dress the 8 large sage leaves that you set aside with a little oil and press one side of them into some flour. Press a leaf, flour side down, onto each side of the chops (so you have 2 leaves on each chop). Leave the chops on a plate, covered with plastic wrap, to come to room temperature while you get your potatoes ready.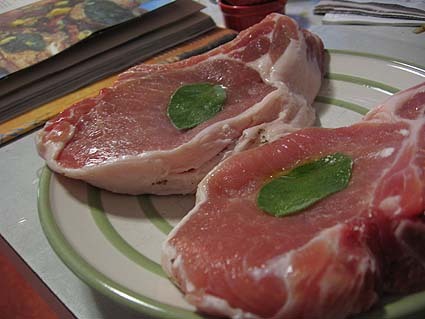 If you're using thick strips of pancetta, slice them into matchsticks, as thick as a pencil. Then, I transferred the pancetta to a large roasting pan, with the potatoes, the remaining sage leaves, and the rest of your whole unpeeled garlic cloves.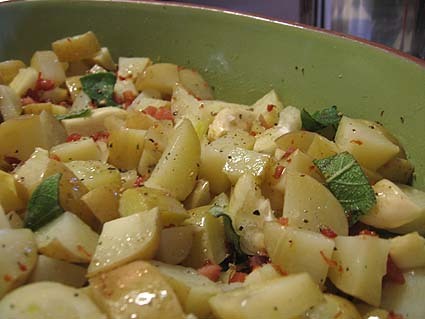 Drizzle with a little extra virgin olive oil and put the pan into the preheated oven.
After 10 minutes, put a frying pan on the burner and get it very hot. Add a touch of olive oil and put in your seasoned pork chops. Fry for 10 minutes, until golden and crisp on both sides, then remove the pan of potatoes from the oven – they should be nice and light golden by now – and place the chops on top. If they are not, and mine weren't, transfer the potatoes and pancetta to the pan you just cooked the pork chops in and give them a few minutes over medium-high heat to get some good color on them. Then, return them to the baking dish and put the pork chops on top of the potatoes.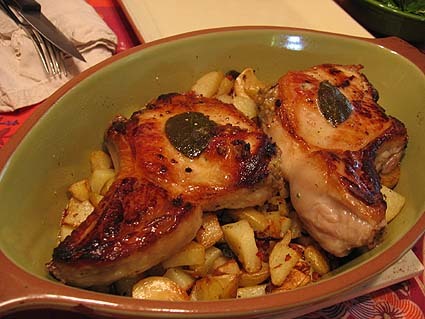 Put the baking dish back into the oven for 10-15 minutes, depending on how thick the chops are, then remove the pan from the oven and serve.