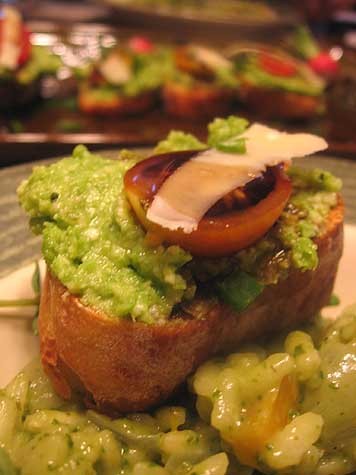 What is this? Another post? Holy crap, yes, it's another post. This was another meal we had over the Memorial Day Weekend. It was a very green meal with green herb risotto and some (leftover) pea puree bruschetta. We even had matcha creme brulee for desert. See? very green!
The risotto was good, but I will confess to adding a tad more cheese that the original recipe called for — mainly a few tablespoons of herbed goat cheese and about twice as much Parmesan. That's just how I roll.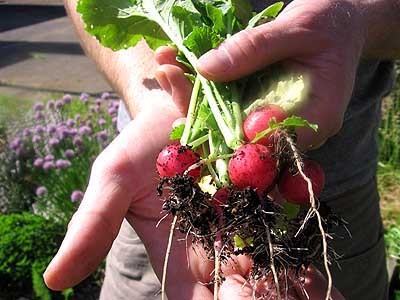 The bruschetta was an afterthought, a little side-snack and a way to show off these awesome garden radishes that jwa pulled up. Grilled, sliced baguette, toasted and rubbed with garlic, then slathered with a bit of the puree, a half cherry tomato and a sliver of robusto cheese. Drizzled with a little balsamic vinegar and sprinkle some chopped chives (also from the garden) to finish. Surround the bruschetta on the platter with the aforementioned radishes.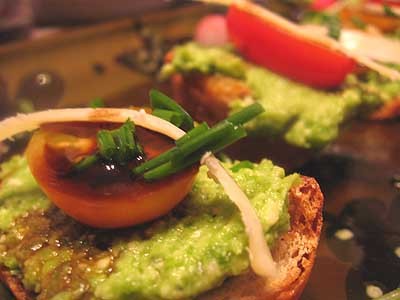 Green Herb Risotto
Adapted from a recipe in Bon Appétit (July 2007)
1 1/2 cups (loosely packed) fresh baby spinach leaves
1/2 cup (loosely packed) fresh basil leaves
1/2 cup (loosely packed) fresh Italian parsley leaves
2 tbsp (1/4 stick) unsalted butter, room temperature
2 tbsp sliced, toasted almonds
2 garlic cloves
6 cups chicken broth
2 tbsp extra-virgin olive oil
1 medium white onion, diced
1 medium orange or yellow bell pepper, diced
1 1/2 cups arborio rice
1/2 cup dry white wine
2-3 tbsp goat cheese
1/2 cup freshly grated Parmesan cheese plus additional for serving
salt & pepper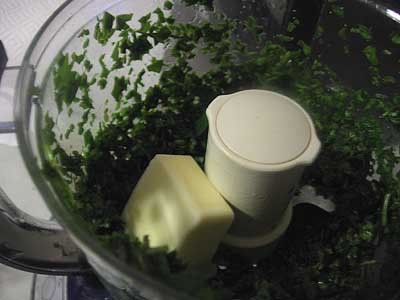 Blend first 6 ingredients in processor until thick paste forms. You can do this a few hours ahead of time, just wrap up and stick in the refrigerator.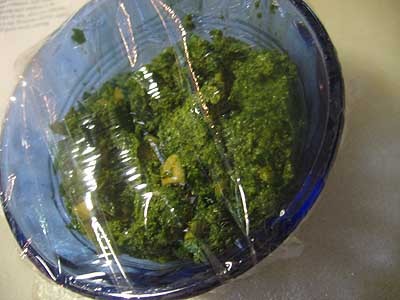 Bring the broth to simmer in saucepan over medium heat. Reduce heat to very low; cover to keep warm. Heat 2 tablespoons oil in heavy medium saucepan over medium-low heat. Add the onion and bell pepper; sauté until soft, stirring often, about 10 minutes.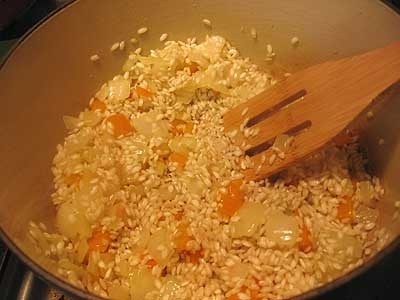 Add rice; stir until heated through, about 3 minutes. Add wine; simmer until absorbed, stirring often. Add warm broth mixture 1 cup at a time, allowing each addition to be absorbed before adding next and stirring often, until rice is tender but still firm to bite, about 20 minutes. You'll use most if not all of the broth.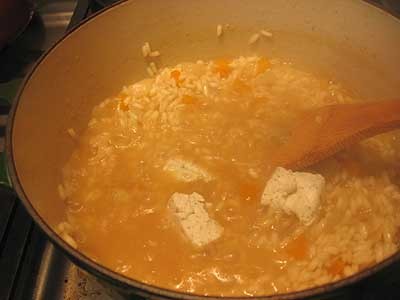 Stir in herb paste and the cheeses.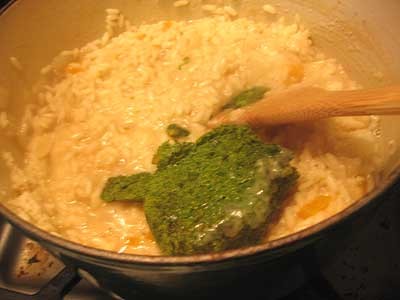 Season to taste with salt and pepper. Serve immediately in warm bowls, passing additional Parmesan cheese alongside. I garnished with a few chopped green onions and thyme sprigs. A nice drizzle of ilove oil would be good too on top!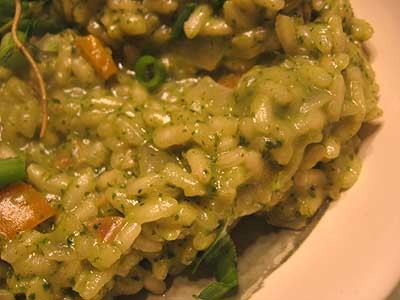 I'll try to get the matcha creme brulee recipe up this week too!