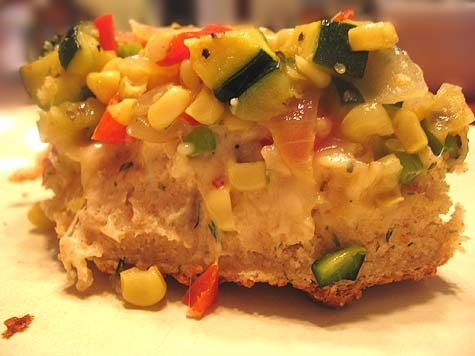 This was part of our new vegetarian Saturday night schedule! We've actually followed this for about 2 months — uh, except last Saturday when we went to Country Cat after a movie and I had duck legs. Oops. But other than that, it's been vegetarian Saturdays! Woo!
This was good. It's from one of my most beloved cookbook's ever — The Enchanted Broccoli Forest. It's pretty easy to make too. The only slightly intimidating part is the flip. And you really don't have to do that if you don't want to. But, you should live a little and give it a try.
Worst thing? You have vegetable upside-down cake on your floor and you order a pizza.
Vegetable Upside-Down Cake
adapted from Enchanted Broccoli Forest, by Mollie Katzen
Olive oil & non-stick spray
1 onion, chopped
1 head broccoli, chopped
1 large carrot, chopped
1 tsp salt (or to taste)
1 red bell pepper, chopped
1 medium zucchini , chopped
1 cup corn (frozen/defrosted)
5 cloves garlic, minced
Black Pepper + Cayenne pepper
bunch of scallions, chopped
1 cup cheddar cheese, grated (or other cheeses work well too, I used sliced, smoked Fontina)
Preheat oven to 350 F. Spray canola oil into an 8″-ish baking dish (mine was — I think — 7″ X 9″) and set aside. Now, rather than boiling some of the vegetables in water, I just heated them all in one pan.
Heat about 1 tablespoon of oil in a large skillet and sauté the onion for 4-5 minutes. Add the broccoli, zucchini, carrot and cover. Cook for 7-8 minutes, until the vegetables are barely tender. Add the bell pepper, corn and garlic, stir and cook for a minute or two more. Season with salt, black pepper, and a pinch of cayenne. Stir in the scallions.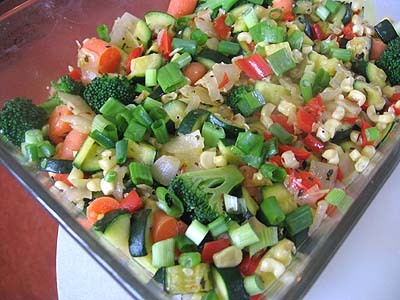 Spread the hot vegetables in the baking dish and allow them to rest while you make the quick bread.
For the Cake:
1 cup all purpose flour
1/2 cup whole wheat flour
1 tsp baking powder
1/2 tsp baking soda
3/4 tsp salt
1 tbsp sugar
1/2 tsp dried oregano
1/2 tsp dried thyme
2 tbsp fresh dill
1 egg
1 cup yogurt or buttermilk (I used low-fat yogurt)
2 tbsp melted butter
Stir the flours, baking powder & soda, and salt in a large bowl. Add the sugar and herbs. Make an indentation in the center.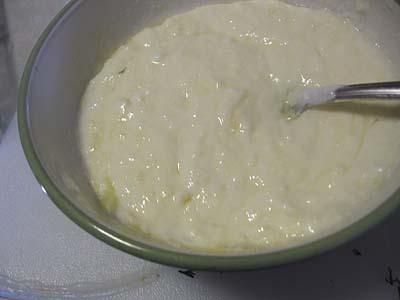 In a separate medium-sized bowl, beat the egg, buttermilk or yogurt and melted butter. Pour the wet ingredients into the well made in the dry ingredients and mix until just combined. Be sure to scrape the bottom and sides of the bowl.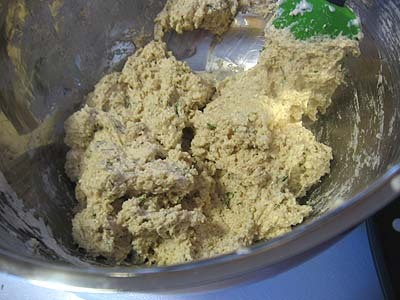 Spread the batter over the vegetables. You might have to piece it together, taking batter from one part and moving it to another so that the vegetables are covered. Also, I think that using sliced cheese helped me a little here as I had a nice, flat surface to spread the dough on.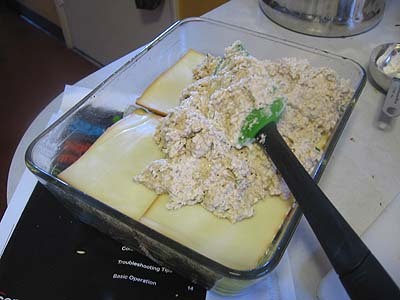 Bake for 40-45 minutes, until a toothpick comes out clean. Let the cake cool in the pan for about 10 minutes. Then, invert your serving plate or tray over the cake pan and flip it, using well-fitting oven mitts. Do it quickly and confidently — it'll smell your fear.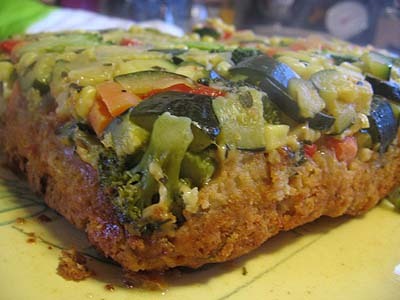 Remove the baking dish and serve! Voila!