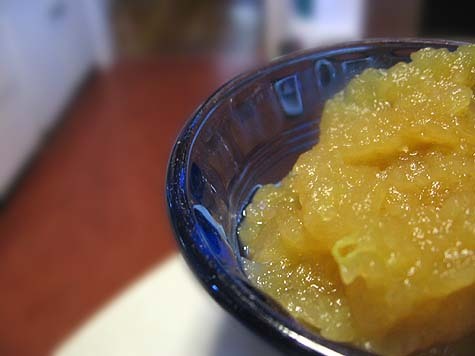 So, I was planing on making banana bread tonight but then I realized I didn't have any apple sauce (yes, I'm one of those people that replaces the oil or butter with apple sauce). But then, I thought — hey! why don't I just make apple sauce?
I hunted around online a bit and combined a couple of recipes together. And then added a rosemary sprig to the mix.
This is the easiest thing ever. Maybe 10-15 minutes prep time and 30 minutes cooking time. You can also skip the rosemary and add a little cinnamon or even a little piece of ginger! I plan on playing with this recipe a lot, and moving it to the crockpot when it gets hot out.
Rosemary-Scented Apple Sauce
Makes about 3 cups
4 apples, peeled, quartered and chopped into pieces (edited to add: I used gala apples)
juice of 1/2 lemon
1/2 cup water
1/4 cup brown sugar
1 2-inch sprig of rosemary
pinch of salt
In a heavy bottomed pan, combine the water with the lemon juice. As you chop up the apples, put them in the lemon water.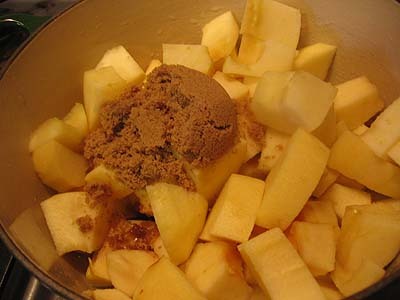 It won't seem like you have enough water, but you do. When all the apples are in the pot, stir in the brown sugar, salt and the rosemary. Put the pan over medium high heat and bring the water to a boil.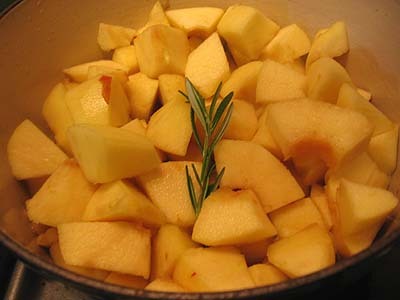 Then, turn the heat to low and simmer for 30 minutes. Stir occasionally. I was watching a Gilmore Girls rerun while making this, and I got up to stir during commercials.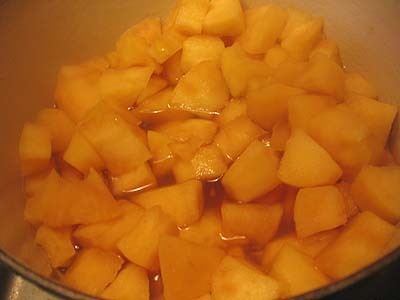 Let cool for a few minutes and mash with a potato masher (you can also use a stick blender). Remove the rosemary sprig and eat warm or cool in the refrigerator.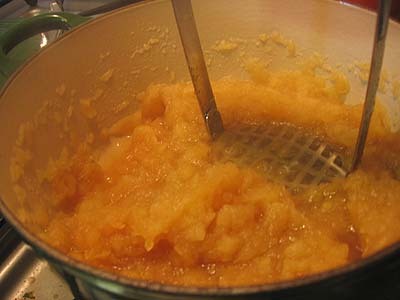 Use of freeze within 3-4 days.