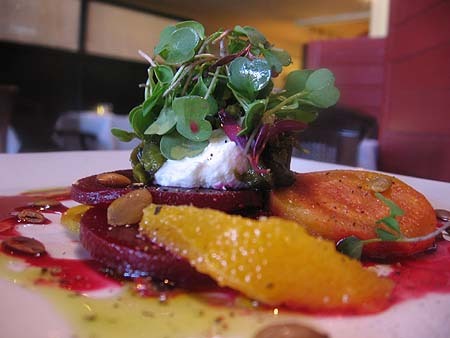 Beet salad at the Peerless restaurant — with goat cheese, poblano peppers, pumpkin seeds, orange segments, micro greens and stuff like that
Where we stayed: Peerless Hotel
Where we ate: Peerless Restaurant, Dragonfly Cafe & Gardens
What we saw: Macbeth, Dead Man's Cell Phone
Lodging:
This was a quick, fun trip. Alas, it was supposed to be part of a much larger trip to California too, but that got postponed due to work issues (not mine). I haz a sad. Anyway, we did still go to Ashland but then drove back to Portland Monday instead of Northern California.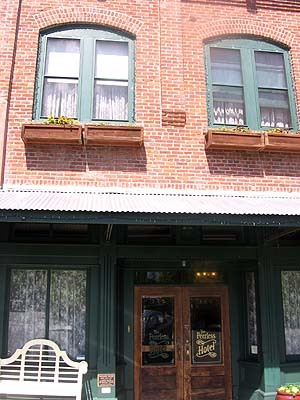 We stayed at the Peerless for the first time. Normally, I like staying in a cottage-type set up where we have a kitchen but since we were going to just be there for two nights, we opted for a regular-type hotel room.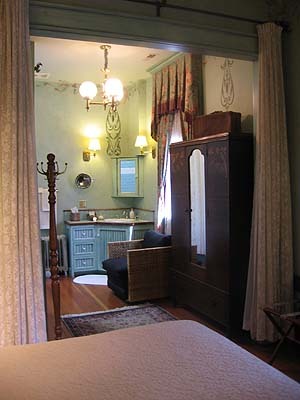 This was nice! Room number 5. Good size, awesomely huge tub (w/ jacuzzi jets and a shower), ambiance, and a relaxing atmosphere.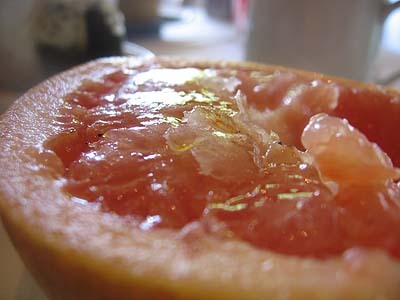 Breakfast was included with the room, although we slept in through breakfast on Sunday. Monday AM was a grapefruit half with caramelized sugar, an orange-amaretto muffin, a lemon ricotta waffle w/ boysenberry sauce and pepper bacon.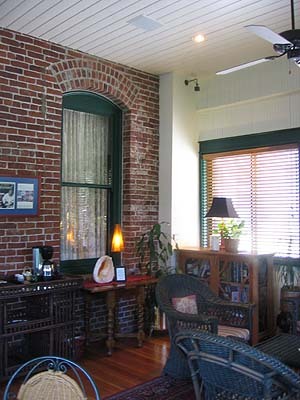 The sun room was one of my favorite parts of the hotel. We hung out here for a bit before driving home Monday, while jwa did work (they have wifi) and I read.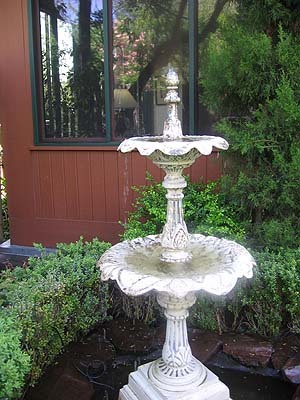 If we ever stay in Ashland overnight in the Winter ie: Quiet Season, I really want to stay in room #7 because it looks awesome but it is $$$, hence the quiet season requirements.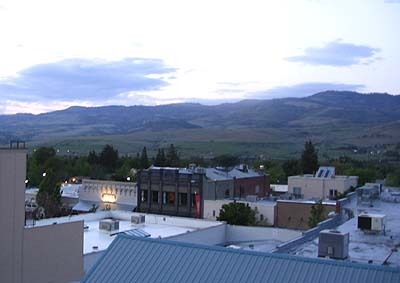 Eating in Ashland: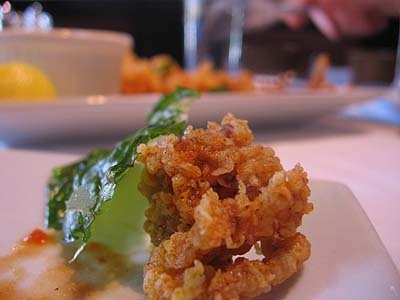 The first night, we ate at the Peerless restaurant, as we'd driven down that day and were seeing a play that night, so I didn't want to have to hunt all over for dinner. We were ON A SCHEDULE!. Anyway, we started with a small plate, the Calamari. It had some fried leaves of some sort. We both enjoyed it's crispy goodness very much.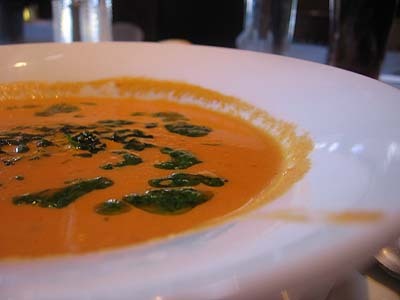 jwa got the beet salad and I was presented with a bowl of the tomato-basil soup. There was a mix-up in the kitchen and they wound up with a extra bowl plated (bowled?). Our waiter brought it over and asked if I wanted it. Yes, please. Also very good, light & brothy with a tomatoey, spicy flavor.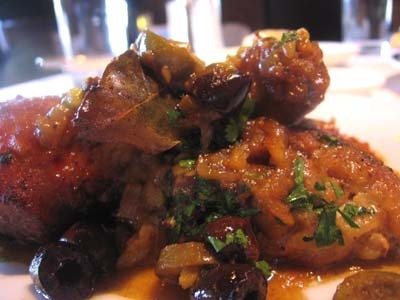 For my main entree, I ordered two small plates — the Moroccan chicken tagine & the butternut squash gnocchi. Our server actually forgot to bring the gnocchi but that turned out to be fine as the chicken tagine was a pretty big serving — a thigh and a leg. Plus cinnamon couscous. And ginger jam. Fabulous! I actually emailed and asked for the recipe. If I don't hear back, I will have to try and reverse-engineer. jwa got a huge hamburger and homemade potato chips. He was happy.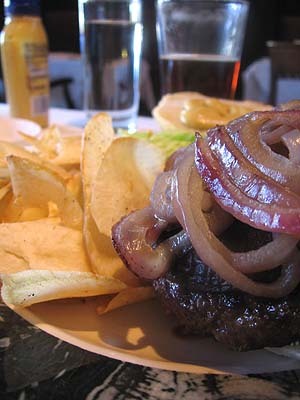 Oh and I got the soup for free (which I think was more expensive on the menu than the gnocchi anway), so we just let the gnocchi slide. No big deal, especially with all the drinks and tasty stuff. Dessert was gelatto for me and sorbet for jwa. A very good meal!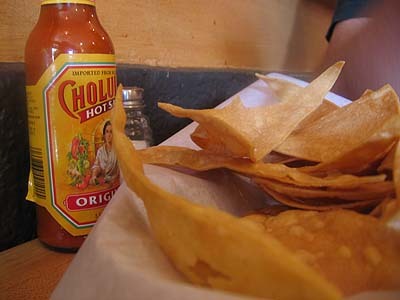 I almost forgot, Sunday we stopped at Agave for lunch. Tacos! Chips! Beer!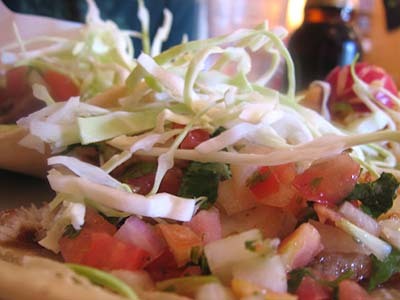 I got a fish and a pork taco and jwa got a chicken taco and a tamale. A very tasty lunch before the Sunday matinee. Next time, I think I will try the duck confit taco. Because really, why not?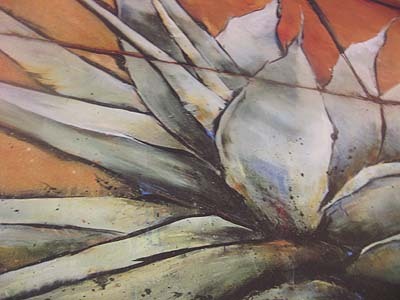 painting at Agave
The second night we went to Dragongly Cafe & Gardens. There's one of these in Portland too, in the Pearl, the Isabel Cruz place, called aptly enough Isabel. Anyway, in Ashland, we started with drinks — I got the Vodka Kiss (Equal Grey Goose and Cointreau, Lots of Lime Juice, Fresh Lime Slices and a Dash of Cranberry) and jwa had a Persphone (a Pomegranate Cosmo). Yum.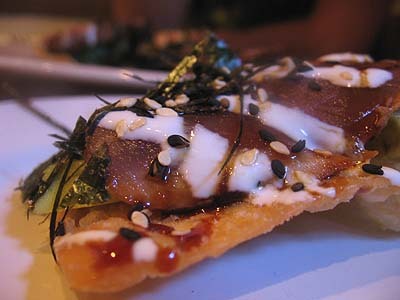 Next came the Ahi Wontons (Wonton crisps topped with seared ahi, avocado, sweet soy and wasabi cream), which were delious. There was also shredded, crispy seaweed (nori) on the top. Salads came next — the Tiger garden Salad for me and the Tomato Pesto salad for jwa. This was also about the time I switched to Sokol Blosser Evolution and jwa got a beer.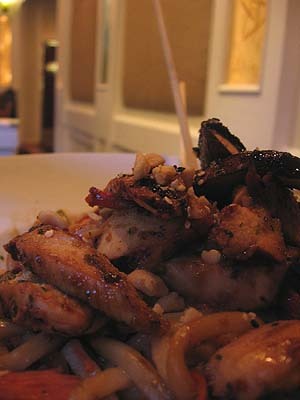 The Udon Bowl
For the entrees: I got the Buddha Bowl with char-grilled chicken (Big bowl of steamy lemongrass and coconut milk broth with shiitake mushrooms, noodles, veggies and cilantro) and jwa had the Udon Noodle Bowl (Slippery udon noodles with vegetable rainbow, portabello mushrooms, peanuts and slightly spicy Asian peanut sauce). They also brought out a little bowl of hot lemon water for chickeny hands and a selection of garnishes — lime wedges, chili sauce, a citrus zest oil, and peanuts. We garnished happily.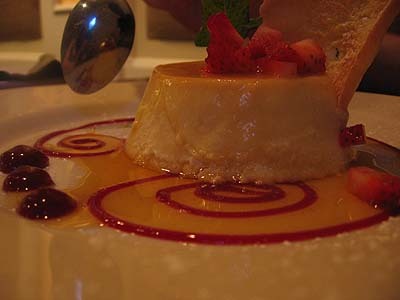 Dessert? Sure why not, we split the coconut flan. It was good. The whole meal, like the one before it, was quite satisfying. This was actually the second time we'd been to Dragonfly, we went a couple of years ago too. It's good food, but also for Ashland, it's quite reasonably priced. Bonus!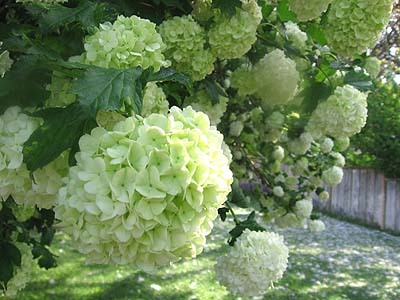 Walking around town, a big, flowering tree
The Plays We Saw:
We really liked both this year! Excellent!
Macbeth (Shakespeare):
Bloody, violent, mesmerizing, powerful, creepy witches.
Review
Dead Man's Cell Phone (Sarah Ruhl):
Funny, quirky, cute, amusing, cell phones.
Plus, the actress that played the Log Lady in Twin Peaks (Catherine E. Coulson) has been in the Oregon Shakespeare Festival company for a while now. We usually see her in something when we go to Ashland. She played Gordon's (the 'dead man') mother in this — god, so funny! "The log lady was a hoot", as jwa proclaimed.