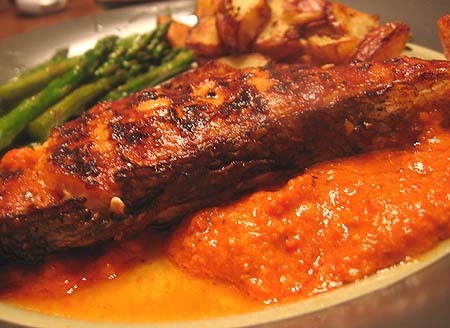 This was super good. The original recipe was adapted from Eating Well magazine. I added orange juice to the sauce, more garlic and instead of zucchini with the fish, I made asparagus. Oh and I decreased the almonds a bit.
The sauce is the star here. It's kind of like a Spanish romesco sauce and I envision making this all summer long, it was so tasty. As a veggie dip, sauce for all kinds of grilled fish, chicken, just eating with a spoon, etc…
You can use jarred roasted red peppers, but please don't. Really. They are so easy to do yourself, and (to me, at least) the jarred ones always taste way too vinegary. I can never even taste the red pepper. Just roast your own. Cheaper too and it'll only take you 10-15 minutes time total. It's totally worth it!
I marinaded my salmon just because I had some extra time and I thought it would be nice to have a little orange flavor there as I was adding orange to the sauce.
Grilled Salmon with Roasted Red Pepper Sauce
Adapted from Eating Well magazine
1/4 cup sliced almonds, toasted slightly in a dry pan over medium heat
1 red bell pepper
1/4 cup halved grape tomatoes or cherry tomatoes
2 cloves garlic
1 tbsp extra-virgin olive oil
1 tsp sherry vinegar or red-wine vinegar
1 orange, halved
1 tsp paprika, preferably smoked
1 tsp salt, divided
freshly ground pepper
3/4 – 1 lb wild-caught salmon fillet, cut into 2 portions
Canola or olive oil cooking spray
1 tablespoon chopped fresh parsley for garnish
Optional: Quick Salmon Marinade
2 tbsp olive oil
1 tbsp red wine vinegar
zest of 1 orange
2 cloves garlic, minced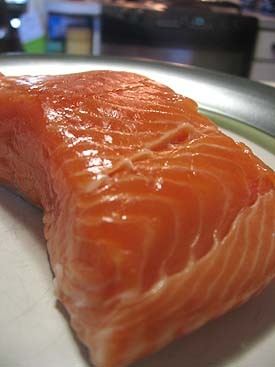 If you want to marinate the salmon, mix all those ingredients and add the salmon. Leave in the fridge for an hour or so.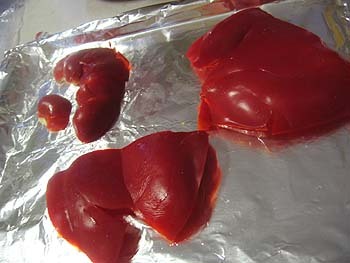 Turn the broiler on high. Line a baking sheet with aluminum foil and core and seed the pepper. Split the pepper in half and press down on the baking sheet to flatten. I usually roast the top too, just remove the stem. Broil until blackened.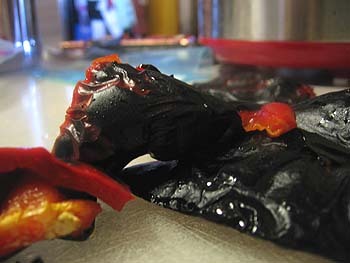 To peel easily, place the blackened peppers in a zip lock bag, seal and let steam for about 5 minutes. Remove the peppers and you should be able to peel the blackened skin off easily. Do not rinse.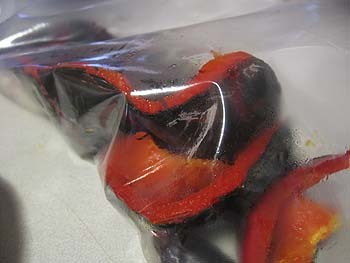 In a food processor or blender, process the almonds, roasted pepper pieces, tomatoes, garlic, oil, vinegar, paprika, 1/2 teaspoon salt and 1/4 teaspoon pepper.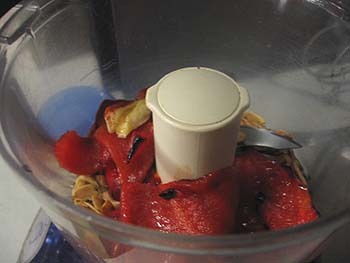 Add the juice of 1/2 your orange. Process. Add more juice if needed to get a smooth, sauce consistency. Taste and adjust salt and pepper as needed.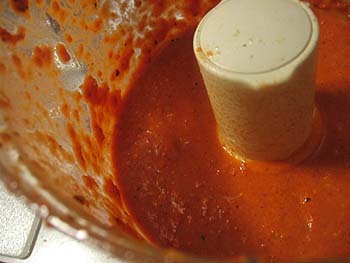 Heat up a grill pan over medium high heat. Remove the fish from the marinade and give it a little salt & pepper. Give the pan a quick spray with canola oil and add your fish. (If you didn't marinate, add a little extra olive oil to the pan). Grill about 3 – 5 minutes per side, depending on the size and thickness of your fish. Be sure to crisp up the skin side.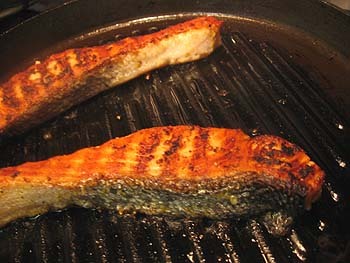 When you think the fish is almost done, remove it from the pan, set on a plate, squeeze with a little remaining orange, and cover with foil. It'll finish cooking on the plate with the carryover heat.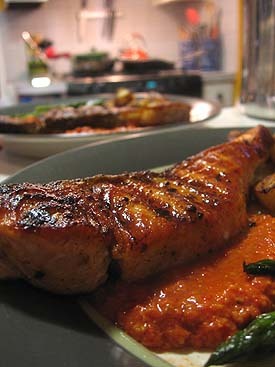 To serve, place a little sauce down on each plate and top with a piece of fish. On the side, we had oven roasted potatoes and pan-sauteed asparagus.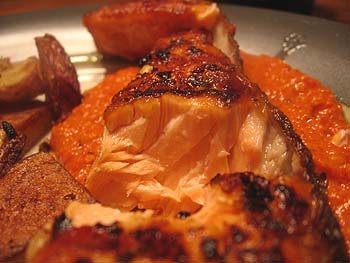 Easy Oven Roasted Potaoes
2 servings
3-4 small red potatoes, scrubbed and diced into 1-inch-ish wedges
2 tbsp olive oil
salt & pepper
2 cloves garlic, minced
1 small sprig rosemary, leaves chopped
2-3 springs thyme, leaves chopped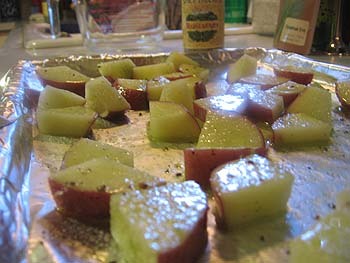 Preheat the oven to 425 degrees F. Toss the potatoes with the olive oil and a little salt and pepper. Roast in the preheated oven about 20 minutes. Remove the baking sheet and add the garlic and herbs. Toss the potatoes a bit and turn the oven up to 450 degrees F. Put the potatoes back in the oven for about 5-7 more minutes.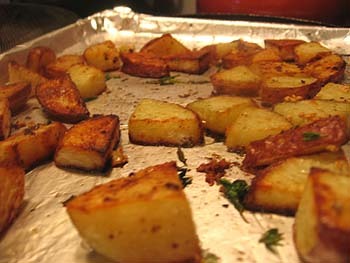 Remove the potatoes from the baking sheet and serve with the fish and asparagus.