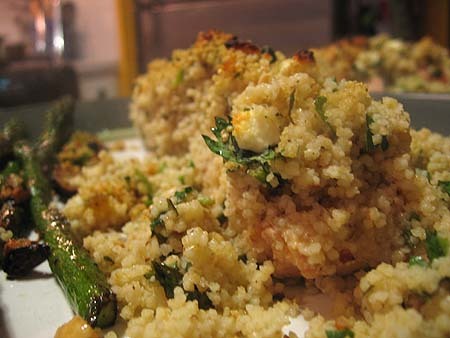 Okay, this was delicious. Especially the couscous. It gets a little golden and crunchy on top. Seriously tasty.
I was curious about making something that all cooks together like this. I figured it would turn out okay (I basically trust Tyler) but, as I've only ever made couscous on the stovetop, I was intrigued by baking it. It works. We had this with some pan-roasted asparagus.
Changes I made: I subbed broth for water, used Marcona almonds instead of pine nuts, olive oil in the dish instead of butter, and added feta to the top.
Salmon with a Couscous Crust
Recipe adapted from Tyler Florence
1 cup couscous
1/2 bunch fresh flat-leaf parsley, chopped
1/4 cup golden raisins, coarsely chopped
3 tbsp coarsely chopped green olives
2 tbsp capers, chopped
3 tbsp pine nuts, toasted and coarsely chopped (almonds can be substituted)
1/4 cup extra-virgin olive oil, plus extra for drizzling
1 lemon, juiced
Salt and freshly ground black pepper
2 (6-8 ounce) salmon fillets skinned
1 1/3 cup chicken or vegetable broth
1/4 cup crumbled feta cheese
Preheat the oven to 375 degrees F.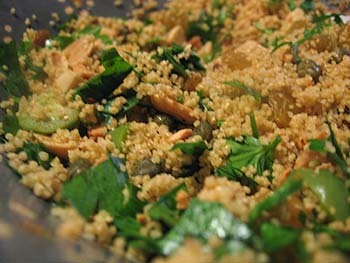 In a large bowl, stir together the parsley, raisins, olives, capers, pine nuts, olive oil, and lemon juice and season with salt and pepper; stir in the couscous . . . → Read More: It's Healthy! Salmon with a Couscous Crust