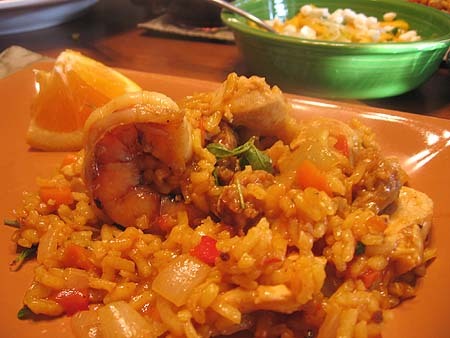 So, this was an experiment of meaty, epic proportions — and it was pretty good too! I was a little concerned about the shrimp being overcooked, but it wasn't at all. Good job, paella recipe from the cookbook I forgot I had!
I changed a few things — I added garlic, red bell pepper, fennel and oranges. I used sweet Italian sausage instead of chorizo, mainly because I had sweet Italian sausage in the freezer and I didn't have any chorizo. If you do this, you may want to add a few red pepper flakes for a bit of spice. Also, since the sausage I used was uncooked, I had to cook it longer in the beginning. You know, because it was raw.
On the side: a salad of sliced mangos, sweet onion and cilantro with a dressing of olive oil (3 tbsp), honey (2 tbsp) and lemon (2 tbsp). Add a few grinds of pepper and some crumbled feta cheese too! Also, crusty bread and goat cheese on the side.
Paella, Italian Style
Adapted from a recipe from the cookbook, At Home with Michael Chiarello, this is a half recipe and will feed 4-5 people. For the original recipe, double . . . → Read More: Sunday Night Paella, Italian Style