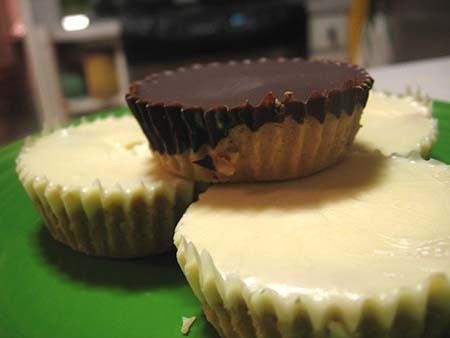 If I am going to eat something bad, it's most likely going to be a (some) (all the) peanut butter cup(s). And most likely the white chocolate ones. A couple of years ago I bought bags of those for Halloween candy to hand out and, uh, well, jwa and I ate most of them. I have not made that mistake again (note to self: buy candy you don't like!)
Anyway, I don't know why, but I love the white chocolate ones better than the regular chocolate ones. And normally, dark chocolate is my favorite. Weird.
I made these last weekend and oh my, are they good. I approximated cup measurements for the ounces. I also found eating them upside down helpful, as the chocolate hardens a bit more than the peanut butter. I mixed it up a little and melted a little dark chocolate too, probably a 1/4 cups worth of those and 1 cup of white chocolate.
Chocolate Peanut Butter Cups
Adapted from a recipe by Nigella Lawson
1/4 cup soft dark brown sugar
3/4 cup powdered sugar
2 tbsp butter, softened
3/4 cups smooth peanut butter
1 1/4 cups chocolate chips (dark chocolate, milk chocolate or white chocolate — use good quality white chocolate so it melts well!)
12 paper muffin tin liners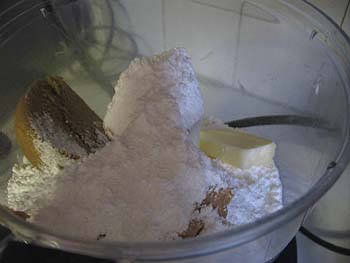 Place the brown sugar, powdered sugar, butter and peanut butter in the bowl of a food processor. Blend the mixture in a food processor.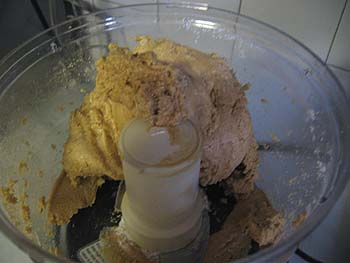 Place 12 paper liners in your muffin pan(s) and fill with a little of the peanut butter mixture. I used a small (about a tablespoon size) ice cream scoop. You want to fill the cups up maybe 1/4 of the way. Press the mixture down into the cases as best you can to form a layer at the bottom of each paper case. It may help to spray your fingers with a little non-stick spray.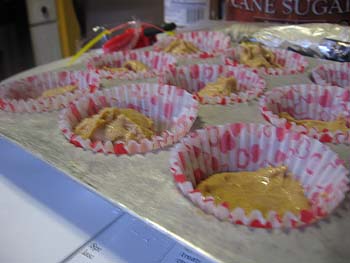 Place the chocolate in a bowl and melt in the microwave, melting using 30 second intervals. Stir after each microwave blast, until it's almost all melted. Then, stir until it's completely melted. Alternatively, you can melt the chocolate in a double broiler.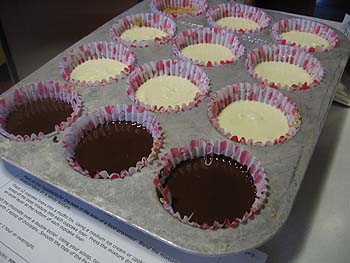 Spoon spoonfuls of the melted chocolate onto the top of each of the peanut butter base and spread to cover. Transfer muffin tin(s) to the fridge. Let them stay there and firm up at least an hour.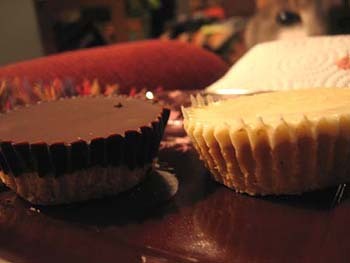 Since the filling doesn't fill the whole cup, I found it looked nicer to unpeel the cups before serving. Spencer agrees!