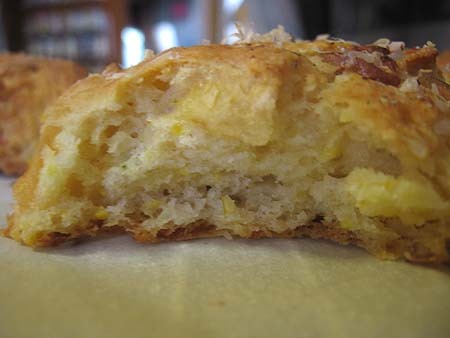 First off, I love cheese so I knew I would love these scones (and I did). Dorie Greenspan knows how to bake, that's for sure.
But, I kind of messed up and had less cheddar than I thought I did. A travesty! I rummaged around the fridge and came up with some Robusto cheese (kind of a cross between gouda and parmesan). I used about half cheddar and half robusto.
Was that it? Well, no. I couldn't find any dried apple pieces at the store by me and so it was between dried mango pieces an apple chips. Yeah, apple chips — the kind that come in a bag like potato chips. What the hell, full steam ahead, I used those for the apple (although, I am intrigued by the thought of mango).
My substitutions aside, these were great. I can only imagine how good they are with the correct ingredients! The one other thing I did differently, is I brushed a little milk on the top of each and on half, I grated extra robusto. On the other half, I sprinkled a little raw sugar (I love sparkly scone tops). The verdict: I liked them with both sugar . . . → Read More: Cheddar Apple Scones for Breakfast