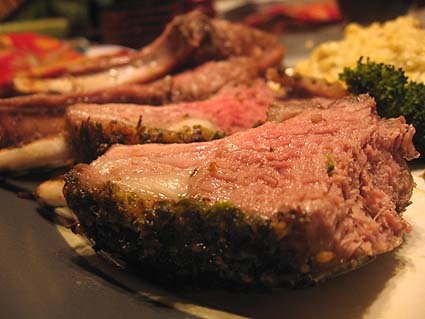 I know I said there would be salad rolls next. I lied. Those will be soon Wednesday(!) because oh my, this meal was delicious and it bumped the salad rolls. You'll notice the title image even has a bite taken out of it. Yeah. And I'm not sorry about it either.
The rack of lamb is from Trader Joe's and is probably one of my most favorite products that they carry — the seasoned, Frenched, frozen rack of lamb from New Zealand. This was about $14 and some change for 1.3 pounds. Score. It has a garlic, sesame seed, rosemary marinade already but it's not so strong that you can't add more things to it. Like this pesto, for instance. All together, there's only six ingredients here, which is also nice.
I was able to find one happy sprig of rosemary on one of plants outside, so that made me quite relieved! Our rosemary did not like all the snow, that's for sure. Walking around town I see some rosemary bushes that seem perfectly fine. I hope all of ours comes back okay this Spring, because after 7 years, I am just not used to buying rosemary anymore…
Now the directions on the package say to defrost and cook on 350 for 25 minutes. I never do this. I think I always cook it higher than that…but do defrost the day before you're roasting it. Also, if you don't live by a Trader Joe's just use a plain rack of lamb — that kind is not important, just a great deal.
On the side: goat cheese polenta with artichokes and green olives and some roasted broccoli.
Rosemary Pesto Rack of Lamb
Adapted from a recipe in Bon Appétit
1/2 cup (packed) parsley leaves and stems
2 tbsp chopped fresh rosemary plus rosemary sprigs
2 tbsp grated Parmesan cheese
1 garlic clove
3 tbsp olive oil
1 1 1/2-pound rack of lamb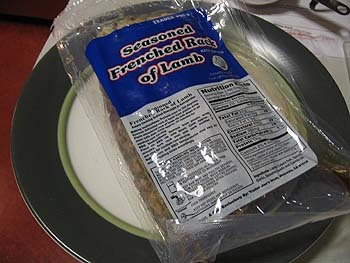 Position rack in center of oven and preheat to 400 degrees F. Place parsley, chopped rosemary, grated Parmesan cheese and garlic in processor. Process to coarse paste. With machine running, gradually add olive oil. Season pesto to taste with salt and pepper.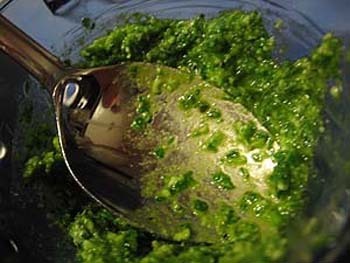 Place lamb on small rimmed baking sheet. Sprinkle with salt and pepper. Spread all pesto over rounded side of lamb.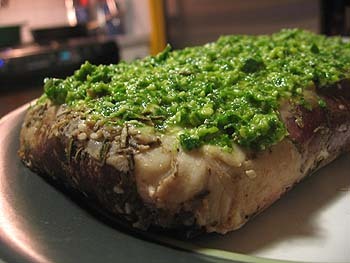 Roast 25-30+ minutes. The internal temperature should be around 135 for medium rare. I pull it then and let it sit, covered with foil for about 5 minutes.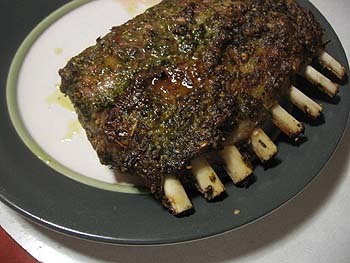 Cut lamb between bones into chops. Divide chops between 2 plates; garnish with rosemary sprigs.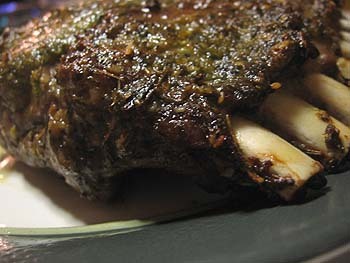 I saved all the bones and threw them into a pot with maybe 6-7 cups of water, some onion, carrot, and garlic. Simmered (I don't think it was ever actually boiling) for about 3 hours. Strained.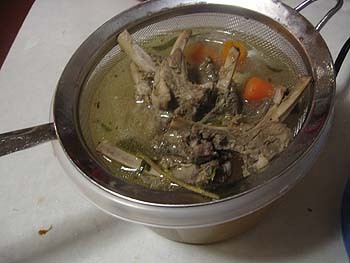 Lamb stock. Tasty, tasty liquid gold.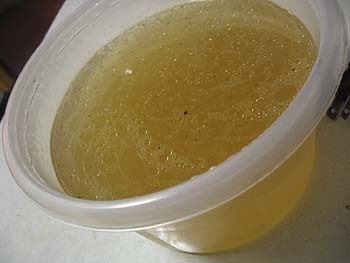 I'm going to use it Thursday to make some lentil soup!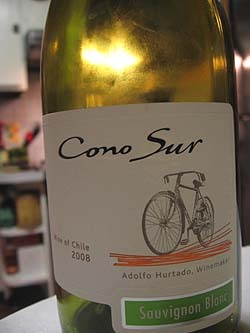 PS: I like this wine quite a bit. Around $10 at Fred Meyer. Not with the lamb, but I had a glass of this while making the lamb.