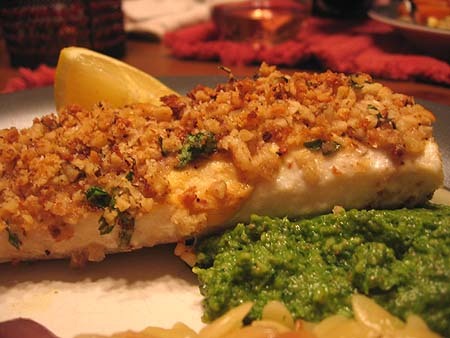 What's nice here is one oven temperature! It makes it easy to plan and cook all at one time. I hate it when stuff has different temperatures.
Okay, actually, the original recipes here (from epicurious.com) had different temperatures at first. Bastards! It was 450 for the fish and 375 for the veggies. I just made everything 425 degrees F and adjusted the cooking time. It worked quite well!
If making these together, preheat the oven and put the carrots and fennel in the oven about 30 minutes before the fish. I had the veggie baking dish on the upper rack for the first 30 minutes, then I moved it down to a lower rack and put the fish in on the upper rack.
Walnut Roasted Halibut
Nonstick vegetable oil spray
1/3 cup finely chopped toasted walnuts
1/4 cup panko (Japanese breadcrumbs)
1 tbsp chopped fresh Italian parsley
2 8-ounce halibut fillets (each about 1 inch thick)
1 tbsp dijon mustard
Lemon wedges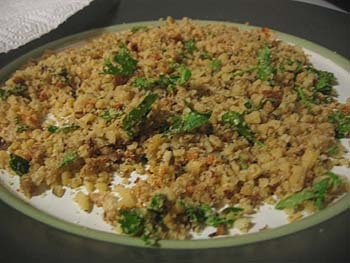 Preheat oven to 425 degrees F. Spray a rimmed baking sheet with nonstick spray. Mix walnuts, panko, and parsley in a bowl and transfer to a plate.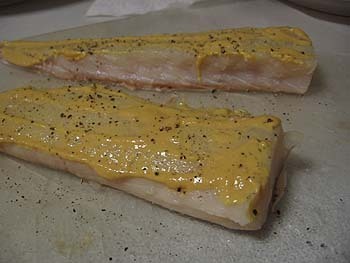 Brush each fish fillet with the dijon mustard; sprinkle with salt and . . . → Read More: A Whole Tasty Meal: Walnut Halibut and Roasted Carrots & Fennel