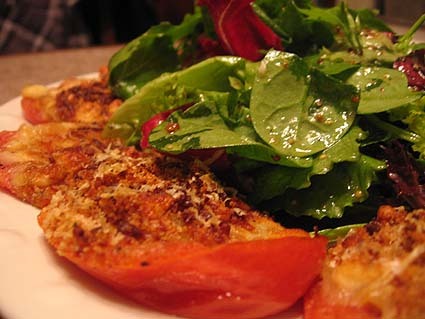 I was flipping channels over the long holiday weekend recently and caught some of Giada's new show. Something about her fabulous life and having spa days at home — I dunno. I think the concept works for Ina but I'm not so sure about Giada. Maybe if she occasionally invited strange people over to her house who wore whale pants. Then maybe…
Anyway, I watched this show (Giada at Home, I just looked it up), long enough to see and then decide to make this recipe. Mainly because we had leftover beef wellington gorgonzola and also because it looked really good.
I decided to use half Parmesan and half gorgonzola, which worked out really well. I've made this recipe twice now — once when I remembered to drain the tomatoes for about 5 minutes and once when I didn't. Advice: remember to drain.
Roasted Tomatoes with Garlic and Gorgonzola
Recipe adapted from Giada De Laurentiis
6 Roma tomatoes, sliced in 1/2 lengthwise
2 tbsp olive oil
2 cloves garlic, minced
1/4 tsp kosher salt
1/4 tsp freshly ground black pepper
1/2 cup plain bread crumbs
1/2 cup finely crumbled Gorgonzola or grated Parmesan cheese (or 1/4 cup of each, mixed together)
1 tbsp chopped fresh flat-leaf parsley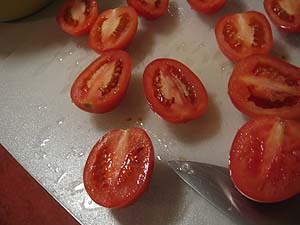 . . . → Read More: Hello 2009: Roasted Tomatoes with Garlic and Gorgonzola