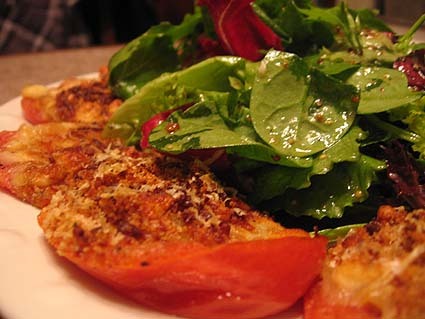 I was flipping channels over the long holiday weekend recently and caught some of Giada's new show. Something about her fabulous life and having spa days at home — I dunno. I think the concept works for Ina but I'm not so sure about Giada. Maybe if she occasionally invited strange people over to her house who wore whale pants. Then maybe…
Anyway, I watched this show (Giada at Home, I just looked it up), long enough to see and then decide to make this recipe. Mainly because we had leftover beef wellington gorgonzola and also because it looked really good.
I decided to use half Parmesan and half gorgonzola, which worked out really well. I've made this recipe twice now — once when I remembered to drain the tomatoes for about 5 minutes and once when I didn't. Advice: remember to drain.
Roasted Tomatoes with Garlic and Gorgonzola
Recipe adapted from Giada De Laurentiis
6 Roma tomatoes, sliced in 1/2 lengthwise
2 tbsp olive oil
2 cloves garlic, minced
1/4 tsp kosher salt
1/4 tsp freshly ground black pepper
1/2 cup plain bread crumbs
1/2 cup finely crumbled Gorgonzola or grated Parmesan cheese (or 1/4 cup of each, mixed together)
1 tbsp chopped fresh flat-leaf parsley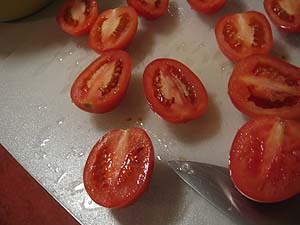 Preheat the oven to 375 degrees F. Using a teaspoon or grapefruit spoon, remove the seeds from the tomatoes. Place the tomato halves, cut side down, on paper towels to drain, about 5 minutes.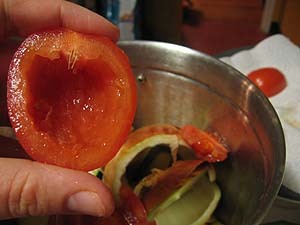 In a large bowl, mix together 2 tablespoons of the olive oil, garlic, salt, and pepper. Using clean hands, gently toss the drained tomato halves in the oil mixture until coated.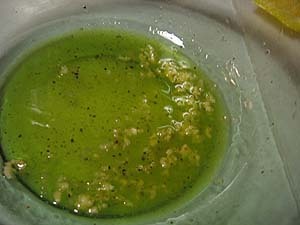 Marinate the tomatoes for 10 minutes.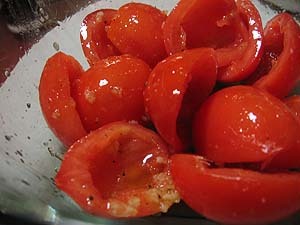 In a small bowl mix together the bread crumbs and Gorgonzola cheese.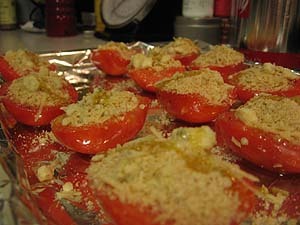 Place the marinated tomato halves, cut side up, on a parchment paper-lined baking sheet. Fill each tomato half with the bread crumb filling. Drizzle with the remaining olive oil. Bake for 20 to 25 minutes until slightly softened and the underside of the tomatoes are brown.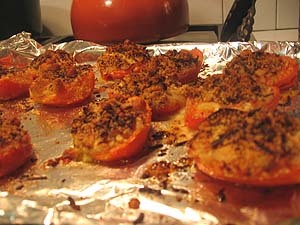 Arrange the cooked tomatoes on a serving platter. Sprinkle with the chopped parsley and serve immediately. I placed the 12 halves around a huge plate and piled a big salad in the middle. Looked really nice and was very tasty!