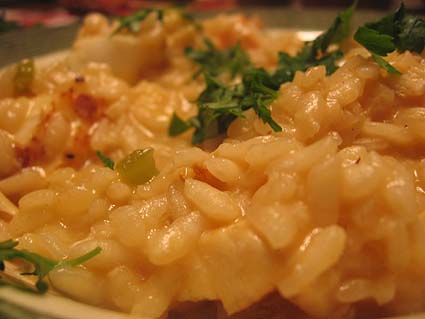 Ah, the last post of 2008. See you, 2008! There were a few really good things about this year, a few really annoying things, and a few things things that mostly stayed the same. What will 2009 bring? Well, hopefully more of really good things! Already, I am looking forward to Ashland/California in May and Montana in August. But most definitely, 2009 will bring more risotto!
This was influenced by a risotto recipe in the cookbook, Big Night In. But mainly, that's just the prosecco part. My seafood here was about 1 pound of shrimp and 1/2 a pound of cubed, cooked halibut. But you could totally skip the halibut — I just added it because I had 2 small, frozen halibut steaks in the fridge that I wanted to use. I cubed and cooked it first, because I wanted a little crusty, cooked goodness on the fish surface.
Risotto recipe is first, quick seafood stock recipe follows.
Seafood Risotto with Prosecco
This will feed about 4-5 people
1 tbsp olive oil
1 small onion, diced
2 cloves garlic, minced
1 bell pepper, diced
2 cups arborio rice
1/2 cup prosecco (or champagne)
6 – 7 cups seafood stock (see below)
1 lb raw shrimp (shells, used for stock and shrimp cut into bite-sized pieces)
Optional: 1/2 pound cooked halibut, cubed (I cubed raw halibut, salted and peppered it, and seared it nicely before using, carry-over finished cooking it mostly all the way through)
1/2 – 1 cup Parmesan cheese
salt & pepper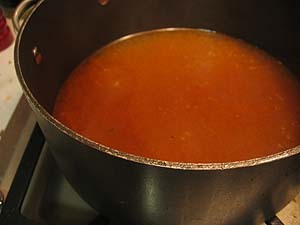 Okay, make your quick and easy fish stock (see below). Keep that warm in your handy stock pot.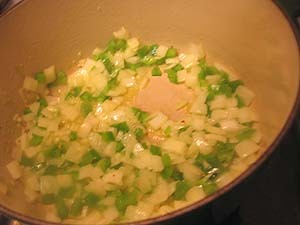 In a big pot, heat the olive oil over medium-high heat. Add the onion, garlic and bell pepper and let cook about 3-4 minutes. Add the rice next and stir to coat in the oil.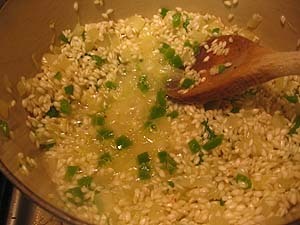 Next comes the prosecco or champagne. Stir until and stir until it is mostly absorbed. Then, start adding the simmering broth (about 1/2 a cup at a time), stirring, adding more when the liquid in the risotto pot is almost absorbed.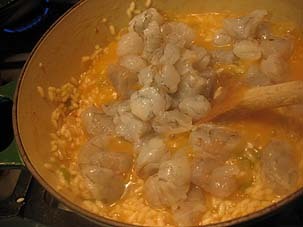 When you've gone through about 3/4 of the broth and the risotto is almost done (give it a taste, it should be slightly al dente but close to done), add the shrimp and continue to add more broth as it cooks for 3-4 minutes.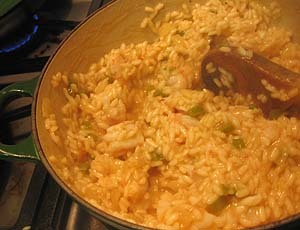 On your last addition of broth, add the cheese and halibut if you are using it. Stir while the cheese gets all melt-y and creamy and the halibut rewarms (1-2 minutes). Taste and salt and pepper as needed.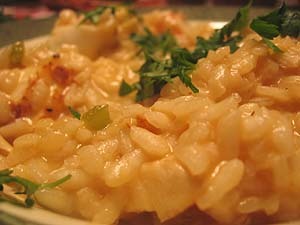 Serve in bowls with some chopped parsley if desired. Bread on the side is good. Leftovers saved well for me. I had about 1/2 cup of both left and I poured that into the leftover risotto before putting away in the fridge.
Quick Seafood Stock
Adapted from the Web site New Italian Recipes
1 tbsp olive oil
raw shrimp shells and tails from 1 pound of shrimp
Scraps from your 1 medium onion and bell pepper
1 stalk celery, chopped
1 small carrot, chopped
1 small handful of fresh parsley leaves
2 garlic cloves, peeled and cracked open
7 cups water
2 tbsp tomato paste
1 tbsp lemon juice
pinch of salt and pepper
Heat the olive oil over medium-low heat and then add the vegetables (onion, bell pepper, carrot, celery) and parsley.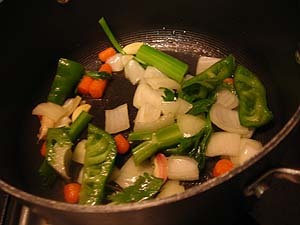 Cover the pan and cook 10 minutes. Add the raw shrimp shells and tomato paste. Cook until shells turn pink. Add water and simmer for about 30 minutes.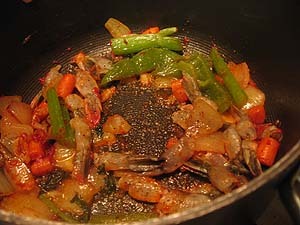 Strain out vegetable scraps and shrimp shells. Add lemon juice and a pinch of salt and pepper.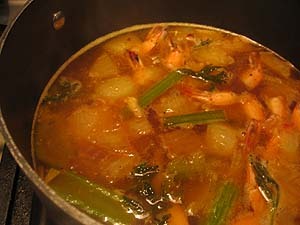 Pour stock back into the pan and keep at a simmer while you make the risotto.
Oh yeah. Drink the rest of the prosecco with dinner! 🙂