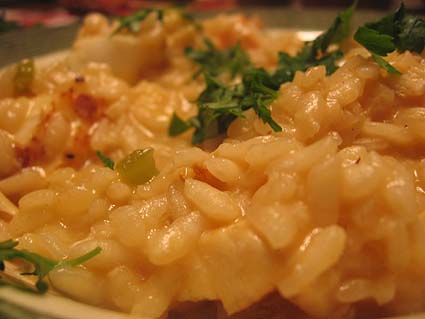 Ah, the last post of 2008. See you, 2008! There were a few really good things about this year, a few really annoying things, and a few things things that mostly stayed the same. What will 2009 bring? Well, hopefully more of really good things! Already, I am looking forward to Ashland/California in May and Montana in August. But most definitely, 2009 will bring more risotto!
This was influenced by a risotto recipe in the cookbook, Big Night In. But mainly, that's just the prosecco part. My seafood here was about 1 pound of shrimp and 1/2 a pound of cubed, cooked halibut. But you could totally skip the halibut — I just added it because I had 2 small, frozen halibut steaks in the fridge that I wanted to use. I cubed and cooked it first, because I wanted a little crusty, cooked goodness on the fish surface.
Risotto recipe is first, quick seafood stock recipe follows.
Seafood Risotto with Prosecco
This will feed about 4-5 people
1 tbsp olive oil
1 small onion, diced
2 cloves garlic, minced
1 bell pepper, diced
2 cups arborio rice
1/2 cup prosecco (or champagne)
6 – 7 cups seafood stock (see below)
1 lb raw shrimp (shells, used for stock and . . . → Read More: Happy New Year's Eve! Seafood Risotto with Prosecco