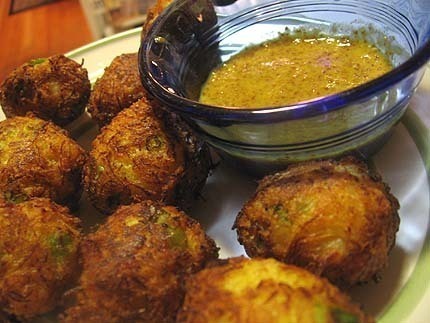 The other night, we had Jamie Oliver's Cabbage and Bread soup for dinner, as I saw it on Food Network last Spring and I've been waiting for Fall and colder weather ever since to make it. Now, I know what you are thinking — Bread and Cabbage Soup. Really? But, oh my god, if you had seen the episode you would understand.
I did make that and it is the next post but I thought I'd start with this — Crab Hush Puppies. I made this as sort of a starter for the soup, just because I happened to see the recipe and was intrigued. Here are a few caveats though –
1. I know the inclusion of "just add water" Cornbread Mix gives it that, uh, somewhat Semi-Homemade kind of feel. This will be doubled when you realize the only "just add water" Cornbread mix you can find is by Marie Callendars (not that there's anything wrong with that…) Just fight it and move on.
2. Crabmeat is damn expensive! We had a 25% off coupon for the Belmont Zupan's, which is another reason we tried this recipe with fresh crabmeat. But, honestly, you're already using Cornbread . . . → Read More: Experimental Crazy Little Crab Hush Puppies